How Fara Williams went from homeless to England's most capped footballer
England's most capped footballer played her first match for her country while living in temporary accommodation after a family breakdown left her homeless at the age of 17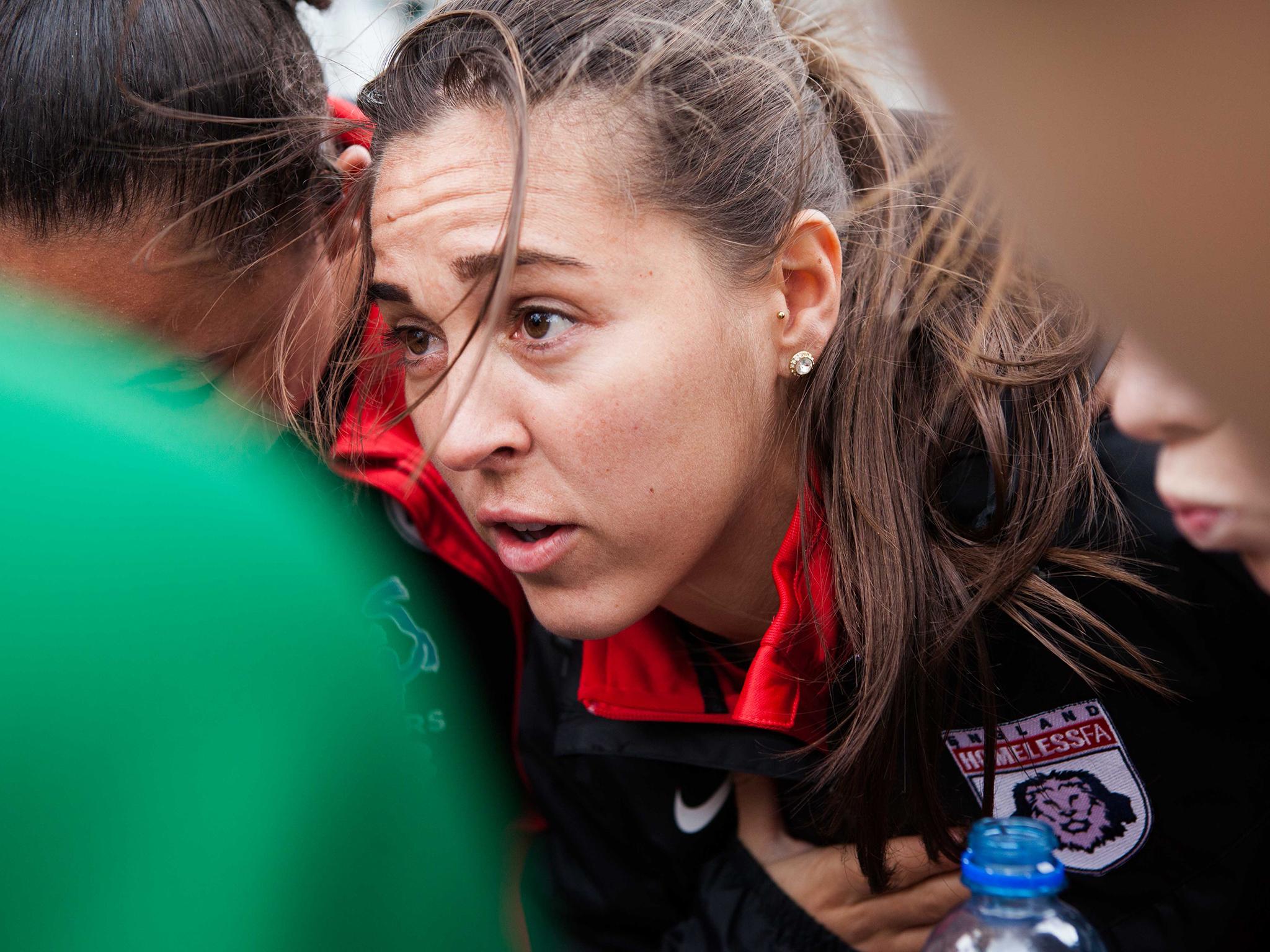 As someone who played football for England while living in hostels, Fara Williams knows better than most that almost anyone can end up homeless.
The country's most capped footballer, 32, played her first games for the Lionesses while living in temporary accommodation after a family breakdown left her homeless at the age of 17.
The teenager was already playing for Charlton Athletic Ladies' first team when arguments with her family resulted in her leaving her home on the Surrey Lane estate in Battersea.
She spent a night wandering the streets of South London before she found an emergency shelter the next day in King's Cross.
Although she never slept rough, it was the start of five years of homelessness – a life she kept hidden while at the same time establishing herself as one of England's best female footballers.
She said: "My situation was like that of many young people who become homeless. I just felt I couldn't stay at home any more. I was from a loving home, but it was also a broken home. It got to the point where it was easier for me to leave.
"I stayed at a friends for a bit but then I realised I had nowhere else to go.
"Some people think that you only become homeless because you are an alcoholic and a drug user. But people become homeless for many different reasons and they all need help and support," she added. "I believe it can happen to anyone. It was a really short time after I became homeless that I was playing football for England."
The Arsenal Ladies midfielder has played a record 157 times for England since her debut at age 17, including as captain, and scored at two World Cups. She also played in the Great Britain side at London 2012.
The two-time FA International Player of the Year says her homeless experiences are why she is supporting The Independent and Centrepoint's Young and Homeless Helpline appeal.
We are asking our readers to help raise funds for charity Centrepoint to launch the first national helpline for 16 to 25-year-olds who are homeless or at risk of a life on the street.
The Freephone service will give vital housing advice and support, and provide expert advice on mental health issues, addiction and family breakdown to those who require it.
Currently up to a third of young people who seek help from English local authorities over homelessness each year are turned away with little or no support.
The causes of homelessness
Show all 7
Williams says she believes that if she had had the helpline to turn to, she might never have ended up homeless, and might have got the support she needed to reconcile with her mother, which didn't happen until many years later.
She said: "I didn't understand what homelessness would be like, what there was out there in terms of support, how to go about getting it. With a helpline, people can be honest about the situation they are in and get the right help.
"If I had got better advice maybe I wouldn't have had to spend that time in the hostel, I might have gone home. I was from a loving home. But I was independent and a bit stubborn and had my football and felt I would be OK. As soon as I was in a hostel I accepted that was my life."
Describing the night she spent on the streets of Peckham in South London when she first left home, she said: "I walked the streets for a night. I didn't know where to go, I just walked around. I was at a friend's until late, I said I would go home but I didn't.
"It was a little bit scary, a bit cold but I knew the area so I just asked walked around, I sat on a bench and at bus stops.
"I was thinking let's just get through this. I think if I had been here for more than a night it would have been a lot worse."
Luckily for Williams, accommodation was more readily available at the time than it is now, and she was housed quickly.
She said she found life in the hostels tough, and put up a front so she didn't have to talk much to other people there.
"I could feel very lonely," she said. "I would call people for hours on end, people I trusted and cared about, so I didn't feel alone.
"People don't see a way out, they are bored and sat there all day, that's why they can take drugs or turn to drink. I didn't allow myself to get involved in that because I had football, but a lot of young people don't have anything."
She hid her homelessness from people in football because she feared she would be judged – but she was supported by England coach Hope Powell, who found out about her situation while Fara was on international U-19 duty.
But despite being a successful footballer playing regularly for England, she was unable to move on because the game was amateur and she could not earn enough money from it.
She eventually escaped homelessness in her 20s after a move to Everton in 2004 saw her later get work as an FA community coach and relocate to Merseyside.
She credits football for her escape, and works as an ambassador for The Street Football Association for the sport to help other homeless young people.
She was awarded an MBE for the work and for services to football in 2016.
Through the Street Football Association, run by Centrepoint, she also coaches and mentors players at events like the Homeless World Cup.
The midfielder hopes to get involved with one the biggest homelessness and football academy projects in the country, which is being launched by her current club Arsenal this year.
Funded through donations from Arsenal players to our charity appeal, football workshops will teach vital skills like resilience, trust, teamwork, relationship building, and communication to young people experiencing homeless. Williams said: "The difference football can make to people is incredible."
Join our commenting forum
Join thought-provoking conversations, follow other Independent readers and see their replies