Airbnb backs Independent Homeless Helpline campaign as trip hosts lay on lunch for Centrepoint youngsters
The company marked the £30,000 donation with a Middle Eastern cookery class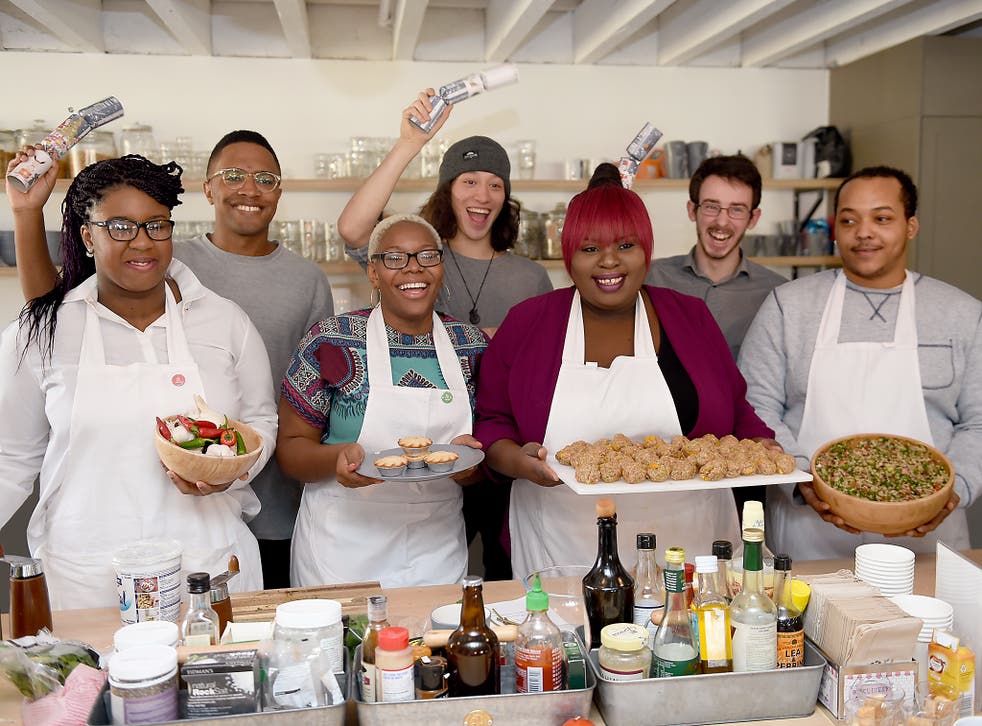 The Independent's Young and Homeless Helpline Appeal has received a huge boost as Airbnb, the online holiday rental giant, became the latest firm to throw its weight behind the cause.
The company is to donate £30,000 to the appeal, with 40p for every UK rental throughout December going to the campaign. It will also match any donations to Centrepoint made by UK Airbnb hosts during this period.
The announcement came as the company hosted a cookery class and lunch for Centrepoint young people at its London headquarters.
The event saw the company's Clerkenwell office transformed into a dining room as Airbnb "trip host" Alissa Timoshkina helped four former Centrepoint residents concoct a Middle Eastern feast of humous, tabouleh, fennel salad and lamb kofte.
"It's a nice way to meet people," said Tori, who left Centrepoint seven years ago and now volunteers for the charity. "It's easier to talk to people when you're doing something – when everyone is doing the same thing it creates a relaxed atmosphere."
The causes of homelessness

Show all 7
In November Airbnb announced it would begin selling experiences and tours as well as rooms, allowing hosts to commodotise skills and local knowledge. Dubbed "trips", experiences include things like truffle hunting, sumo wrestling and surfing, and are already available in 12 cities across the world.
Speaking at the lunch, James McClure, Airbnb's Northern Europe GM, said: "Moving into trips allows people to monetise skills, but it also opens up another way for people to have a good time, show what they're passionate about and give a good experience to people coming to London from either outside the UK or outside the capital."
Russia-born Timoshkina was recruited as a trip host after an Airbnb employee attended her film-themed supper club. Her three-day "Cinema Banquet" trip includes a film screening, dinners, a private cookery class and an events styling lesson. "Lots of eating and drinking," she said.
"It's been lovely, an amazing way to meet new people. When you're bonding over something so specific, you're unlikely to get people who are bored or unengaged. The people I've done it with so far have had great stories to tell and I've found we have so much in common. And drinking wine always helps break the ice."
At the Centrepoint lunch she was joined by three other trip hosts: Dom Daniel, a music industry insider, and Luke and Josh, two skateboarders offering the chance to sample London's skate scene.
"I started skating two years ago," said Centrepoint's Tori, "so I'm looking forward to speaking to Luke over lunch. I'll also speak to Dom as I take photographs at gigs, and he may have some advice with that."
Speaking at Airbnb's conference last month, global CEO Brian Chesky announced plans to have trips operating 50 cities by next year and all cities not long after that.
At the lunch Mr McClure added that Airbnb trips would help tourists discover parts of London beyond the reach of most tourists. He said: "You often think of London as just the central bit. But our hosts and our trips encourage people to visit the outer boroughs. It's a kind of tourism where the proceeds are shared much more evenly than just in Zone 1."
Airbnb's backing of the campaign follows endorsements from Sajid Javid, Kate Moss and Ellie Goulding, and comes a week after BT announced it would fund the phoneline.
Mr McClure said: "Homes and housing is what we're all about. The idea that you can belong anywhere. Especially at this time of year these things – and the issue of homelessness – are particularly important. So this is something we're very happy to be a part of."
Join our new commenting forum
Join thought-provoking conversations, follow other Independent readers and see their replies