The Great DIY Sleep Out: How you can help the young and homeless wherever you are
Centrepoint is urging communities, schools and workplaces to start the new year by organising their own DIY sleep outs, with all money raised going to the Young and Homeless Helpline appeal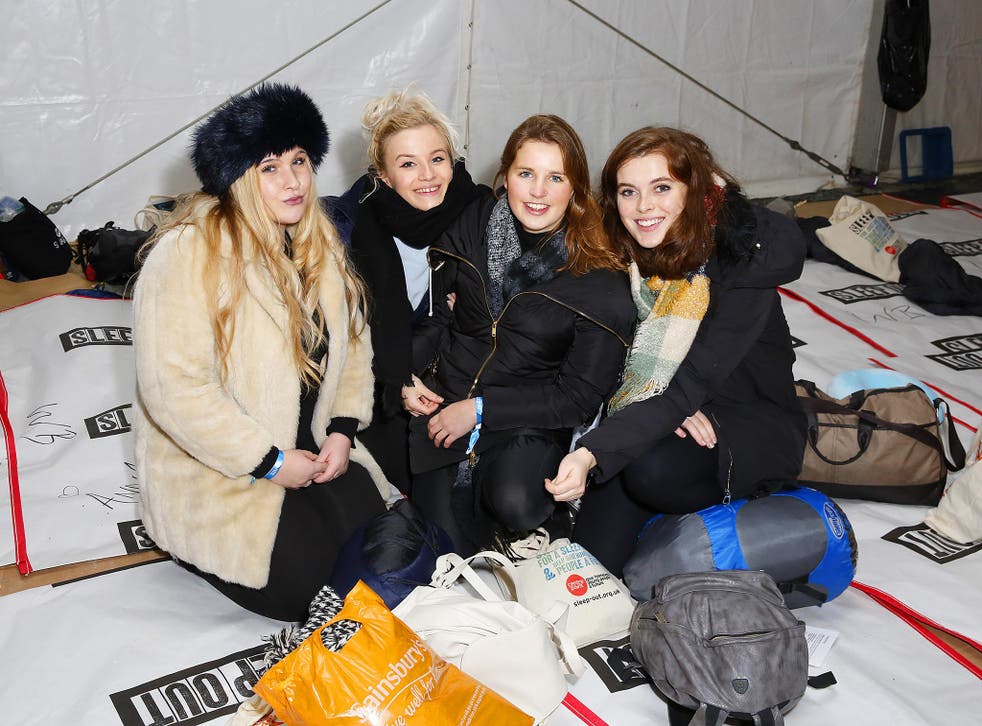 It could be the chance to stay late – very late – at school, your workplace or local community centre, while actually enjoying yourself and raising money for the Young and Homeless Helpline appeal.
The youth homelessness charity Centrepoint is for the first time urging communities all over Britain to start the new year by organising their own DIY January sleep outs.
All you will really need, the charity says, are friends and colleagues, warm clothing and sleeping bags, and a venue – it could be a school, your workplace, the local library or community centre.
All the money you raise will go towards the Young and Homeless Helpline, which with its linked support services is the focus of The Independent's charity appeal.
The helpline, due to be launched in February, will provide a nationwide Freephone number allowing 16 to 25-year-olds facing homelessness to talk to advice workers and to be directed towards the most appropriate support services.
Because Centrepoint has joined forces with youth advisory charity The Mix on the project, the helpline will assist young people not just with immediate housing needs, but also with a whole range of issues that can often trigger homelessness like mental health problems or family breakdown.
It is also hoped the helpline will alleviate a situation where Centrepoint estimates that up to one in three young people seeking help because they are homeless or about to become homeless are turned away unaided by English local councils.
With Centrepoint analysis of YouGov polling suggesting that 56 per cent of young people wouldn't know what help they were entitled to if facing homelessness, frontline staff and young people helped by the charity have said the helpline will be "a lifeline".
Already the generosity of Independent readers has helped the homeless helpline appeal pass the £2 million mark.
In pictures: End Youth Homelessness Sleep Out

Show all 16
In November, the annual nationwide sleep out organised by End Youth Homelessness, a coalition of charities including Centrepoint, raised a record £700,000 with more than £500,000 going to the homeless helpline appeal.
Centrepoint, though, is now going one step further and for the first time in its history suggesting communities organise their own 'do-it-yourself' sleep outs.
The charity is hoping thousands of people will take part in hundreds of DIY sleep outs in January, raising even more for the homeless helpline appeal.
As well as coming together to raise money, communities will gain some insight into part of the discomfort of being homeless.
Centrepoint, however, is stressing the aim is not to replicate the full experience of rough sleeping. Participants are being urged to find a safe and secure location for their DIY sleep out, where they can spend the night sleeping without a comfortable bed – while remaining surrounded by others and shielded from the fear and loneliness that confronts young people left to fend for themselves on the streets.
Seyi Obakin, chief executive of Centrepoint, said: "Youth homelessness is a hard subject to relate to for most of us. I have always believed if a person experienced just one night on the streets, they would approach the subject with a completely different heart.
"Most of us are lucky enough not to know what it feels like to sleep rough. Sleep out replicates a small part of the experience, whilst raising vital funds for young people facing homelessness.
"Please organise a sleep out in your community, at your workplace or in a local school and make a difference to the lives of homeless young people.
"Your support will mean that we are making progress towards our goal of ensuring that no young person will need to face homelessness alone."
For more information on how to organise a DIY sleep out, visit centrepoint.org.uk/get-involved/sleep-out/
Register for free to continue reading
Registration is a free and easy way to support our truly independent journalism
By registering, you will also enjoy limited access to Premium articles, exclusive newsletters, commenting, and virtual events with our leading journalists
Already have an account? sign in
Register for free to continue reading
Registration is a free and easy way to support our truly independent journalism
By registering, you will also enjoy limited access to Premium articles, exclusive newsletters, commenting, and virtual events with our leading journalists
Already have an account? sign in
Join our new commenting forum
Join thought-provoking conversations, follow other Independent readers and see their replies