I did my GCSEs while homeless and sleeping on night buses
Aged 16, and suffering from Crohn's disease, Laura Lartey found herself homeless. She still kept studying for her GCSEs, even when her only shelter was a night bus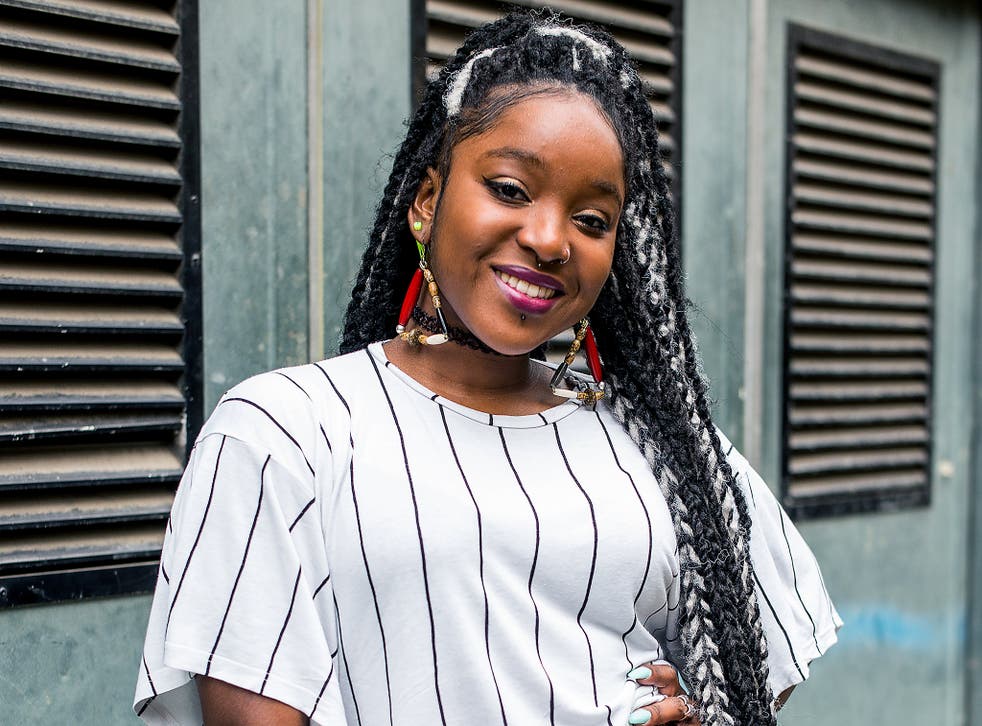 Even now, the trauma still resurfaces whenever she is told off by those with any sort of power over her.
It takes Laura Lartey back to the nights when she was 16, cold, lonely and too frightened to sleep as she took shelter surrounded by drunks on a night bus, because she had nowhere else to go but the streets.
It takes her back to the moments she always dreaded, when the driver spotted her, questioned her – "so many questions, 'Where are you going'? 'Why are you on this bus'?" – and asked her to leave.
"I would be saying 'It's not my fault, I'm sorry'," she says. "But they don't listen. They don't get it."
Now 20, with the presence of a performer who was taking dance and theatre classes aged three and appearing in shows at Disneyland Paris aged 11, she can at least muster some finely tuned mockery of such attitudes.
"Of course I am a drug addict," she says, the wry grin softening the scorn. "Of course I am pregnant. Of course I am an alcoholic. Clearly I am on the streets doing nothing with my life.
"Actually, so many young people who are homeless are in university, in college, working 24-7."
"Not having a roof over your head does not mean you are worthless," she says. "It doesn't mean you are doing nothing with your life. It just means you don't have somewhere to stay at night."
Unbeknown to those who didn't want her on the night bus or who denied her shelter in 24-hour fast food restaurants ("because they think you smell and will cause trouble"), this homeless 16-year-old was still "doing my school, trying to live my life".
In fact, sometimes she would go from the night bus to sitting a GCSE exam.
The breakdown in relations with her parents that led to her leaving the middle-class family home in north-west London came in the summer of 2012, during exam season.
The fracture in family relations led to two years of sofa-surfing
"North, south, east west," says Laura. "I ended up carrying my bags all round London, staying with friends, second cousins, in 20 to 25 addresses."
And when there were gaps in the sofa surfing, when she felt uncomfortable about overstaying her welcome, or when friends could no longer accommodate her because the flat was too full or they risked having their housing benefit stopped, she would resort to the night buses.
The causes of homelessness

Show all 7
Laura, a member of what some insist on calling "the snowflake generation", describes the routine.
"I normally took the 171 from central London to the far south-east, or the 221, because they were the longer routes. I had a Zip Oyster Card so it was free.
"I would try to hide upstairs, and stay on as the bus went back and forth from one end of its route to the other, until the driver found me."
She rarely got any sleep.
"I was constantly cold. I was sitting there thinking 'Oh my gosh, someone is going to rob me'. So I would try to stay awake and keep hold of my stuff, wrap my coat and my bags around me.
"But at the same time you have to try to make it look like you are not homeless, so the people on the buses don't kick you off."
And then, after a restless night, she would get to school early, put her coat and bags in a locker, and take a GCSE exam.
Revision, she says, would be done in libraries with late opening hours.
"I did my coursework in school. I stayed late and gave it back that day. I had nowhere to go to."
Hard enough, you might think, but throughout this time Laura was also struggling with Crohn's disease, an inflammation of the digestive system that can cause diarrhoea, stomach pain and exhaustion.
Sofa surfing interspersed by stays on night buses was, she admits, the worst possible thing for her illness.
"Not getting enough sleep will irritate it. Stress, anxiety and a lack of stability are even worse.
"It was horrible. I got really, really skinny. I couldn't eat because of blisters on my mouth caused by my Crohn's disease. I had to keep looking for bathrooms. No one would let me use the toilet. People thought I was drunk. It was the stigma of homelessness."
And yet she got her grades, 10 GCSEs at A* to C: "English, maths, RE, PE, drama, dance…" There were three A*s.
A B-Tech in musical theatre and business studies followed, while she was sofa-surfing. And again, "I got my grades".
She shrugs. No big deal, apparently.
"Because of my illness, exhaustion is just my day. It's just my life.
"And it wasn't that bad, because around my area the bus and train stations are 24 hours, so you can stay there."
Like many who might be helped by the Young and Homeless Helpline being campaigned for by The Independent and the charity Centrepoint, it was a long, long time before Laura had skilled professionals to assist her.
She never told her school or college she was homeless.
"I guess I thought it was my fault for falling out with my parents. I blamed myself for a while."
Only when she was desperate, when all the sofa-surfing options had dried up and "I had literally nowhere to go", did she seek help.
She stayed in a Centrepoint hostel for four months. With the help and encouragement of the charity's staff, she achieved a reconciliation with her parents.
Laura is in housing association accommodation now. The B-Tech, and those A*s in drama and dance are being put to good use. Laura has started Hear The Motion, her own performing arts company, aimed at enriching the lives and boosting the confidence of young people.
She does dance workshops, drama workshops, she says. And another subject, one in which, you might think, she is also well qualified: "Anything to do with self-motivation."
Register for free to continue reading
Registration is a free and easy way to support our truly independent journalism
By registering, you will also enjoy limited access to Premium articles, exclusive newsletters, commenting, and virtual events with our leading journalists
Already have an account? sign in
Register for free to continue reading
Registration is a free and easy way to support our truly independent journalism
By registering, you will also enjoy limited access to Premium articles, exclusive newsletters, commenting, and virtual events with our leading journalists
Already have an account? sign in
Join our new commenting forum
Join thought-provoking conversations, follow other Independent readers and see their replies