A thousand Londoners slept out in the cause of ending youth homelessness. I joined them.
A thousand Londoners slept out to raise funds for the Centrepoint Young and Homeless Helpline. Alex Dymoke was one of them
Alex Dymoke
Friday 25 November 2016 10:01 Comments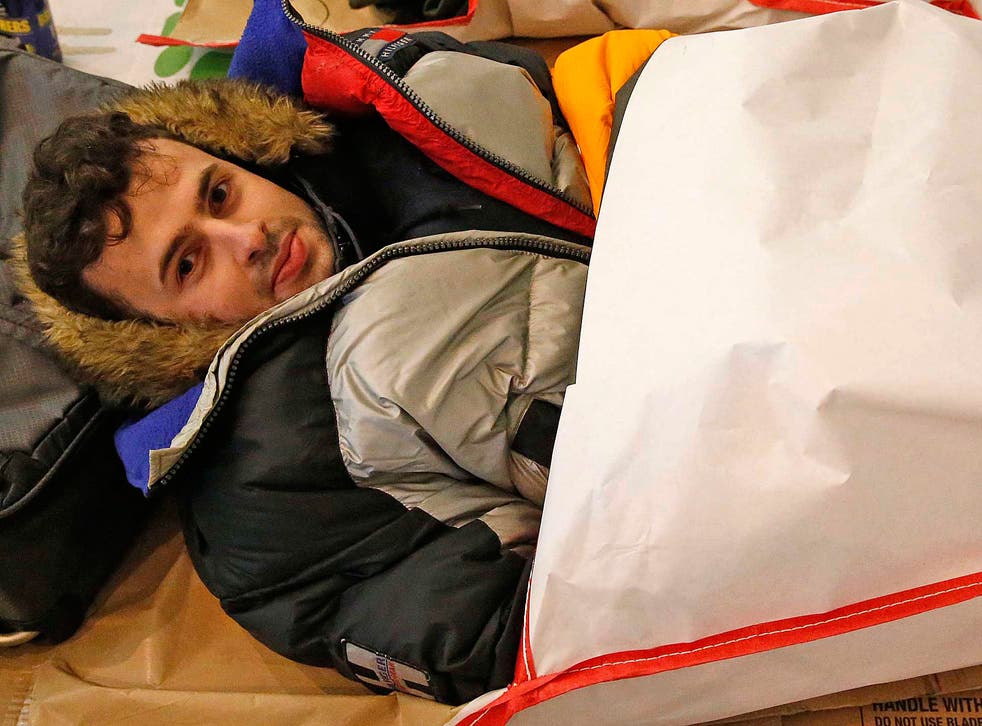 It all started so well. Dancing, a DJ set, celebrity cameos. At 10.30pm, fresh from a stint on Question Time, Tim Farron MP turned up with a cadre of young Liberal Democrats. Christopher Biggins read an innuendo-laden bedtime story. But at 11.30pm, as the temperature began to plummet, it was last orders. Time for bed.
For the thousand or so Londoners who had signed up for homelessness charity Centrepoint's "Sleep Out" in London, "bed" meant a flattened cardboard box on two acres of gravel next to the Millennium Dome. I brought with me a sleeping bag, two jumpers, a parka and a puffer. Rolled into the shape of a sausage, the latter made a decent enough pillow. Still, from 12am to 3am, sleep eluded me. And by the sound of it, I wasn't alone.
On a wintry night, made all the colder by the lack of cloud cover, more than a thousand Londoners could be heard restlessly grasping at sleep. People turned and squirmed, shifting their bodies against the hard ground.
Discomfort is the first test. The second comes the following day when the teams of bankers, lawyers, and schoolchildren trudge off for a full day's work on however much sleep they were able to salvage under the stars.
But therein lies a crucial difference between a charity sleep out and rough sleeping. They are not the same. Sleeping out for one night surrounded by like-minded Londoners, safe in the knowledge that normality is hours away, is a far cry from the anxiety and loneliness of life on the streets, and the years of trauma that often lead there.
It's a point many of the participants, including Lib Dem leader Farron, are keen to stress. "Sleep outs like this are not comfortable, but there's great camaraderie," he says, peering out the top of his sleeping bag.
"It's an adventure – and is therefore absolutely nothing like being homeless. You experience a tiny percentage of what it's like for the thousands of people across the country doing this for real every night."
"The thing to remember is we're only really two or three steps, any of us, from being in this position. It's not difficult to find yourself there."
He went on to praise The Independent's campaign to help Centrepoint launch a helpline for homeless young people, saying: "Advocacy for people who are homeless is massively important because not being in fixed place excludes you from so many sources of support."
End Youth Homelessness Sleep Out 2016

Show all 14
Though the cause is serious, the event is anything but. Arriving at 7pm, the atmosphere is that of a music festival. House music blasts from sound-system while Canary Wharf's neon skyline lights the site like a nightclub. Participants drink heartily from the bar (all profits and tips to Centrepoint), including the rather merry woman sleeping next to Farron.
"I spilled my beer on the Lib Dem leader's bed!" she tells me.
For all the fun, participants are well-informed and committed to making a difference to youth homelessness."I imagine myself at 16," says Claire, a receptionist at a financial services company based in Canary Wharf. "The idea of me being on the street at that age is terrifying. We're so lucky to have a warm house and a support network to rely on. Some people just don't have that. We work in Canary Wharf where there's money pouring out everywhere. It's not real life. This is something real."
A large screen above the stage displays a league table of the fundraising efforts of the various corporate teams taking part. The night ended with Asos in the lead, their team having raised over £20,000. The total is also projected in big numbers on the screen: £374,989. Proceeds from the bar are expected to push the figure past £400,000. Not bad for a makeshift nightclub in an abandoned Greenwich car park.
By 1am, the wind sweeping from the Thames onto the peninsula is unbearably cold. I open my rucksack and put on every item of clothing I have, only to find that, with so many layers, I no longer fit in my sleeping bag. I take off my puffer and pull the bag up over my chest. It's still tight with no room for my arms. Luckily I have a spare pair of long socks which I pull over my hands and up to my elbow. It's as warm as I'm going to get.
At 5.30am I stumble toward the tent where RAF chefs are serving bacon and egg butties. Parit, a 23-year-old trainee lawyer, stands nibbling at a bap. I ask him if he slept.
"In and out, in and out. It's hard to know how much. Three hours at most."
How did he find it? "Colder than I expected. I should have brought thicker socks. "
"You already know that sleeping rough is going to be terrible for whoever experiences it, but you never really know just how bad it is. And what we experienced tonight is just rough-lite. We had a tent, sleeping bags. Not everyone has that. For some people, this is life."
Register for free to continue reading
Registration is a free and easy way to support our truly independent journalism
By registering, you will also enjoy limited access to Premium articles, exclusive newsletters, commenting, and virtual events with our leading journalists
Already have an account? sign in
Join our new commenting forum
Join thought-provoking conversations, follow other Independent readers and see their replies