Give Back Friday: Whole Foods rebels against Black Friday by donating to the young and homeless
Whole Foods Market to back The Independent and Centrepoint's Young and Homeless Helpline appeal by donating a proportion of its Friday takings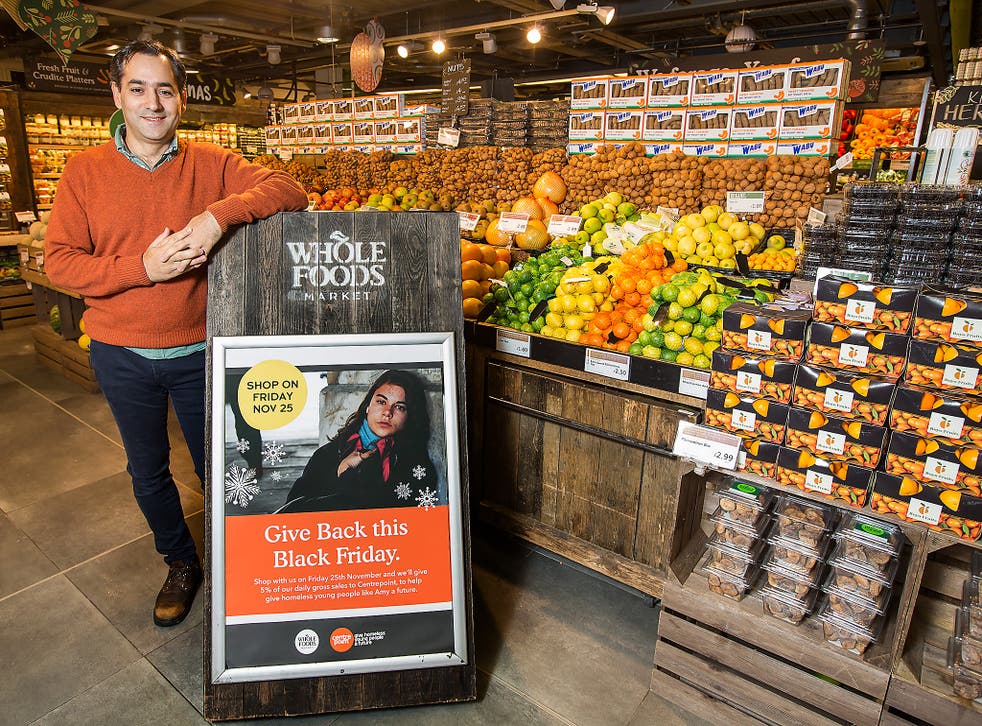 This week posters all over London have been advertising Black Friday, the shopping day imported from America where online retailers lure shoppers with pre-Christmas deals.
Now another transatlantic import, Whole Foods Market, is rebelling against this with its own version: Give Back Friday. The supermarket chain will donate 5 per cent of Friday's gross sales from its seven London stores to The Independent and Centrepoint's Young and Homeless Helpline appeal.
In addition, customers will be able to donate to Centrepoint at the till throughout November and December.
"We are in awe of the constant energy from the Centrepoint team and their commitment to helping young adults get back on their feet," says Diego Hvozda, store team leader at Whole Foods Market Piccadilly.
"All our London stores rally behind our Christmas Centrepoint appeal, but we at the Piccadilly store have a special connection as we share a neighbourhood with the Centrepoint head office and centre. At this time of year there is a lot of joy and happiness, but we must not forget that this can be one of the most lonely times for those who are homeless."
It's the second year in a row Centrepoint has teamed up with Whole Foods Market, which is known for its glossy fruit and veg displays. Last year they raised £31,946 for the appeal.
The causes of homelessness

Show all 7
"We are delighted to have the continued support of Whole Foods for their Christmas campaign this year," says Nick Connolly, head of corporate development at Centrepoint. "With the number of young people sleeping rough in London more than doubling in recent years, this support is truly invaluable. This winter alone, almost 25,000 young people will be at risk, making dangerous choices just to survive."
This Christmas The Independent is raising money to support Centrepoint, and to raise money for a new houth homelessness helpline. More than 150,000 young people approach the authorities every year because they are homeless or at risk of homelessness. Nearly three quarters of those who approach Centrepoint have experienced abuse of some kind.
"We are proud and delighted to be partnering with Centrepoint during the festive season for the second year running," says Benjamin Woodgate, Whole Foods Market Marketing coordinator. "We have a great appreciation for the efforts of the Centrepoint team but especially during the Christmas period and winter months."
How to donate to The Independent's Christmas Appeal
The Independent's Homeless Helpline appeal is raising money for the Centrepoint Helpline, a brand new support service that will save young people from ending up on the streets.
To donate you can:
Call
0300 330 2731
Text
HOME66 £5 to 70070
Post
Freepost RTKC-JRGU-ZYGT
Centrepoint
40-42 Phoenix Court Hawkins Road
Colchester
CO2 8JY
Join our new commenting forum
Join thought-provoking conversations, follow other Independent readers and see their replies