Payday loan companies 'hounding' homeless teenagers and pushing them into debt, charity warns
A 19-year-old with learning difficulties is said to be among those 'bombarded' with demands for repayment
Adam Lusher
Saturday 26 November 2016 01:05 Comments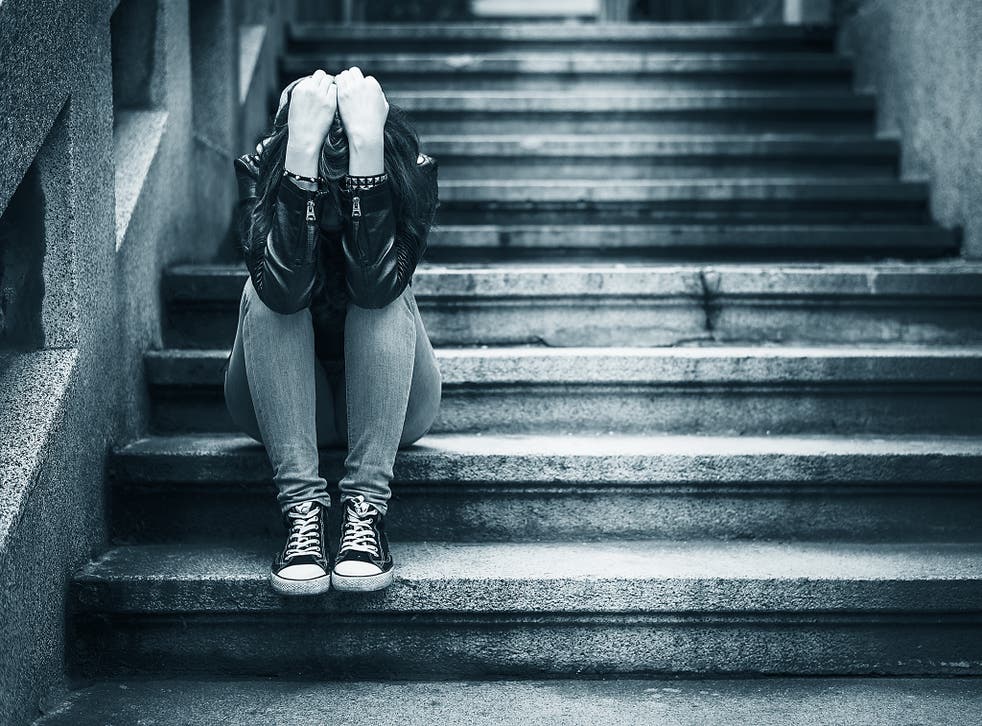 Unscrupulous payday loan companies are pushing debt onto homeless teenagers including those with learning difficulties, and "hounding" them for repayment, a charity has warned.
A 19-year-old with learning difficulties was among those bombarded with aggressive text messages demanding he pay up, the youth homelessness charity Centrepoint said.
Despite Centrepoint staff estimating that the Bradford teenager had a mental age of about 10, he had been able to get a £50 loan, which was turned into a £200 debt by crippling interest rates.
Other homeless teenagers – some as young as 17 – have, the charity said, been left "frightened to death" by harassment for the repayment of debts that had been vastly inflated by high interest.
Freda Dyson, who manages Centrepoint services in Bradford, told The Independent that before she and her staff started to tackle the problem by confronting companies and alerting trading standards, the situation in Bradford had been "absolutely appalling".
"A tremendous amount of young people were able to get loans from unscrupulous companies," she said. "They were desperate. They might get a £100 loan, but that might end up as a much bigger debt.
"We had young people getting inundated with phone calls and texts from these companies: 'You will pay us', text after text after text. It could be a dozen a day.
"They were all under 20. Some were as young as 17. They were frightened to death."
The crisis, she said, had further convinced her of the need for The Independent and Centrepoint's helpline appeal, because as well as helping with accommodation, Young and Homeless Helpline workers will be able to offer money advice to young people facing homelessness.
"This is essential now," said Ms Dyson. "These kind of cases show just how important that money and debt advice will be."
The causes of homelessness

Show all 7
Ms Dyson said the Bradford situation had been made worse by the fact that young people were being allowed to take out loans on behalf of their friends.
"A young person might get one of these loans," said Ms Dyson. "Then their friends would find out and ask them to get a loan on their behalf, promising to pay them back when they got their next benefit payment. So someone might get a loan for a friend. And another friend, and another...
"They could end up with five debts allocated to them. Some companies were throwing money at people."
"It's a money making scheme for them, isn't it?" she added. "It's just greed, capitalising on the misery of others."
Public outcry over the ruthless tactics employed by some payday loan companies has already prompted the Financial Conduct Authority (FCA) to tighten the rules around what is the industry, which issued about 10 million loans in 2013.
The authority introduced stricter affordability rules in 2014, followed in January 2015 by caps on interest rates and fees that were designed to ensure no borrower would be forced to pay back more than twice the original debt.
But Ms Dyson said that cases seen by her and her team were coming to their attention after the rules were tightened up.
She said the 19-year-old with learning difficulties revealed his problem to Centrepoint staff in May 2016, after he had been in a hostel for three months.
She said: "By that time, he was getting three, four or five texts a day: 'You owe this'; 'This is what will happen'; 'More interest will be put on'. He didn't know what to do."
Client confidentiality prevented Ms Dyson from revealing the teenager's precise circumstances when he took out the loan, which he did before coming into the care of Centrepoint. But she said: "He was in a really bad situation."
His learning disability was obvious, she added: "If you spoke to him on the phone, you would know he had a learning difficulty because of how he speaks.
"Even though he is 19, in essence he is half that age. It is like selling something to a kid."
And yet, said Ms Dyson, the teenager was able to obtain a loan of about £50, which became a debt of more than £200.
The loan, she said, "would have been for the basics, maybe food, because he has no money".
"There are lots of cases where that happens," she added. "A lot of them took out the loans before they came to Centrepoint, maybe when they were sofa-surfing, maybe when they were in care homes, some when they were still at home."
In a small number of cases, she added, young homeless people may have taken out loans while in the care of Centrepoint, without telling hostel staff.
Centrepoint staff were sometimes alerted to the fact that a young person had a debt problem when representatives of the payday loan companies phoned the hostel demanding to speak to them.
Industry insiders insist the average payday loan customer is now aged 25 to 39 and earning between £20,000 and £25,000, and that in 90 per cent of cases the debt is paid off without additional fees or charges being incurred.
Ms Dyson, however, said she was appalled that some companies still appeared willing to lend to the young, vulnerable and homeless.
She said: "The young people shouldn't have taken the loans out in the first place, but if you have basically got nothing and you can access a loan straightaway, in the next two hours, what are you going to do? You are going to think, 'This will sort out my problems, and I will be able to deal with it'. But unfortunately it doesn't work like that."
Her call for a national helpline to help steer young people facing homelessness away from payday loans was backed by Elicia Morrison, the coordinator of Centrepoint's national Moneywise service, which teaches money management to young people in the charity's care.
A helpline, she said, could really help those like the 19-year-old Londoner who sought help from Moneywise in September last year after an initial £200 payday loan had doubled to become a £400 debt.
Ms Morrison said: "Having a helpline where people can just phone for assistance really could stop young people getting into these sorts of predicaments – young people who are at the brunt of disadvantage."
She added that among young homeless people, sofa-surfers were likely to be the most susceptible to the temptations of a payday loan. The 19-year-old Londoner, she said, had taken out his payday loan when he was unemployed and homeless.
Ms Morrison said: "We supported him into work, and worked with him finding ways we could get the debt paid off. He was able to reduce it, but it took a lot."
"Often, these young people haven't had any sort of financial education. They look at payday loans as a cash bump-up, without taking into consideration interest rates. So they get struck with a massive debt that becomes a nightmare. The way the companies try to get the money back can be classified as hounding."
By contrast, said Ms Dyson, the difference that could be made to young people's lives if they did get sound advice, and especially if they got help from Centrepoint was, she said, illustrated by what happened to the 19-year-old with learning difficulties.
"We dealt with the payday loan company and got the debt scrapped," she said. "The result is that now he has no debt, and we have helped him make contact with his extended family. He is living with them now, which has been absolutely brilliant for him."
"Whatever their problems," added Ms Dyson, "We won't give up on these kids."
Russell Hamblin-Boone, Chief Executive of industry body the Consumer Finance Association said: "This sounds like the activity of a loan shark, not a commercial lender. No legitimate lender would want to risk lending to someone who is homeless and it is illegal to lend to anyone under 18 years. Such unscrupulous behaviour reflects poorly on the rest of our industry, which operates to high standards. We urge Centrepoint to report the details of this lender to the Financial Conduct Authority with all the evidence, so that it can take action."
Register for free to continue reading
Registration is a free and easy way to support our truly independent journalism
By registering, you will also enjoy limited access to Premium articles, exclusive newsletters, commenting, and virtual events with our leading journalists
Already have an account? sign in
Join our new commenting forum
Join thought-provoking conversations, follow other Independent readers and see their replies