Sara Cox urges the nation to participate in the Great DIY Sleep Out for the Young and Homeless Helpline
DJ is joined by comedian Joe Lycett in backing the Centrepoint homeless helpline and calling for thousands of people to participate in DIY sleep outs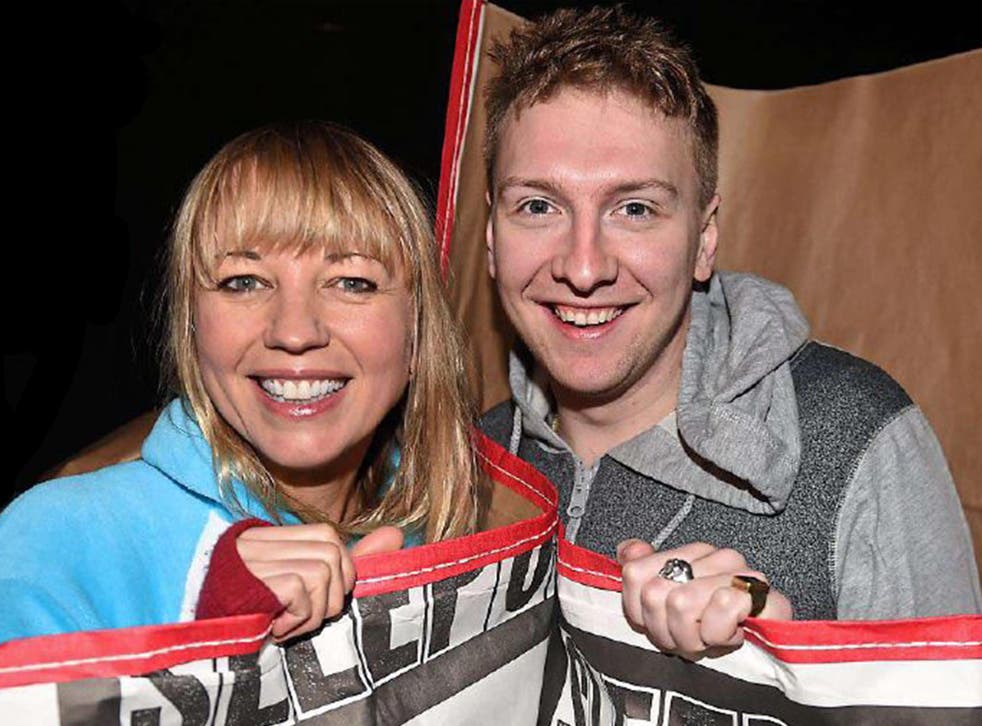 DJ Sara Cox and comedian Joe Lycett have called on Independent readers to back our charity appeal by organising their own DIY sleep outs to raise funds for Centrepoint's new Young & Homeless Helpline.
Cox, who has been involved with Centrepoint since 2000, urged people all over the country to stage their own sleep outs this January.
She said: "Sleep outs are great. Get your friends and neighbours involved, get a casserole on, take a woolly hat and earplugs.
"We never pretend we're experiencing homelessness, but it does make you think. You wake up and your hips are sore. And you're so grateful to get into a hot shower and your own bed. But you're safe.
"As a young person, sleeping rough or spending all night on a bus or in a train station, there are all sorts of predators out there."
The Independent is raising money to help Centrepoint launch the first national advice and support helpline for people aged between 16 and 25 facing homelessness or already sleeping rough.
It will fill a void in support for the growing number of young people at risk of homelessness -Centrepoint estimates that up to one in three young people seeking help because they are homeless or about to become homeless are currently being turned away unaided by English local councils.
The helpline will also be able to assist young people with wider issues including mental health, addiction and family breakdown.
In November, the annual nationwide sleep out organised by End Youth Homelessness, a coalition of charities including Centrepoint, raised a record £700,000, with more than £500,000 going to the homeless helpline appeal.
Centrepoint is now going one step further and for the first time in its history suggesting communities organise their own 'do-it-yourself' sleep outs.
The causes of homelessness

Show all 7
The charity is hoping thousands of people will take part in hundreds of DIY sleep outs in January, raising even more for funds, and helping to spread awareness of the helpline, which is due to launch in February.
Centrepoint has produced a pack to explain how to organise a sleep out, and staff are also available to help.
Groups are asked to find a safe and secure location, which could be in a back garden, office or school, for example. They are also asked to obtain sponsorship.
Lycett, who regularly performs at Centrepoint's Laughing Point comedy nights, said: "Sleep outs are especially resonant at this time of year when it's cold and wet and sleeping rough is so grim.
"Youth Homelessness is a scourge and it's getting worse. By helping vulnerable young people we can ensure it doesn't become a way of life."
Centrepoint chief executive Seyi Obakin also urged readers to get involved.
He said: "By doing a DIY sleep out, albeit in a safe environment, you will experience for one night what it many young people suffer through every year and raise vital funds to help get young people off the streets.
"So please get your friends and colleagues together and organise a sleep out in your community, workplace or school and make a difference to the lives of our young people."
For more information on organising sleep-out visit centrepoint.org.uk/get-involved/sleep-out/
Join our new commenting forum
Join thought-provoking conversations, follow other Independent readers and see their replies