How Maggies Centres are changing the way we build care facilities
As the 21st  Maggies Centre opens its doors, we look at how its centres are designed so cancer patients don't 'lose the joy of living in the fear of death'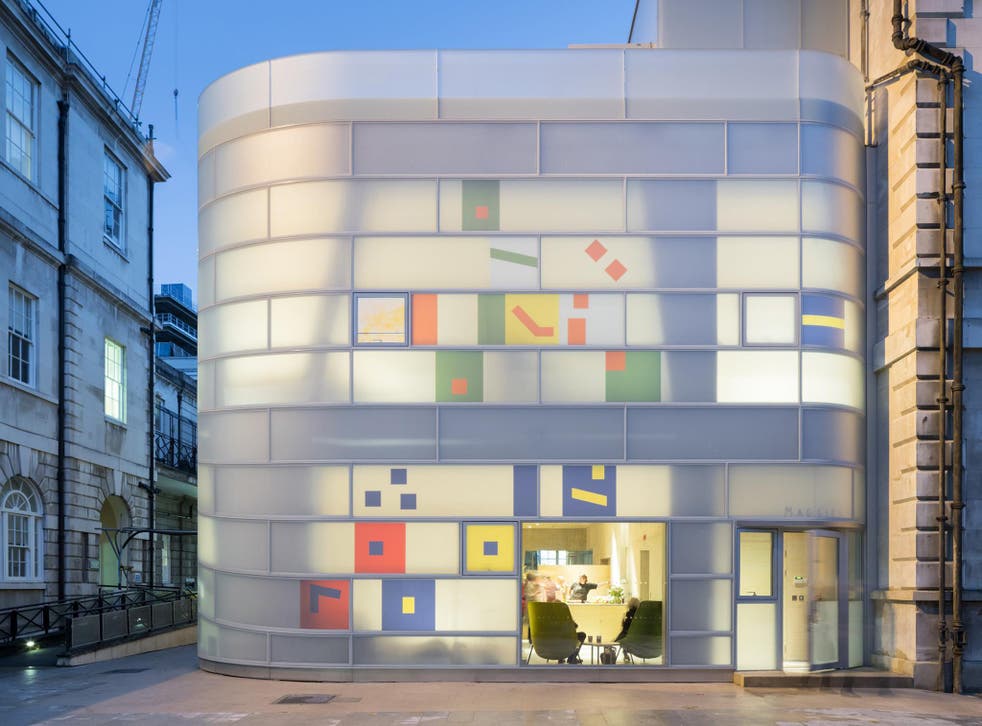 The newly designed luminescent cube structure which is currently wedged onto the side of St Bartholomew's Hospital in north London, emits an undeniable feeling of calm to a passerby.
The three-storey building is the UK's 21st Maggies Centre, designed by New York architect Steven Holl (famous for his work building new wings into Harvard and Princeton Universities). The centre has been created in layers, with an inner perforated bamboo layer surrounded by matte white glass which turns a warm, creamy glow as lights are switched on inside and an outer glass layer which is organised in horizontal bands like a musical staff.
Holl studied the history of St Bartholomew's Hospital, which was founded in the 12th century (and is currently Britain's oldest hospital), to draw inspiration from. He came up with a modern take on mediaeval neume notation – how music was written in the 13th century. Combing this and an almost Piet Mondrian painting style, the design is made up of multi-coloured dotted blocks and little shapes that dance over thin black bands which wrap around the entire building.
"The word neume originates from the Greek pnevma which means vital force. The centre suggests a 'breath of life' that fills oneself with inspiration like a stream of air," says Holl.
It has been created to replicate an urban townhouse, which replaced a 1960s extension in the north wing of the hospital and now boasts a public roof garden, room for yoga classes and Tai Chi.
But, the project was controversial from its beginnings, with many critics uncomfortable at the futuristic-looking centre's proximity to what's left of the 17th century hospital. Holl was selected because of his experience in building 'add-ons' to historical structures, and the project was given approval by English Heritage.
Maggie's Centres provide support systems for cancer sufferers, and are based on the grounds of NHS hospitals with specialist cancer units. They aim to make sure people don't 'lose the joy of living in the fear of death', allowing patients to become more informed in their care, and live happily alongside the disease.
Maggies Centres across the UK

Show all 8
Their centres provide nutritional advice, practical and emotional support – and even exercise classes. Their operation was described by The Department of Health in 2013 as an "outstanding example of best practice".
Samantha Bell, who was treated for leukaemia at St Barts, insists the centres are crucial for cancer sufferers and their families when fighting the disease: "In hospital, you are immersed in cancer. All you see around you are other people with cancer. It is a very intense environment.
"You need a barrier, something to cushion that transition. Maggie's is a place that allows you to feel that you are not alone with your feelings and emotions," she says.
The need to create a relaxing setting for people affected by cancer is present from the offer of a cup of tea upon entry, to the non-clinical, open nature of the centres architecture.
"Building design is so important. There is evidence that an uplifting environment can reduce stress and anxiety. We wanted something that both protected the existing hospital – but also allowed natural light to wash over the floors and walls," explains a spokesperson from Maggie's charity.
Steven Holl now joins an array of architects who have designed Maggie's Centres across the UK. Norman Foster finished work on a centre at The Christie Hospital in his home town of Manchester in 2016, complete with a zig-zag timber frame and an interactive garden.
"Our aim in Manchester, the city of my youth, was to create a building that is welcoming, friendly and without any of the institutional references of a hospital or health centre – a light-filled, homely space where people can gather, talk or simply reflect," explained Foster.
Work on Thomas Heatherwick's plot-plant inspired centre in Yorkshire is underway, while Oslo-based firm Snøhetta opened a centre shaped like a shell at the Aberdeen Royal Infirmary in 2013.
For more information on Maggie's Centres visit maggiescentres.org
Join our new commenting forum
Join thought-provoking conversations, follow other Independent readers and see their replies