Lego letter from the 1970s still offers a powerful message to parents 40 years later
'The urge to create is equally strong in all children… boys and girls'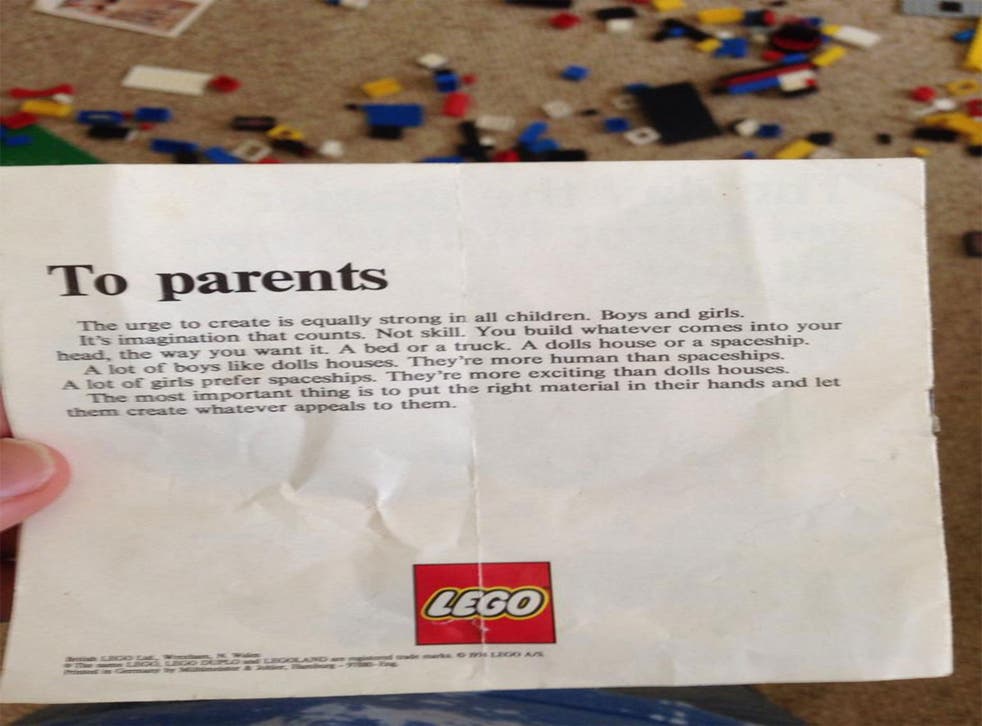 When it comes to promoting equality of the sexes, we tend to think that we've come a long way in the past 40 years.
But a letter that is believed to have been included in a 1974 Lego box set appears to show that the much-loved Danish toy company started to get there a good while before everyone else.
According to a post on the online community platform reddit.com, Lego sent a message addressed "To parents" inside the box of assorted building blocks, explaining how "the urge to create is equally strong in all children… boys and girls".
It's a powerful sentiment that has seen the image shared widely since user fryd_ first posted it on Saturday morning.
He said that he came across the letter while playing "with his niece and nephew at their Grandma's house", and that it was in a set "from 1973 with a blonde girl on the front with a white Lego house".
The nation's favourite toys

Show all 20
Here is the letter in full:
"To Parents
"The urge to create is equally strong in all children. Boys and girls.
"It's the imagination that counts. Not skill. You build whatever comes into your head, the way you want it. A bed or a truck. A dolls house or a spaceship.
"A lot of boys like dolls houses. They're more human than spaceships. A lot of girls prefer spaceships. They're more exciting than dolls houses.
"The most important thing is to put the right material in their hands and let them create whatever appeals to them."
While the image appears to include a copyright from 1974 and the name of a printer in Hamburg used by Lego at the time, the authenticity of the letter could not be independently verified, and a spokesperson for Lego was not immediately available for comment.
User fryd_ commented that "it seems like we've taken a step backwards" since the letter was written. But others disagreed – with Taliesen13 responding: "That sounds like the moral of The Lego Movie."
Register for free to continue reading
Registration is a free and easy way to support our truly independent journalism
By registering, you will also enjoy limited access to Premium articles, exclusive newsletters, commenting, and virtual events with our leading journalists
Already have an account? sign in
Register for free to continue reading
Registration is a free and easy way to support our truly independent journalism
By registering, you will also enjoy limited access to Premium articles, exclusive newsletters, commenting, and virtual events with our leading journalists
Already have an account? sign in
Join our new commenting forum
Join thought-provoking conversations, follow other Independent readers and see their replies