A Life in Focus: Ernie Wise, comedian and one half of Britain's greatest double act with Eric Morecambe
The Independent revisits the life of a notable figure. This week: Ernie Wise, comedian, from Monday 22 March 1999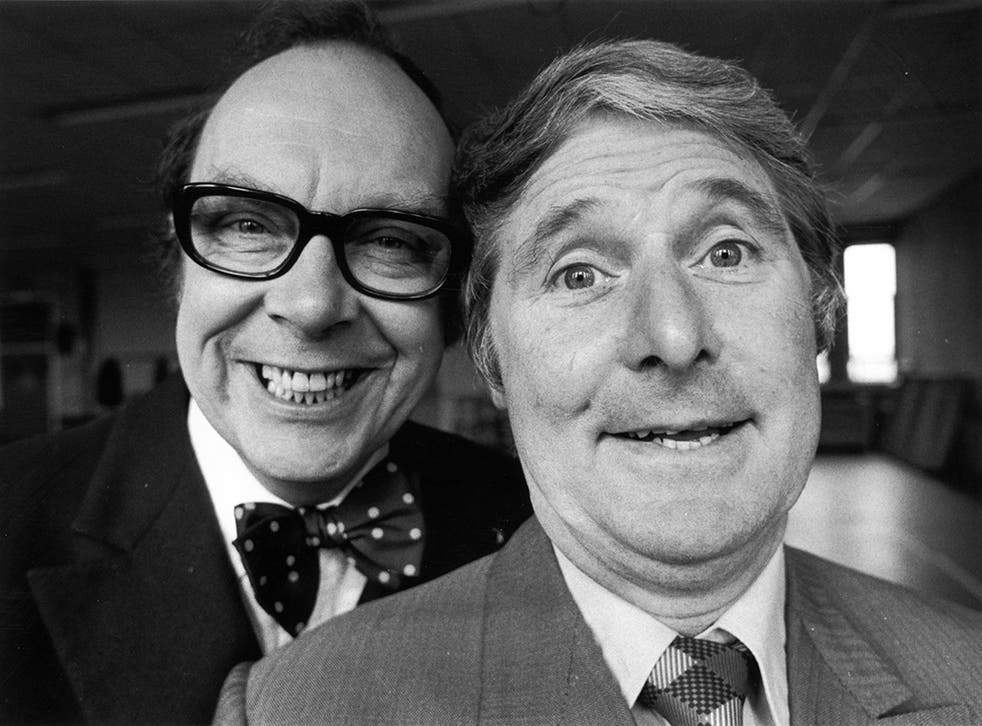 For 40 years, Ernie Wise was half of the greatest comedy double act in the history of British television, Morecambe and Wise. Wise, the smaller in stature (a disparity in height being the feature of all the finest comedy duos), was the butt of Eric Morecambe's jokes, referred to as the one with the "short, fat, hairy legs", and teased about his non- existent toupee with the words "You can't see the join".
It was Wise who opened each show with the greeting, "Good evening, ladies and gentlemen, and welcome to the show", and revelled in boasting of "a play wot I wrote", while Morecambe proceeded to sabotage such literary efforts, determined to knock his supposedly pompous partner down a peg or two. "What do you think of it so far?" Morecambe would ask, replying himself, in ventriloquist style, "Rubbish!"
Morecambe and Wise's Christmas shows were consistently ratings-toppers, with audiences of as many as 28 million, and stars queued up to appear on screen with the pair, often only to be sent up.
Glenda Jackson performed with Morecambe in a pastiche of a Fred Astaire/Ginger Rogers dance routine that finished with the Oscar-winning actress vanishing over the top of a staircase that led nowhere. The newsreader Angela Rippon danced deftly across the screen in an evening dress split to the thigh. The conductor Andre Previn leapt into the air while conducting his symphony orchestra so that Morecambe, playing a Grieg piano concerto rather amateurishly, could see him over the piano lid. Even the former prime minister Harold Wilson appeared in one sketch.
The list of personalities who joined Morecambe and Wise on screen down the years read like a roll-call of Britain's finest actors and entertainers. The joke was that Wise would grovel to these luminaries while Morecambe treated them with contempt and consistently forgot their names.
Morecambe and Wise had originally modelled their cross-talk act, combining quickfire gags with visual jokes, on the film giants Abbott and Costello and the more short-lived but hugely popular Wheeler and Woolsey – to whom they bore a remarkable physical resemblance – but their brilliant timing later caused critics to liken them to Laurel and Hardy. In their act, crafted in music halls and variety theatres, Wise was the straight man, on the receiving end of Morecambe's buffoonery and insults, although this one-sidedness gradually changed as greater subtlety and characterisation took over.
The partnership ended only with Morecambe's death in 1984, which left Wise with the task of rebuilding his career. Although he never reached the same heights as he had with his bespectacled partner, he branched out to work as both a West End stage actor and television game-show panellist.
He was born Ernest Wiseman in Leeds in 1925, and had his first taste of show business at the age of seven performing in northern working men's clubs alongside his father, a railway porter, in the amateur double act Carson and Kid, later known as Bert Carson and His Little Wonder and, at times, The Two Tetleys, after the local beer. It was a songs-and-gags act but also included the youngster performing a high-speed clog dance. "The faster I danced, the faster the crowds threw money," he later recalled.
He made his professional debut in January 1939 in the bandleader-turned-impresario Jack Hylton's stage production of the popular BBC radio programme Band Waggon, alongside Arthur Askey and Richard Murdoch, at the Prince's Theatre, London, after being auditioned by a talent-spotter, Bryan Michie, who had tipped off Hylton. Just a couple of weeks after the production opened, the 13-year-old Wiseman was brought in to add a juvenile flavour to the proceedings, earning six pounds a week, three times his father's weekly wage. It was Hylton who changed Wiseman's stage name to Wise.
In the same year, he was chosen to star in Bryan Michie's stage "discovery" show Youth Takes a Bow, again presented by Jack Hylton. Sitting alongside the former bandleader in a Manchester cinema, Wise watched an audition at which the comedian John Eric Bartholomew did impressions of Flanagan and Allen and Fred Astaire. Bartholomew, who had made his debut as a "gormless" comic in variety at the Empire, Nottingham, and was later to adopt the name of his Lancashire birthplace, Morecambe, joined Michie's touring show, but it was Wise who gained rave reviews as "the Jack Buchanan of tomorrow", "the young Max Miller" and "Britain's own Mickey Rooney".
Spurred on by Bartholomew's mother, Sadie, the pair eventually formed a double act, which they first performed as Morecambe and Wise at the Empire Theatre, Liverpool, in 1941, while still in Youth Takes a Bow. They subsequently appeared two years later in the George Black revue Strike a New Note, which starred the legendary comedian Sid Field, at the Prince of Wales Theatre in London, although they were only understudies in that and performed their double act just twice. However, they gained good broadcasting experience by landing regular work in the BBC radio series Youth Must Have Its Fling.
Then both went their separate ways to do National Service, Wise joining the merchant navy and Morecambe – after working for a short time with the comedian Gus Morris – becoming a Bevin boy down the coalmines, only to be discharged after 11 months with a weak heart.
In 1947, the two met again by chance, when Morecambe joined Lord George Sanger's Circus and Variety Show as feed to the resident comic, who turned out to be Wise. Standing in the centre of the circus ring, wearing dinner suits and gum-boots, they would sometimes perform with not a soul in the audience. After the show folded, they eventually found an agent who booked them for a show at the Walthamstow Palace, in east London, where the duo were billed as Morecambe and Wisdom because there was already an act called Campbell and Wise on the bill.
They subsequently entertained the troops with Ensa (the Entertainment National Service Association) and performed at the famous Windmill Theatre in Soho, and in nude touring shows, providing comic relief in between the star turns.
After further work in variety theatres – working their way up to become second on the bill to international entertainers such as Lena Horne – and guest spots in the radio show Workers' Playtime and a long run in the broadcast revue Variety Fanfare, they landed their own series, You're Only Young Once, in the BBC's northern region, which cast them as owners of the Morecambe and Wise Detective Agency, with a guest celebrity bringing the pair of bungling sleuths a new case to tackle each week.
Then, in April 1954, the duo began their first television series, Running Wild, but the six BBC shows proved a disaster and took them several years to live down. During that time, they continued to develop their act on radio and in summer shows. After regular appearances in 1960 on Sunday Night at the London Palladium, the following year they bounced back on to television, on ITV, with The Morecambe and Wise Show.
It ran for seven years and established them as major stars. It was during this series that they adopted a Johnny Mercer number, "Two of a Kind", as one of their theme tunes. Later, "Bring Me Sunshine" was to become their trademark song, played at the end of the show as they exited with a hornpipe-style dance, hands behind backs.
Their venture into feature films, with three comedy-thrillers – starting in 1965 with The Intelligence Men, followed by That Riviera Touch and The Magnificent Two in each of the following years – was less successful. The Morecambe and Wise humour was never successfully translated to film, with storylines that were far removed from their usual patter and a method of shooting that did not suit their off-the-cuff style, but lack of success in this medium did nothing to abate their small-screen popularity. They even travelled to America to appear regularly on The Ed Sullivan Show and had their own series, Piccadilly Palace, made in Britain by Lew Grade for screening in the United States.
The ITV show finished in 1968, when Eric Morecambe suffered a heart attack, but he recovered and The Morecambe and Wise Show switched channels, with Eddie Braben replacing Dick Hills and Sid Green as scriptwriter a year later after work lured the original writers to America. The duo's 10 years at the BBC proved to be their most popular. The series was a ratings topper and the annual Morecambe and Wise Christmas Show became an institution. The sight of Morecambe wearing glasses on the side of his head and slapping Wise across the face was a guaranteed audience-puller and enticed some of the biggest stars to join them in front of the cameras during this time – so it was a blow to the BBC when the pair returned to ITV with their show in 1978.
They were lured back by Thames Television with the promise of more money and a chance to appear in films but, with a change of scriptwriters, The Morecambe and Wise Show never reached the heights it had done and only one television film was made, the poorly received Night Train to Murder (1984). The BBC cashed in by repeating old programmes under the title Morecambe and Wise at the BBC and repackaging them into 70 half-hour shows for screening in America. The move to ITV also saw Morecambe and Wise making a guest appearance in The Sweeney (1978), with Regan and Carter conducting an investigation at a club where the pair were supposedly performing in cabaret.
A year later, Morecambe suffered his second heart attack and had to undergo open-heart surgery. Then, in 1984, after finishing a real-life stage show, at the Roses Theatre, Tewkesbury, in Gloucestershire, he died of another attack. His death, at the age ot 58, signalled the end of British television's best-loved comedy duo, who had appeared in five Royal Variety performances.
Picking up the pieces of his career, Wise had the difficult task of being the straight man who had to find new vehicles for his talents. He performed in cabaret in Australia in 1986, played the chairman, William Cartwright, in the London West End musical version of the unfinished Dickens novel The Mystery of Edwin Drood (Savoy Theatre, 1987), which ran for only 10 weeks, and Det Sgt Porterhouse in the farce Run for Your Wife (Criterion Theatre, 1988) and was on television as a regular panellist in What's My Line?, as well as appearing in three telethons in New Zealand and one in Australia. He acted in the American television comedy series Too Close for Comfort (1985) and, back in Britain, presented The Morecambe and Wise Classics, featuring some of the duo's finest performances from their BBC shows.
Wise was also the subject of This is Your Life (1991) and a 40 Minutes programme subtitled The Importance of Being Ernie (1993), which charted the problems of facing up to life as a solo performer after years of endearing himself to the nation as half of a double act. "We were ordained for each other," he said. "I wouldn't have teamed up with anybody else, only Eric. It was like a marriage."
Morecambe and Wise wrote two autobiographies together, Eric and Ernie (1973) and There's No Answer to That! (1981), as well as several other books based on their television shows, including The Best of Morecambe and Wise (1974) and Morecambe and Wise Special (1974). Wise later wrote his own autobiography, Still on My Way to Hollywood (1990).
Ernest Wiseman (Ernie Wise), comedian and actor, born 27 November 1925, died 21 March 1999
Register for free to continue reading
Registration is a free and easy way to support our truly independent journalism
By registering, you will also enjoy limited access to Premium articles, exclusive newsletters, commenting, and virtual events with our leading journalists
Already have an account? sign in
Register for free to continue reading
Registration is a free and easy way to support our truly independent journalism
By registering, you will also enjoy limited access to Premium articles, exclusive newsletters, commenting, and virtual events with our leading journalists
Already have an account? sign in
Join our new commenting forum
Join thought-provoking conversations, follow other Independent readers and see their replies