Author Joel Rose on how Anthony Bourdain cooked up his kitchen horror graphic novel 'Hungry Ghosts'
The idea came from his sense of violence in the kitchen: 'Since we work in close quarters, with so many blunt and sharp objects, you'd think that cooks would kill one another with regularity'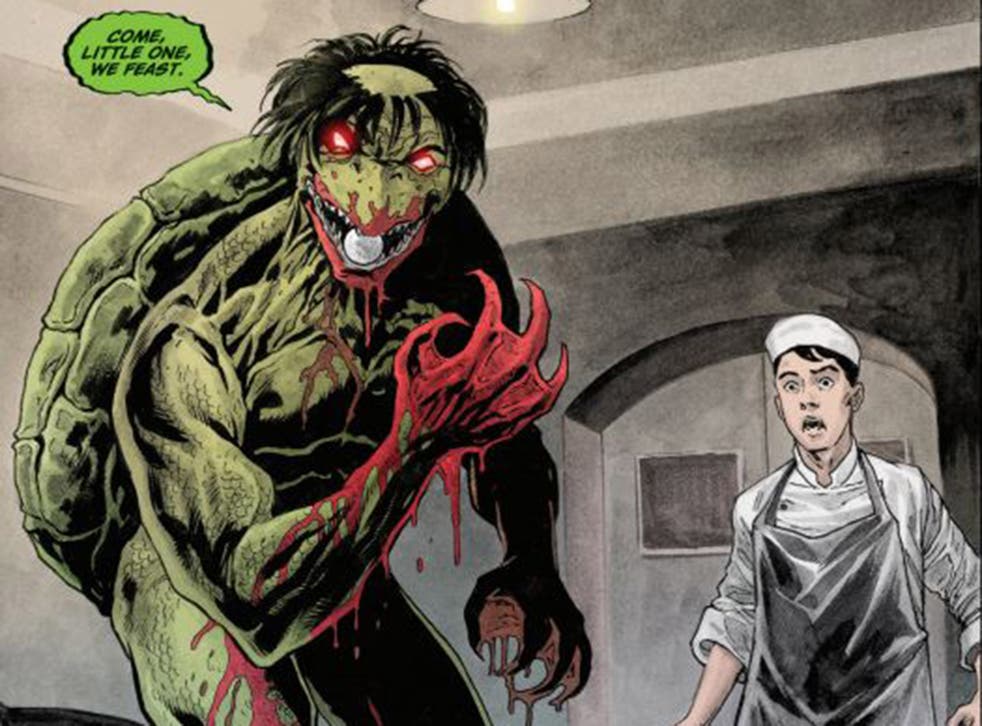 The kitchen is always a potential crime scene. A kitchen contains any number of lethal weapons. Knives, skewers, frying pans, chopping boards. Generally only deployed to inflict pain on radishes, cucumbers, and dead animals. But the possibility, the likelihood, of violence is there.
Which is a fact that the late Anthony Bourdain – star of Parts Unknown, but who rejected the label of "celebrity chef" – has exploited in a now posthumous graphic novel, Hungry Ghosts, and a previous bestseller, Get Jiro!
Bourdain's long-time collaborator, Joel Rose, discovered (and was discovered by) Bourdain in the 1980s. Rose, noir novelist and author of Kill Kill Faster Faster, was then founder and editor of a magazine that captured the zeitgeist – and has since been acquired by museums like the Guggenheim, the Museum of Modern Art, and the Whitney – Between C and D.
The C and D in question were the Avenues C and D on the East Side of New York, in between which Rose lived. "Back in 1982," Rose recalls when I visit him in New York, "I had a book contract and I bought a computer to do the job." It had a dot matrix printer attached, an Epson QX-10, running a Valdocs program.
"When it printed out the clatter of it made me think of Gutenberg, sort of historic, but revolutionary." Rose realised that he could print a magazine in this way if he could find writers to fill the continuous sheet, folded over upon itself, with holes down each side. "I drew on the cover myself, put it in a plastic bag the way the drug dealers did with dope, and left copies at a few book stores, St Mark's and East Side Books." Miraculously, the new format magazine was an overnight hit.
Copies sold out. Epson donated more printers and they had five or six printers going day and night and they still couldn't keep up. Artists and writers rushed to contribute. Including one young wannabe, Anthony Bourdain, who submitted 20 pages of a comic book that he had written and drawn.
"I liked his writing," Rose says. "I wrote back to him and told him the drawing sucked but the writing was good." A week later, the apartment buzzer goes, and a tall good-looking guy with dark hair is standing at the door, in his chef whites. It's Bourdain. He's turned up in person. "We were friends from that time on," says Rose. "He used to say I was the only real writer he knew."
Bourdain's first ever published story appeared in Between C and D in 1985, in the volume 2, no 1 issue. Bourdain didn't like to call himself a chef, he preferred to say cook. Chef was too hifalutin. Bourdain and Rose had a lot in common. They had both started out at the bottom as dishwashers.
Rose's father had been a waiter and Bourdain had worked as a waiter himself, as well as a busboy, so he'd lived and worked in restaurants around New York. Bourdain grew up in New Jersey, his mother worked at The New York Times and his father was a music executive, but he developed a passion for cooking after eating an oyster on a French fishing boat, studied at the Culinary Institute of America, and rose through the ranks to become head chef at the Brasserie Les Halles, a French-style restaurant in the financial district, serving up escargots, foie gras and steak tartare.
But at the same time, he always wanted to be a writer. While working as a chef by night, he wrote by day and published a couple of mysteries, Gone Bamboo and Bone in The Throat. "But he was still unsure of himself, he wasn't confident about his writing," says Rose.
Anthony Bourdain: Celebrity chef in pictures

Show all 8
Then, in 1998, Les Halles sent him to Tokyo to open a Japanese branch. He would send Rose regular emails about his adventures in Japan. There was one in which he described his visit to a local fish market. "It was so good I printed it out and took it in to show Karen."
Karen Rinaldi, an editor at Bloomsbury, was Joel's wife. She happened to be breastfeeding their first child, Rocco, at the time. She had her hands full. "So I read it out to her," says Rose. She looked up and said: "Does he have any other stories like that?"
"Loads," he said.
She put the kid down and picked up the phone and called Bourdain's agent and straight off made an offer on the book. "What book?" said the agent. Because it didn't yet exist. She just bet that it will. It was a good guess.
That book became Kitchen Confidential: Adventures in the Culinary Underbelly, published in 2000, combining memoir and an insider's exposé of the cons, vices and sins of the New York restaurant scene, hymning "the dreamers, the crackpots, the refugees and the sociopaths" of the kitchen.
Bourdain was outspoken about his drug use. He had acquired a heroin and cocaine habit and he said he needed it to survive the rigours and stresses of his trade. He was funny, but in a raw, wounded, vulnerable kind of way. The book became a huge hit. The core of it was published as an essay in The New Yorker, called Don't Eat Before Reading This. This is how it begins: "Good food, good eating, is all about blood and organs, cruelty and decay. It's about sodium-loaded pork fat, stinky triple-cream cheeses, the tender thymus glands and distended livers of young animals. It's about danger – risking the dark, bacterial forces of beef, chicken, cheese, and shellfish."
Bourdain does not bother to conceal the dark side of haute cuisine and speaks of "humiliation, injury, fatigue, and the threat of illness". He adds: "Gastronomy is the science of pain." Little wonder then that "there is a powerful strain of criminality in the industry". According to Bourdain the leading civilian occupation of prison inmates in the US, before they were locked up, was cook.
Thinking that the life-giving side of food had to be balanced by death, he was always a carnivore to his bones and reserved a corner in hell for vegetarians: "Serious cooks regard these members of the dining public – and their Hezbollah-like splinter faction, the vegans – as enemies of everything that's good and decent in the human spirit.
"To live life without veal or chicken stock, fish cheeks, sausages, cheese, or organ meats is treasonous." He liked to squirt blood into his mouth from a spicy boudin noir. He praised ribs, hooves, organs, tripe, trotters. Bourdain liked the element of risk in food. In one of his shows in far-flung parts he sampled cobra heart and soft-boiled duck embryo. He was even an outspoken fan of cream and butter.
The essay and the book changed his life forever. His writing took him out of the kitchen and put him on the road. "What if I go to the places I love – Vietnam for example, or Morocco – and write about the cooking there?" he suggested to Rinaldi. Thus were born the subsequent A Cook's Tour: In Search of the Perfect Meal and its sequel, A Cook's Tour: Global Adventures in Extreme Cuisines. At a certain point a production company called him up and asked if they could tag along and film his journey. His charm and honesty and, to a degree, his profanity, made the shows as big a success as the books.
Celebrity chef Anthony Bourdain dies aged 61
"He married his high school sweetheart," says Rose. "But she couldn't understand what he was doing, ultimately couldn't stand it." His second marriage was to Ottavia Busia, the hostess of a French restaurant, Le Bernardin, where they were introduced by the chef, Eric Ripert, whom Rose describes as Bourdain's "idol". Together they had a daughter, Ariane, now aged 11.
Bourdain had started with a comic book and he'd always wanted to do a graphic novel. One Thanksgiving he went over to Joel Rose's place, cornered him, and announced: "I've got a great idea." The idea for Get Jiro! came from Bourdain's sense of violence in the kitchen. He wrote that, "Since we work in close quarters, and so many blunt and sharp objects are at hand, you'd think that cooks would kill one another with regularity." In Get Jiro! – and the prequel Blood and Sushi – they do.
A Japanese chef – a dab hand with sushi and knives – comes to a near-future LA and is caught in the middle of a culinary war. Bourdain and Rose worked up a few pages and sent it to an editor at DC Comics. It turned into a New York Times no 1 bestseller. "It outsold Superman," Rose says.
Hungry Ghosts is based on a samurai tradition, going back to the Edo period, of telling tales in the night frightening enough to put fear into the hearts of warriors. A hundred candles would be lit but with each tale another candle would be snuffed out and so the stories became progressively darker. "We just changed samurai to chefs," says Rose.
The book is a thing of beauty, but the stories are filled with images of death and destruction. Knives and axes feature prominently. Decapitation and amputation abound. Eating but also being eaten. These are horror stories with recipes.
When he hanged himself in a hotel room in northeast France, aged 61, Bourdain was on location, filming a new episode of Parts Unknown. His friends were shocked and mystified. "I thought he was happy," says Rose. "He was happy. He told the film director how happy he was to be working on the comics. He carved out the perfect life for himself." But he also had a long habit of referring to suicide and depression.
Perhaps, as some have suggested, Bourdain was simply exhausted by a gruelling schedule. Rose suggests that he may have been too self-critical, set himself impossible standards. "He valued integrity so high. Maybe too high."
For all his worldly success, Anthony Bourdain always thought of himself as an outsider. It's why he spent so much of his time on the road, always looking for a home he could never find. He wrote: "In America, the professional kitchen is the last refuge of the misfit." Even in the spotlight, he felt isolated. He once described his lifestyle as "crushingly lonely".
One thing that emerges from his books and television shows is that, as Rose puts it, "He always made sure to be nice to people". But in the end there were "so many people" that needed him, were dependent on him. He was drained by it all. It may be the fate of the most popular cook to feel as though he is being eaten up by others. Carved up and served on a plate. Not for vegetarians. In the story, Bourdain and Rose imagine the Snow Woman, a ghostly figure who is capable of sucking the life right out of you: "her kiss is like that of the vampire". Another story features the Jikiniki who are "devourers of human flesh".
Bourdain was self-deprecating enough to feel he didn't deserve his success. He once said: "I should've died in my twenties. I became successful in my forties. I became a dad in my fifties. I feel like I've stolen a car – a really nice car – and I keep looking in the rearview mirror for the flashing lights – but there's been nothing yet." Joel Rose, in a metaphor which Bourdain would have appreciated, said: "He thought he was like the rat who stole the cheese off the table."
'Hungry Ghosts' (Dark Horse Comics, £12.50) is out 2 October
Join our new commenting forum
Join thought-provoking conversations, follow other Independent readers and see their replies