Brexit's home front
Brexit or no Brexit, for many residents of south Wales prospects are unpromising
Continuing his series of dispatches from around Brexit Britain, Patrick Cockburn finds loathing for both the EU and the UK establishment in the Welsh Valleys
Friday 22 February 2019 15:32 GMT
Comments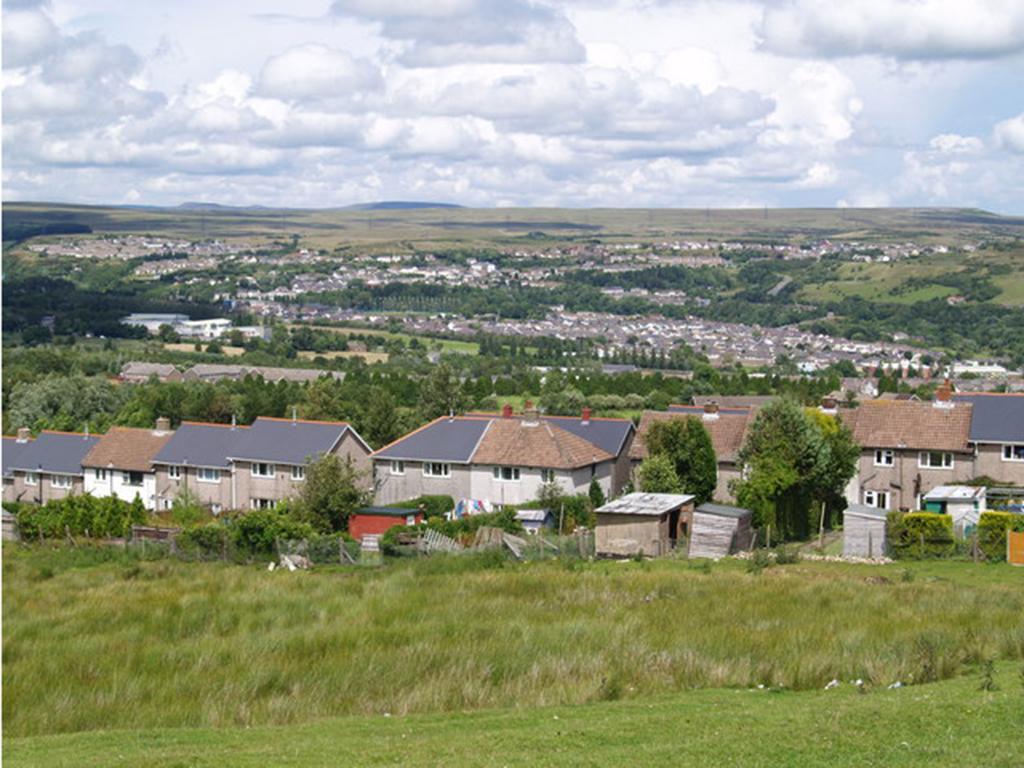 The one million people living in the south Wales valleys, a place that was once the engine room of the Industrial Revolution in Britain, are poorer today than the population of parts of Bulgaria, Romania and Poland.
Unsurprisingly, they have few good things to say about anybody in authority – the EU in Brussels, the British government in London, the Welsh Assembly in Cardiff – who have presided over their decline.
The EU may not be the only one to blame for the current state of the region, says Graham Simmonds, an independent local councillor from the Blackwood district of Caerphilly, but "it was the EU against which people decided to push back."
An electrician in the giant steel plant in Ebbw Vale which closed 17 years ago, he voted Leave as did the majority in the Valleys – usually spelled with a capital V – in the 2016 referendum believing that Brussels, despite its much-publicised largesse, had done nothing effective to regenerate the region, which is home to a third of the Welsh population.
Among those who voted Leave in the referendum, there remains a sense of anger over the area's deprivation, bitterness at their exclusion from power, and now too a conviction that some fresh act of treachery is being prepared to keep the UK inside the EU.
'Brexit is like...' The Top 20 Twitter analogies
Show all 20
"It's the first referendum in British history that the public hasn't done what the establishment wanted them to do," says Simmonds. He suspects that Theresa May's deal with the EU, so far rejected by the House of Commons, along with the possibility of a second referendum, are manoeuvres by the establishment to sabotage the Brexit vote.
"I think we are looking at an establishment coup and they are doing everything they can to subvert the will of the people," he says.
Such suspicions are widely shared in the Valleys. "If the powers-that-be thought that they could hoodwink the country and get away with it, they would," says Norman Hopkins, who advises housing tenants in Caerphilly. "When I voted Leave, I genuinely thought they would rig the ballot against us if we looked like winning."
Underlying this cynicism, amounting at times to paranoia, is a conviction that the interests of ordinary voters will always be ignored. The EU is seen as a remote institution which is the project of a distant political class whose own wellbeing it serves.
"We should have been in Europe properly and not in a way that suited the establishment and the south east of England," says Simmonds. "We may not be as well educated, we may not be as well dressed as them but we are members of the same country."
What has happened in the Welsh Valleys is similar to what has happened in other old industrial heartlands in Britain, except that in Wales the impact has been more devastating because the region was already deprived. EU figures show the region is poorer than anywhere in Czech Republic, Slovakia and Slovenia.
In the aftermath of the referendum there was some patronising debate in parts of the metropolitan media about why Wales, particularly the Valleys, should have decisively voted to leave the EU when Brussels had spent at least £5 billion in the Principality since 2000 and currently subsidises it by about £680 million a year.
But there should be no mystery about the success of the Leave campaign in Wales and similarly deprived areas such Cornwall and Lincolnshire: whatever the EU did or did not do in these places, it was not enough to produce a noticeable improvement in peoples' lives.
Above all, none of those involved in helping the people of the Valleys – be they Welsh, British or European – were able to satisfy their two most important needs: well-paid, secure jobs; and better quality education.
Naturally, the two are interlinked because without an educated work force the Valleys will be unable to attract modern enterprises or – and this may be more realistic – they will be unable to equip the younger generation with the skills they need to find good jobs elsewhere.
Ian Thomas, a psychiatric nurse for the last 29 years, who also lives in Blackwood, has a more nuanced though still negative view of the EU. Along with everybody else interviewed for this article, he believes that the outcome of the referendum "was a way of kicking back" against the status quo and a protest against many grievances that have nothing to do with the EU.
He says that he was "a reluctant Leaver" but, describing himself as somebody on the political far left, he sees the EU as the embodiment of neo-liberal economics that has swept away the old industries in the Valleys and put nothing in their place.
Nonetheless, today he has doubts about how he would vote if there were to be a second referendum. "I would be tempted to vote Remain, having seen the mess that has unfolded," he says.
He thinks that the debate about membership of the EU that should have taken place in 2016 is only happening now; three years ago people did not really know what they were voting for.
Part of him feels that Britain should not be bullied into holding a second vote, as happened in Ireland in 2008 and Denmark in 1992. But he says he also feels that leaving the EU is turning out to mean "far too much disruption." He believes the process has fuelled racism and made it difficult for his hospital in the Vale of Glamorgan to recruit essential foreign nurses, who are deterred by uncertainty over their future status.
If there is a second referendum, Thomas believes that this time – in Wales at least – Remain would win with a slim majority, in an exact reversal of the previous poll.
"I think that Remain would win because people have seen the mess that we're in," he says. His worry though is that a new vote would embolden the far right, which could pose as the defenders of the previous result; and of "democracy".
***********
The EU became a scapegoat for economic and social ills that have deep roots in the political and economic history of Britain. Leavers denounce it as an undemocratic Leviathan while Remainers praise it as a bastion of moderation and good sense.
Yet its real impact has always been more limited than voters – often influenced by decades-long demonisation of Brussels by the dominant, right-leaning section of the British press – have appreciated. The EU subsidy of over £5 billion for a small country like Wales, with its population of three million, sounds impressive; but it is over a twenty year period and is dwarfed by the much larger UK subsidy to Wales under the Barnett formula, which allocates government expenditure in Northern Ireland, Scotland and Wales.
The most important point is that whatever the UK, EU or anybody else did for the Welsh Valleys, it was ultimately insufficient.
Shops, always meagre in size and now closed, line the depressing main streets of former mining towns like Tonypandy. Deprivation was always endemic here: Welsh miners got lower pay than in other parts of the country until a few years before the mines were closed in the wake of the miners' strike of 1984/85.
The entrances to the pits have been grassed over or maintain a ghostly existence as heritage centres. There have been a few improvements such as the removal or landscaping of enormous spoil tips.
"When the mines were here you would not have wanted to put your foot in the river [because it was polluted with coal dust]," adds Hopkins, "but now you see fish in the water and kingfishers and herons are flying about."
This is comforting in a way, but prettifying these grim-looking towns, where rows of small miners' houses are crammed onto the steep sides of the valleys, somehow serves to enhance rather than reduce the sense of desolation and abandonment.
Britain before Brexit: Wales
Show all 16
People living in rural west Wales are at one with the families of former miners and steel plant workers in believing that the EU has never done much to help them. Michael Douglas, 22, and now a student at Birmingham University, comes from a countryside village with a population of 300 where he says that little ever happens. He used to take an hour-and-a-quarter bus ride twice a day to get to college. He agrees that there may have been high investment by the EU in this part of Wales "but I don't feel it where I live."
Hostility to the EU is fuelled by resentment against its perceived authoritarian and undemocratic ways. Douglas is unhappy that people in member countries do not have a voice in deciding its leadership. He echoes the Leaver argument when he says: "being in the EU means that we have to do deals with the EU and, if we had been able to do deals with China, India, Brazil, Australia, then we would have had higher growth."
One continually hears the argument from Brexit supporters in the Valleys that the EU needs Britain more than Britain needs the EU and, whatever the threat of a no-deal Brexit, the Germans and French will always want to sell their cars and cheese in Britain.
There seems to be no understanding that Britain might be in the weaker bargaining position when dealing with an organisation of 27 countries and 500 million people. Failure to negotiate a better departure deal is blamed on the incompetence of Theresa May, who is suspected of being a covert Remainer, or treachery on the part of establishment officials.
In truth, the EU has been over-sold as a force for good and evil by both its enemies and friends. A sceptical Ian Thomas says, "I have friends who speak about the EU as if it was a benign socialist organisation that is all about giving us clean beaches, recycling and trade union rights."
He points instead to the crushing austerity measures imposed on Greece by the EU that even the IMF found excessive and quotes the former Greek minister and economist Yanis Varoufakis as describing the EU's mistreatment of Greece as "economic waterboarding."
Mike Gapes: 'I am sickened that the Labour party is now a racist, antisemetic party. I'm furious that the Labour leadership is now complicit in facilitating Brexit'
Paradoxically, the EU might be more popular if it had been the hands-on economic regulator that its critics accused it of being. Though a Leaver, Simmonds says that if Britain had been signed up to the EU Social Chapter then it might have been more difficult for the owners of the Ebbw Vale steel plant to close it down in preference to shutting down a similar plant in the Netherlands. As it was, they shut it in 2002 with the loss of 850 jobs in the plant and 1,250 among contractors.
"For us it was like getting a brick in the face – it stops you dead and we still haven't recovered," Simmonds concludes.
EU officials would no doubt argue that there was nothing much they could have done to keep heavy industry going in the Valleys or anywhere else in Britain. But local perceptions are dominated by the catastrophic episodes of de-industrialisation and, if the EU could do nothing about them, then it was inevitably seen as peripheral or irrelevant.
The EU doesn't get all the blame for deprivation in Wales, however. For almost a century its politics have been dominated by the Labour Party, which has tended to treat its Welsh constituencies as if they were rotten boroughs.
"We are one of the most deprived regions of Western Europe and Labour have been in power here for 97 years – I can scarcely believe it," says Simmonds, arguing that it is not in Labour's interests to see anything change because it is sitting pretty in these constituencies.
He recalls that it was Labour indifference to the interests of its voters that brought him into politics twenty years ago.
"I hope you are going to laugh when you hear what happened," he says, explaining that in the mid-1990s he had noticed large and alarming increases in his council tax, which he worked out was the result of an error. He went to a Labour councillor, whom he had known for twenty years, who said: "Leave it to me." He waited for four weeks and then returned to the same man only to be told: "I didn't do anything because I didn't think it was worth it."
Outraged by this, Simmonds spoke to somebody he had played football with, who arranged an interview with a senior council official, who in turn agreed that a mistake had been made and would be put right. Still fuming, Simmonds called at the house of the councillor who had failed him and said: "if nobody stands against you in the next election you are looking at the man who is going to take your seat off you."
Simmonds believes that education is crucial if there is to be any salvation for people in the Valleys.
"If we don't have a skilled workforce then we are doomed to dig holes in the ground and put one brick on top another," he says. "The world has moved beyond all that and all reasonably developed countries have a skilled workforce."
Support free-thinking journalism and attend Independent events
Even if well-paying jobs never return to the Valleys, education would provide an escape route to other places where there are jobs.
Michael Douglas from rural west Wales, now studying at Birmingham University, says: "I have some friends at home who didn't go to university. Yeah, they have a job. Yeah, they're making money, but it's not ever going to be anything big.
"I feel the best option [for somebody from west Wales], if you want a prosperous life, is to emigrate somewhere else."
Join our commenting forum
Join thought-provoking conversations, follow other Independent readers and see their replies