Calais: 'Dogs are allowed in cars here, but refugees are not'
It has been eight months since more than 8,000 refugees were forced out of the Calais Jungle by French authorities last year – but many are still living there, only in far worse conditions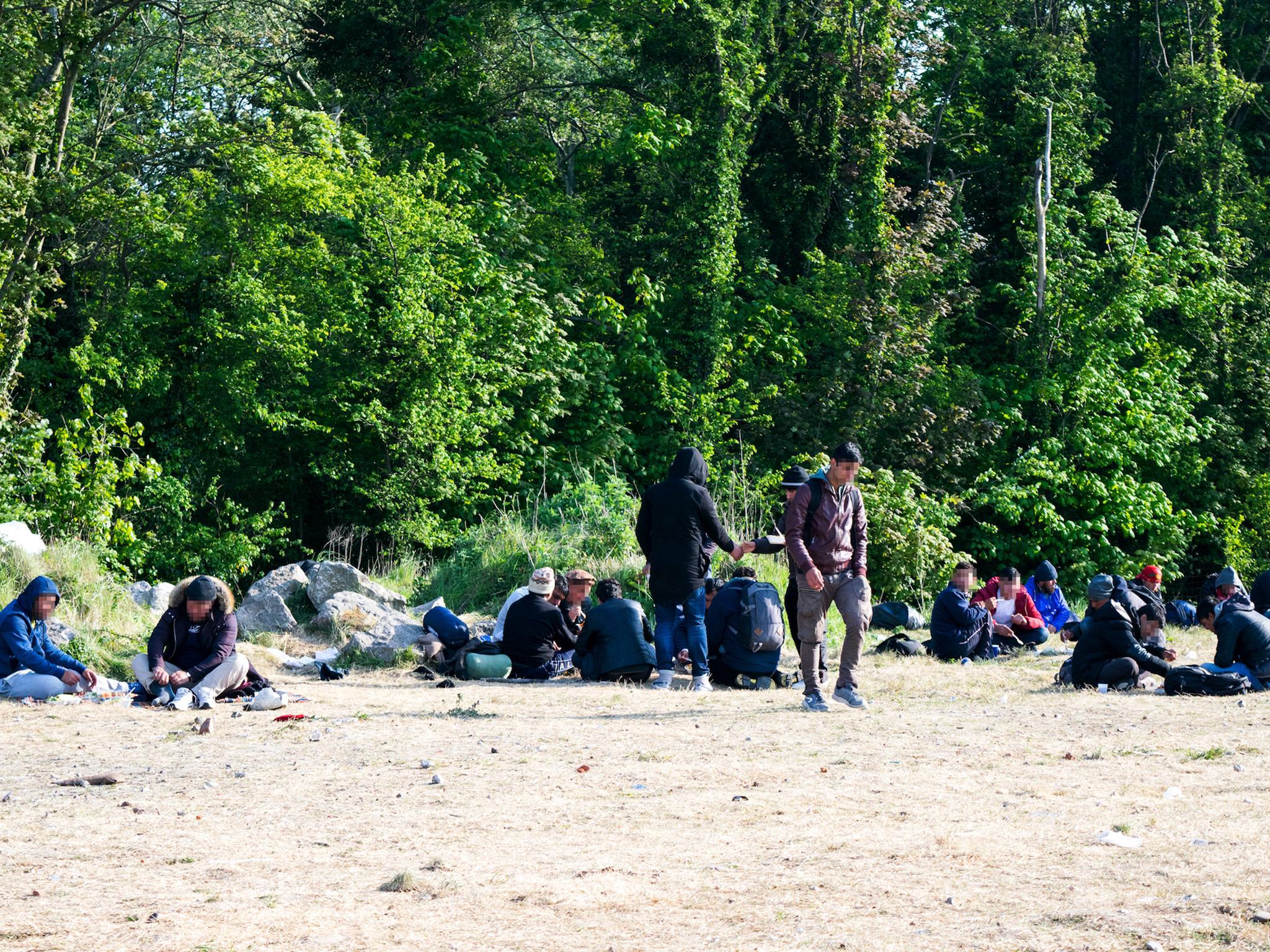 Just over six months ago, Mangash was forced to look on through the chaos as the place he had called home for the past two years, the Jungle refugee camp in Calais, was violently razed to the ground by bulldozers and explosive fire. The 33-year-old, who is Pashtun and from Pakistan, has been in Europe for seven years but came to Calais on his planned journey to the UK as a refugee fleeing fierce conflict. He admits that conditions in the Jungle were never perfect but he now sleeps with only a blanket – no tent – wherever he can, in spots that are concealed enough to get some rest before the police come to forcefully move him on. He now says he is ready to go back to Pakistan if he cannot make it to the UK because he cannot withstand the conditions in Calais any longer.
"It was bad in the Jungle but now it is much worse," he tells The Independent. "There is no help. It would be better if I go to Pakistan. There is more danger in France with the police. I sleep in the forest with a small blanket then the police come to get me out. They come anytime, sometimes morning, sometimes afternoon, sometimes night. We just have to get up and go. People look at us like animals. We're treated worse than dogs. Dogs are allowed in cars here, but refugees not. We're here because of Western intervention yet people think we are bad. I'm here receiving shoes from other countries, the same countries that started wars in my home."
Mangash is just one of the more than 8,000 refugees who were evacuated from the Jungle when it was closed by French authorities in October last year. While some entered state-run accommodation centres across the country, a large number of displaced people, including hundreds of unaccompanied children, sleep rough without tents in nearby woods or behind huge mounds of rocks in a quarry-type part of an industrial estate. It is widely accepted that the situation is wholly unsustainable among both charities and refugees, but many destitute refugees feel that this is their only option if they want to make the journey to the UK, where they believe they will be able to live a better life.
The threat of police brutality in Calais is palpable – there are multiple reports of beatings and the uninhibited use of tear gas, as is the risk of compromised health, exploitation, abuse and violence. Ill health, in particular, is a sizeable problem. More than 55 per cent of respondents to the latest Refugee Rights Data Project study, which was published last month, said they had experienced a health concern while in the Calais area, and only 50 per cent of those said they had received medical help. Almost half also believe their health issue was the result of violence or exposure to tear gas. One 23-year-old Sudanese man was left permanently blind in his left eye after waiting for five weeks for treatment to have a glass splinter removed from his eye following an attack with bottles by a group of local citizens.
Other health complaints have been caused by the poor and unsanitary living conditions. A report released by Care4Calais last month highlighted that scabies, fungal infections and gum infections are at an all time high. Thomas Chambon, a volunteer with French refugee charity Utopia56, says a shortage of suitable footwear and wet weather has further exacerbated the situation in recent months. "There are big skin problems," he says. "They have wet feet for weeks and they walk so much every day. Their feet are very, very, very bad and they have mushrooms, fungus and infections. The skin problems also spread easily so it is a growing problem."
Beyond the physical disorders, the impact of the crisis is increasingly taking its toll psychologically. This is becoming especially apparent in the numerous, already vulnerable, unaccompanied children desperate to get to the UK. The Refugee Youth Service (RYS) says poor communication and misinformation surrounding the complex family reunification procedures and registration for the Dublin III process causes refugee children's hopes to be "raised and dashed almost instantaneously". The effects have been devastating and the organisation has been providing continued support for minors. It regularly receives calls from children in distress and images of self-harm. The most recent case of self-harm resulted in an ambulance being called for a 17-year-old refugee, who received hospital treatment for his injuries.
"This case of cutting was particularly violent," explains Sabriya Guivy, a legal worker for the RYS, "but it was not the first kid I have seen like this. The travel, the living, it is hard and even when they have legal routes [to the UK] things are not happening soon enough. They feel like they don't have a solution. It is traumatic too seeing your home [the camp] being burned down. That has not helped anything."
The refugees' utter desperation is also extremely obvious in the way they try to find means to travel to the UK. Near to where refugees sleep in the woods, a passing lorry suddenly stops and the driver gets out to inspect the underside of his truck. He opens the back and pulls four teenage refugees from inside. "Immigrants!" the driver yells, gesticulating frantically. The refugees walk off, defeated. It is apparent that this is not the first time they have failed to hide in a lorry that is possibly headed for the border. Further down the same road, another driver is putting fuel in his lorry. Walking past, five teenagers become visible at the rear of the vehicle. They can be seen trying to get in the back.
The UK said last month that it will take in an extra 130 unaccompanied refugee children from Europe after it admitted an "administrative error" caused some of the places being offered by local councils not to be considered as part of the Dubs Amendment scheme. The issue attracted widespread criticism but a statement from Robert Goodwill, the immigration minister, insisted "no eligible child has been refused transfer to the UK as a result of this error". He added: "The Government remains fully committed to the implementation of our commitment under section 67 [of the Immigration Act 2016 also known as the Dubs amendment] to transfer unaccompanied children to the UK from Europe."
However, the situation is getting progressively worse for all refugees, particularly since the catastrophic fire that last month overwhelmed the Grande-Synthe camp, France's first ever internationally recognised refugee shelter that housed 1,500 people near Dunkirk. Perhaps most noticeable is the swelling volume of refugees arriving in Calais. Volunteers who have been away for only a day or two gasp at the numbers during a scheduled aid distribution, coordinated by charities including Help Refugees, Utopia56 and the Refugee Community Kitchen, on a derelict field next to the woods where many of the refugees sleep.
Utopia56 also delivers aid throughout the night to various locations in Calais. It has seen a marked surge in the demand in recent weeks. "In January we were doing outreach work with two of us in one car with 20 bento boxes of food," Chambon says. "Now each night we make more than 300 bento boxes and there is a bigger distribution run. Two days ago the kitchen made 11 gastro of rice [each contains enough for 60 portions] and all of it is gone."
And aid groups warn that the closure of the notorious Jungle is creating another problem as it gives rise to the inaccurate notion that because the camp has gone, the refugee crisis has also gone. The result is a huge decline in the donations being received, making it tougher to deliver vital support to a growing number of vulnerable people. "Volunteer organisations keep trying to provide some stability, some trust and safety especially for the younger ones, but our resources are running out almost daily," Annie Gavrilescu, regional manager at Help Refugees, tells The Independent. "We can no longer meet basic needs like we used to because the refugees here have become invisible to the public in the UK, the support is dwindling."
Maya Konforti, of local charity L'Auberge des Migrants, lives just 15 minutes from the distribution site and has also witnessed the rapid influx of refugees to Calais in recent weeks, as well as a shift in the nationalities of people arriving. "Since the fire in Dunkirk the numbers have more than doubled," she says. "Before the fire we had a good 100 hundred people but the fire has brought about another 200 to 250 Afghans – most of the Kurdish stayed in Dunkirk. But here we have also Eritrean, Ethiopian too, and a few Sudanese and Pakistani. They [the Afghans] are now outnumbering the Africans here. It's changed the chemistry of the whole place, but so far so good among everyone. The numbers are growing fast and by the day. And I think the numbers will keep on increasing."
Calais refugee camp evacuation
Show all 15
As well as her work with L'Auberge, Konforti is one of a small number of local residents that have been opening their doors to the refugees for a short, restorative stay. She runs a rota system, jotting down names in a notebook as refugees flock around her to get on the list. They all hug her and one fondly puts his hand on her shoulder and calls her "mother". He's wearing a hospital bracelet and they talk about how he has just been released from hospital after a four-day stay with kidney stones. Like a mother figure, she tells him he needs to be careful about what he eats.
Konforti feels that any support she can offer is vital for the refugees, who she says are suffering tremendously in what she describes as a horrendously difficult situation. "The situation is really, really dark," she explains. "There are no tents, no toilets, there haven't been any showers in the last three weeks since the eight temporary ones set up locally were dismantled. I take in four or five people each day. I pick them up in my car, we wash all their clothes, they have a good night's sleep in a real bed, make some food and bring them back here [at the distribution site] at about noon. They get to have a real rest. They're like new people after this. It's amazing."
Although the refugee population is decreasing in Dunkirk, as more people make their way to Calais, there are still many, including young families, sleeping in the woods near to where the Grande-Synthe camp once stood. Volunteers hear that a rumour is being spread about the possibility of a new Jungle there and the fear is that this – likely false hope – is what is keeping them from entering state-run accommodation centres for more appropriate shelter and protection. "There are people here who have even come out of state-provided accommodation to sleep in the woods as they are hoping a new Jungle will be here soon," says Niamh Quille, of the Dunkirk Legal Support Team. "It's not the conditions that are drawing them back."
Among the homeless refugees in this northern port town is Abdul, 30, who fled from Pakistan in 2009, leaving behind his wife and grocery business. He spent nine months in the Jungle and then stayed in the Grande-Synthe camp until it was destroyed. He has a brother living in the Birmingham and still hopes to get to the UK. He insists he will not give up despite struggling with the challenging conditions. "It is very bad condition in the woods," he says. "It's so very cold and wet and in the night the police come. They beat us and spray us with tear gas, it hurts. But I want to go to the UK because it is a very good life there. My family and friends live there and the British people have very good hearts but it is very difficult to get to the UK now."
Meanwhile, Karim, 32, an Iraqi Kurdish, travelled back to Dunkirk only days ago after being stopped trying to cross the border into the UK illegally following his arrival in France just three weeks ago. He gets out the paperwork he has been given by the Border Force and asks for advice to make sense of it. He says he will live destitute in the forest again until he can get to the UK. "My mum keeps telling me to come back to Iraq, she is missing me, but I'm going to go to the UK," he explains. "There are some people here, we paid some money and he will take me somewhere and put me inside the car and in the truck. Then we'll try to get to England that way."
Aid organisations warn that the lack of refugee support from authorities is fuelling fears and creating a progressively perilous situation. Gavrilescu of Help Refugees says: "What we're seeing on the ground is the opposite of the authorities' rhetoric. The obstructed legal routes, the instability that creates, the threat of violence they face every night and day, and the inhumane conditions in which refugees in the region are living in is creating fertile ground for smugglers and traffickers to take advantage of people, particularly children."
A Préfecture du Pas-de-Calais spokesperson told The Independent: "Associations have the possibility to come to the aid of the refugees present in Calais."
Responding to allegations of police violence against migrants, the spokesperson added: "Fabien Sudry, Prefect of the Pas-de-Calais, wishes to make it clear that the accusations of violence against migrants, which the national police are regularly subjected to, are based on no foundation. There have been no recent complaints or referrals to the General Inspectorate of the National Police. The Prefect reaffirms his support for the internal security forces present in the Calais region."
But as the dust settles on France's most extraordinary battle for the Élysée Palace in recent history, is the election of Emmanuel Macron a source of fresh hope for refugees in the north of the country? Guivy of the RYS is reservedly optimistic. "After the election there is hope among the refugees," she says. "Kids have been saying to me, 'I don't need to go to the accommodation centre because there's a new president and there's going to be a new Jungle'. I say, 'no, you calm down'. They hope for a new place to stay where they have showers and won't be kicked out by the police. I'm not too optimistic but we can think that maybe he [Macron] will be more of a Merkel character so we can hope for more decent living for refugees," she says. "Also there is the talk about reshaping the UK agreement so that could change the landscape too."
But until any change results in a more positive environment for refugees, scores of vulnerable people fleeing unthinkable violence and unrest will continue to try to make the journey to the UK through various routes. The draw of what they believe is a better, safer life is too strong to suppress. Adam, 17, from Eritrea arrived in Calais yesterday and is not yet ready to give up on his dream of continuing his education. "It's bad here but I feel safer here than I did in Eritrea. I've come from a bad life. I came by car and by boat. At home I was in the second year of college studying computer science. After I finish studying I will find a job in software development. I'll go to the UK. Everybody here plans to go to the UK. My father is there. I just want to meet my father."
Join our commenting forum
Join thought-provoking conversations, follow other Independent readers and see their replies