The grass connoisseurs shaping our sporting landscapes
As the Wimbledon fortnight approaches, David Barnett talks to the company dedicated to maintaining the best playing surfaces for our sporting superstars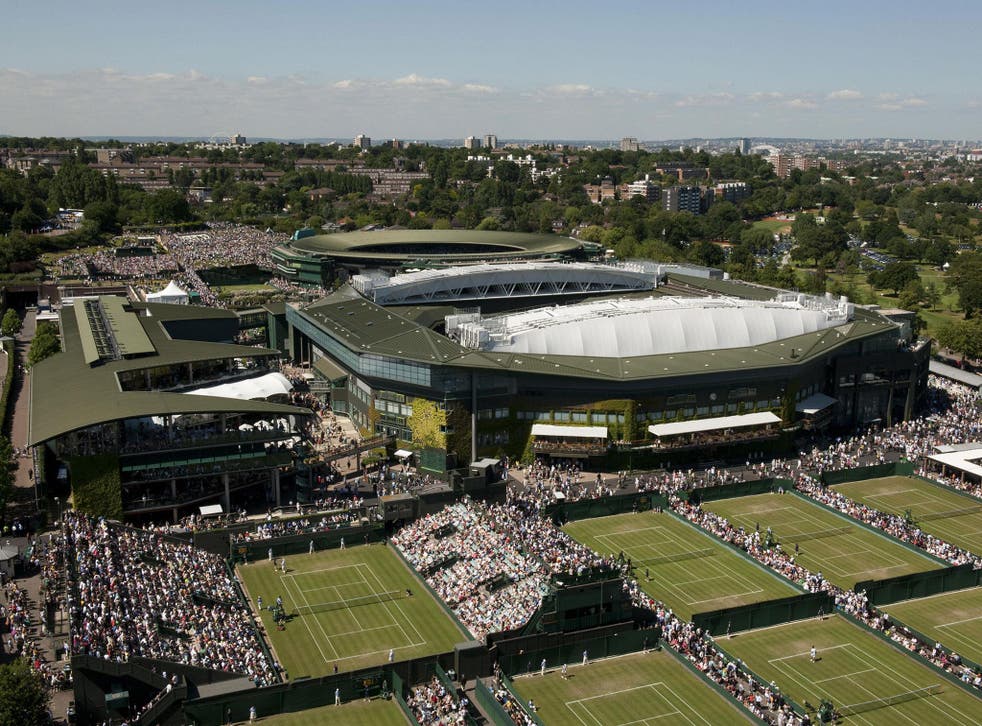 Mark Ferguson will be the envy of tennis fans across the world this next two weeks as he spends Wimbledon fortnight watching the tournament all day, every day, right up close to the action.
But he confesses that his attention won't entirely be on Andy Murray, Roger Federer or Johanna Konta. He'll be keeping more than a weather eye on the grass. "I watched Queens and the Gerry Weber Open in June and I was just flicking between the channels, seeing how the courts were holding up," laughs Ferguson. Which is quite understandable; as research manager at the Sports Turf Research Institute, the green stuff is his business.
In fact, it could be said that Ferguson's day job is quite literally watching grass grow. He raises an eyebrow and deadpans: "I've never heard that one before." But it's true.
The company is based in a country park and former estate called St Ives, which is near Bingley, in West Yorkshire. Looking out from the building, which nestles between a golf course and thick woodland, the 10 hectares of land belonging to the institute is divided up into rectangles of turf being sprayed, mowed, prodded and tested by a small battalion of scientists, researchers and groundspeople. This is where the magic happens that ensures sporting events across the world are as slick and problem-free as possible.
And while Wimbledon is uppermost in everyone's mind at the moment, it isn't just tennis courts that they deal with. Ferguson says: "We work on pitches for football, rugby, cricket, equestrian events, and golf, of course, which is a big part of what we do."
In fact, it was golf that first prompted the setting up of the company as far back as 1929, when the Royal and Ancient Golf Club of St Andrews decided that there must be ways to give nature a helping hand and make the game smoother and more satisfying. "If you think that the lawnmower wasn't widely used until the 19th century, it can be a bit surprising to think that as far back as 1929 people were sitting down and wondering how they could improve the greens for playing golf on," says Ferguson.
By the 1950s the institute had diversified and was working in a consultancy role for a wide range of sports organisations, as well as researching new products and management techniques. Now known as the STRI Group, it employs 100 people, mostly based in its Bingley headquarters but also stationed in research centres in Brisbane, Australia, Alabama in the US and Qatar, home of the controversial 2022 Fifa World Cup, with moves afoot to expand into China.
As any tennis fan knows, the stewardship of the courts at Wimbledon falls under the aegis of Neil Stubley, head groundsman for the All England Lawn Tennis Club. But what actually grows on those courts is down to the STRI, and in concert with Mr Stubley and his team, Ferguson and a contingent from Bingley will be closely monitoring the grass over the course of the next two weeks.
"What you have to bear in mind is that Centre Court gets about 85 hours of play over the course of the fortnight," says Ferguson. "Compare that with the average Premier League ground, which sees about 40 to 50 hours of play over an entire season."
Each morning before play begins at Wimbledon, the Bingley team will be testing the courts for the grass levels, for the hardness of the turf – as the tournament progresses, the courts get harder and thus faster – and for moisture levels. All this information is collected and compared with similar data which goes back two decades, and all in the name of one major pursuit: consistency.
Because while the STRI is constantly striving to develop new grass "cultivars", or varieties, and improve existing types, it is vital that when, for example, Rafael Nadal steps out on to the court at Wimbledon the absolute last thing that happens is he looks down and thinks, "Hmm, this doesn't feel the same as it usually does."
"Wimbledon has to feel like coming home for the players," says Ferguson. "It has to feel like Wimbledon, it has to feel just the same.
But grass is grass is grass, right? There isn't actually much you can do to it, surely?
"You'd be surprised," says Ferguson. "The grass used at Wimbledon is perennial rye grass and seed companies are constantly coming up with improved cultivars. What we do is test them all out to see how well they perform."
And grass is getting pretty hi-tech. One big thing that's happening in football especially is the introduction of artificial fibres which are intertwined with the natural grass from root-level up to create more hard-wearing surfaces that still look and feel exactly like ordinary turf.
The research team is constantly testing new grass cultivars. Out in the land behind the offices, Ferguson points to a rectangle draped with black covering through which blades of grass are beginning to push. "This is for Wimbledon," he says. "But whether it eventually makes it on to the main courts… there's a lot to go through before that could happen."
Years of work, actually. This potentially new Wimbledon project has to be rigorously tested at Bingley first, and then the next stage would be to seed it on to practice courts at Wimbledon, and then see how it performs there. If it was thought that the grass showed a lot of promise in terms of durability and consistency with Wimbledon's high standards, then and only then might it be tried out on the main courts.
But the new varieties and cultivars would have to be extremely special to replace what's on there at the moment – a case of if it ain't broke, why fix it? The supreme test for any new strains used on Wimbledon would be that the players wouldn't notice at all.
There aren't many companies doing what the STRI Group is doing, which is why they're the go-to people for not only the All England Lawn Tennis Club but Fifa, Uefa, the Olympics and, of course, the Royal and Ancient, which set them up in the first place almost 90 years ago.
Although the group does design work, they leave the actual building of stadia and grounds to specialist construction companies, concentrating on, as Ferguson says, "making sporting surfaces the best that they can possibly be".
Neil Stubley at Wimbledon, as you'd expect, regularly gets companies knocking on his door wanting to sell him miracle products for the maintenance and protection of the Wimbledon lawns. The first thing he does is ask, "Has it been tested at the STRI?"
Ferguson points to a worker marking out a patch of ground with string and pegs. "This is for testing products that could potentially improve the visual appearance and wear tolerance of grass tennis courts. We'll give them some rigorous testing. They might do nothing, or one could be the next big breakthrough."
What no one has any control over are the vagaries of the Great British summer. Last week the country baked in the hottest temperatures since the famous summer of 1976; then a week of torrential rain, now temperatures more like we'd expect.
Irrigation is a key management tool when it comes to managing courts through the two weeks of The Championships. The set of daily court measurements provided by STRI allow the ground staff to target irrigation where it is needed most. Without this, as courts dry out, cracks can appear in court surfaces, causing a reduction in playing quality due to inconsistent bounces. Good management of courts and targeted irrigation has seen the number of cracks in courts reduce dramatically in recent years.
While Wimbledon is obviously an annual consideration for the STRI, it is just a small part of what they do. The Fifa World Cup takes place in Russia next year, and the Qatar competition four years later – which brings with it its own set of challenges as a country where the temperature rarely falls below 37C in the day. But the company also works on a variety of non-sporting consultancy contracts, including airfield habitat management for airports and defence establishments, cemeteries, monuments and war-grave sites, and high-end construction project landscaping.
The grass is greener – and more durable, and more sustainable – on all sides for the STRI. Which must surely mean that Mark Ferguson's garden must be the envy of his neighbourhood, right?
"I don't even have a lawn," he laughs. "I see quite enough grass in the day job, thank you."
Join our new commenting forum
Join thought-provoking conversations, follow other Independent readers and see their replies