Passing the torch: How Michael B Jordan is following in Denzel Washington's footsteps
The veteran double Oscar winner, who opens on Broadway tonight in 'The Iceman Cometh', and the 'Black Panther' star discuss their idols, black superheroes, stage versus screen... and the well-heeded advice of mothers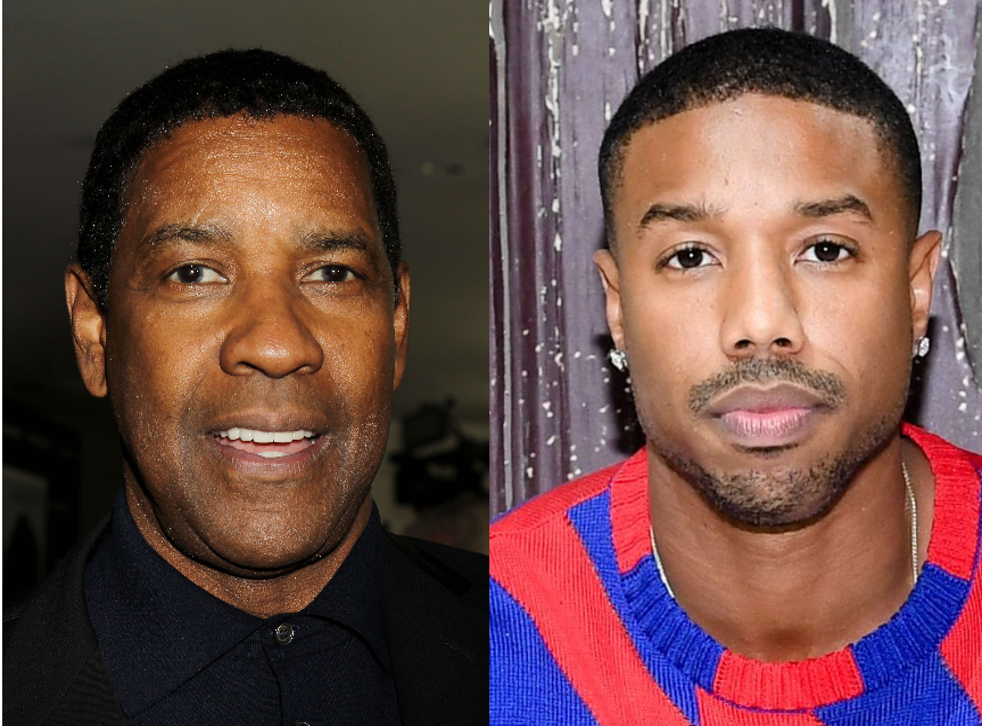 "It was a big highlight," Michael B Jordan said, then looked down shyly into his lap.
The actor was explaining what it meant to him when film critics wrote that his breakthrough performance in Fruitvale Station, five years ago, reminded them of a young Denzel Washington. Possibly complicating matters was the fact that Denzel Washington was sitting next to him at the table.
"When someone says you're like your idol," Jordan said, "It's like: 'Really? You see that in me?' I'd only done that one movie. But then I started using it as motivation," he said. "I wanted to pop up on Denzel's radar. He's the OG. If I could get recognition from him, I know I'm going down the right path, you know?"
Finally, Washington broke in with a booming laugh: "And here we are, Mike! Looks like it's working out already," he said.
In truth, it would be hard for an actor to choose a better role model than Washington. In a career spanning more than 40 years and 50 films – and kicked off by the hit TV drama St Elsewhere – Washington, 63, has been nominated for nine Academy Awards. He won twice: for best actor as a terrifying rogue cop in Training Day and for best supporting actor as a Union soldier in an African-American army unit in Glory. And he was nominated for best actor Oscars in both of the past two years.
In the past decade, Washington has ruled the stage, too. He won a Tony Award for best actor in the revival of August Wilson's Fences in 2010, later directing and starring in an Oscar-nominated film version. He led the acclaimed revival of A Raisin in the Sun in 2014. And today (26 April), he will open again on Broadway in a revival of Eugene O'Neill's play The Iceman Cometh, a searing and (at four hours long) monumental drama about the lies we tell ourselves to get through life.
Like Washington, Jordan, 31, got his big break on television: on HBO's The Wire, when he was just 15. After his heartbreaking performance in Fruitvale Station, about the last day in the life of a transit-police shooting victim, he starred in the popular Rocky reboot Creed. And this year, he played the villain, Erik Killmonger, in the Marvel juggernaut Black Panther, winning perhaps the best reviews of anyone in the extremely well-reviewed cast.
Next month, he stars in Fahrenheit 451 on HBO, a dystopian film based on the novel by Ray Bradbury. Jordan plays a "fireman," part of a state-sanctioned brigade that hunts down readers and burns books. His company, Outlier Society Productions, is one of the film's producers and also among the first to adopt inclusion riders, requiring diversity among cast and crew, as called for by Frances McDormand from the stage of this year's Academy Awards.
Over a cocktail hour at the Lambs Club in Manhattan (a Diet Coke for Washington, a sauvignon blanc for Jordan), the actors traded notes about creating characters and the socially minded work that really matters to them. These are excerpts from the conversation.
Galanes: If Mike reminds people of a young Denzel, who did young Denzel remind people of?
Washington: I never saw it that way. I never even thought about movie stars. My goal was to be on Broadway, to earn $650 a week. My hero was James Earl Jones. And I came to acting green. I was taking pre-law courses, then journalism courses. Then I took an acting class and got bit by the bug. So I came down to Lincoln Centre and saw plays and stage actors.
Galanes: But all those things you did – law, journalism, acting – they're all about getting to the bottom of a story, right?
Washington: I like that part: building a character. You start with the material that gives you clues. If you're playing a boxer, you want to throw out punches. If you're playing a conductor, you want to get on a train.
Galanes: And the script?
Washington: Sure, but you don't know who the character is just by reading the script. I don't read a script and go, "Now, I get it!" That's just the beginning. The first thread you pull.
Jordan: The script tells you what's going up on screen. But the biggest part, the fun part, is figuring out what happened to that character before page one of the script. What kind of food does he like? Did he get into fights going to school? That back story determines the choices you make within the confines of the script. And going through that process with the director is a big part of the collaboration. Now I've got notebooks and notebooks of back stories. Some directors may want you to add something or change your version. That's when you try to find common ground.
Galanes: Is that why you've both worked with directors repeatedly? Mike with Ryan Coogler; Denzel with Spike Lee and Antoine Fuqua. Your common ground?
Washington (laughing): Maybe they're the ones who called. What you're saying is part of it, but I don't think it's just one way.
Jordan: Those are the roles I was lucky enough to get. Ryan and I have worked together three times, and I have a really close relationship with him. But I said no to lots of other things with other people in between. They weren't right. Personally, I think you're defined by what you say no to.
Washington: I say yes to everything!
Galanes: Why do I doubt that? Managing a career as big as yours must take a lot of work.
Washington: Not now. Maybe early on. Now, I just do what I want to do. And you don't want to walk down the same road twice. I'm sure after doing Iceman Cometh, I won't be looking to do another play.
Jordan: For a minute.
Washington: Yeah, not for a while.
Galanes: You're too young to remember this, Mike. But early in his career, Denzel was so beloved for playing good guys – in Glory and Cry Freedom – that we all freaked out when he started playing villains: in Training Day, American Gangster. And he was even better at bad guys! Was that about walking down different roads?
Washington: I grew up right here in New York. Trust me, Training Day was a lot closer to who I was than a lot of the others. It wasn't a stretch for me. And the original script was more like Lethal Weapon. But when Antoine [Fuqua] came on board, he brought this whole LA gangster thing to it. That wasn't even in the script. But I went with it.
Jordan: So much trickles down from the director. That's why I try to choose the ones who make the best environments to work in, so we can maybe make something as good as Training Day. You don't want to go into a project with somebody who won't be helpful to your process – or vice versa.
Galanes: I read this funny thing about you, Mike: you started choosing projects where you wouldn't die in the end?
Jordan: It started with my mom, who's super emotional. When I shot my death scene in The Wire, she was on set. And the PAs kept coming to me and saying: 'You may want to check on your mom.' I go see her, and she's sitting there bawling. I'm just a kid. I'm going, 'Come on, Ma. You're embarrassing me.' And after Fruitvale Station, I was like, 'Man, this is really affecting her.' But there was another thing, too. Look at Denzel's career. I want people to see me win. I want audiences to see me ending up on top – not dying. I want to be the leading man.
Washington: How old are you?
Jordan: 31.
Washington: Man, I got underwear older than that.
Jordan: That was the real thought process: How do I become a leading man? I know phenomenal actors who can't open movies overseas. How do you become the guy who can carry a film?
Washington: So, you study the game?
Jordan: You, Will Smith, Tom Cruise, Leo [DiCaprio]. You guys are my models. You're all your own person, and you all have great qualities that make you 'that guy'. So, how do I take what I have in me and create my version of that?
Galanes Is that why you went down the superhero route?
Jordan: Without a doubt. International markets are key for me. So, when I get a chance, I'm taking it. The Fantastic Four wassuper important, regardless of how it turned out. [The 2015 film was a critical and commercial failure.] A million things have to go right for a movie to be successful, and actors don't control a lot of them.
Galanes You probably made up for it with Black Panther. Why no superheroes for you, Denzel?
Washington: Nobody asked.
Jordan: That's crazy! Really?
Galanes: Superheroes have changed. When Denzel might have played one, they were dull. The villains were interesting: Jack Nicholson and Heath Ledger. Like you in Black Panther, Mike.
Washington: When I was a teenager, Shaft and Super Fly, those were our superheroes. I remember watching Super Fly with my boy Carl, and when we got back to the projects, he carved the character's name – Priest – on the elevator door. And Richard Roundtree in those long leather coats in Shaft.
Galanes: Both of your new projects are dark. Iceman Cometh is brutal. And in Fahrenheit 451, competing ideas are so scary that people decide to burn all the books and kill the readers. Why choose them now?
27 films to look out for in the first half of 2018

Show all 27
Jordan: I was shooting Black Panther, down in Atlanta, when I first saw the script for Fahrenheit. I didn't want to do it at all. I didn't want to play an authority figure – especially with what's going on with the police in my community. I didn't want to play an officer who was oppressing people. But then I had lunch with the director [Ramin Bahrani], and he talked me through his vision, what the movie would be about. And slowly, I changed my mind.
Galanes: It's powerful to watch a black man in your role.
Jordan: But it wasn't all there on the page. I needed to make sure that he was willing to collaborate, to change some things to help me, as a black man, feel more comfortable in that role. And my company's co-producing it alongside HBO was important to me too. This is my first time working with the director and the network, giving my opinion and hoping that it's taken seriously.
Washington (laughing): Getting your big boy voice.
Galanes Like coming back to the stage, Denzel?
Washington: Well, this is my third play with [producer] Scott Rudin. We did Fences and Raisin in the Sun, and now we developed Iceman Cometh together. Every four or five years, I want to do something onstage, and he does all the heavy lifting. We put together a list of possible plays: King Lear, Coriolanus, Iceman, a few more.
Galanes: All tragedies?
Washington: Yeah. Then we boiled it down to Iceman and King Lear. And he said: 'Let's do Lear five years from now.' I said: "OK, we'll do that next – God willing."
Galanes: But why Iceman?
Washington: Eugene O'Neill. That simple. The chance to interpret his brilliant material. You know, my first role on stage, when I was a student at Fordham, was in The Emperor Jones. I've always loved O'Neill. And here I am, 40 years later, coming back to him in Iceman.
Galanes: Your character, Hickey, seems like the life of the party at first, but what a tortured soul he turns out to be. What drew you to him?
Washington: His desire to see people happy. Even when he knows he can't make that happen, that desire is still there in him.
Galanes: It's a mountain of a play – four hours long. Is it hard to maintain that intensity every night?
Washington: Listen, this is what I love: acting on stage. And I don't have to do anything else. Just be in this play. So, don't feel sorry for me compared to most workers in America.
Galanes: Is theatre on your radar, Mike?
Jordan: Down the line. But right now, I want to take care of my family financially and grow my production company. That's the big thing I want to do: set my family up.
Galanes: Why's that?
Jordan: As a kid, you don't see your circumstances. I didn't. It's not until you look back and think, 'Man, we were poor!' My parents really hid that from me. They kept me safe.
Galanes: You had a tough situation, too, Denzel.
Washington: It wasn't that tough. I was having a good time. A lot of my boys went to prison.
Jordan: That's why I want to take care of my family now. Then let me go and work on my craft, do something to fulfil me on the inside. That's what I think theatre is going to be for me – when I'm older. What do you love about it, Denzel?
Washington: The energy from the audience is immediate. And you get to develop a full life. See, in film, you might shoot the end first, then the middle. But on stage, it's the full score of the character's life. And you always get another night.
Galanes: Meaning?
Washington: In film, you don't get another night to shoot a scene. You can try to fix it in other scenes. But film is a director's medium. Theatre is for actors. We're directed, but once the curtain goes up, it belongs to us. And every night's as different as the audience. Some nights, they cheer the whole way through; others, they don't cheer at all.
Galanes: Let me shift gears. We're living through a time right now where men in power who've done ugly things –
Washington: No. We're not 'living through a time right now'. It's always been this way, from the beginning of time. Pick one: from Caesar to Caligula. Now, it's just on the news cycle every 15 seconds.
Jordan: And opinion is now fact – because anyone with a Twitter handle can say it.
Washington: It doesn't even have to be true; it just has to be first.
Galanes: Hang on, I'm asking something different: Based on your years as a powerful figure, why do you think some guys turn to ugly behaviour, and others don't?
Washington: Nobody's perfect, man. Don't put me on a pedestal, if that's what you're trying to do. I'm just a human being. I made mistakes; I'll make some more. Hopefully, you learn from them. My mother always said, 'Keep it simple.' The older I get, the more I understand her: cut away the fat. When you're younger, you want to see, taste, touch.
Jordan: I concur.
Washington (laughing): There you have it. But when you get to be my age, you learn you don't have to. I have a beautiful wife, beautiful children, a great job. What more do I need?
Jordan: And people like us, actors of colour, we don't get a lot of second chances. It's a different type of scrutiny. Knowing it's not all fair and equal, you've got to make smart decisions in the moment.
Washington: I remember going home one time and saying to my mother, 'Hey, Ma, did you ever think that I...' And she said: 'Stop right there! Do you know all the people who've been praying for your raggedy butt?' You don't get there by yourself.
Jordan: That's crazy! I was just thinking: I'm going to church in the morning – because I know the people there have always prayed for me. Their blessings have protected me from terrible situations. That's how I think about keeping it simple: remembering where it started – that village, that tribe that kept you safe.
Washington: The way I see it, I'm in the service business now. I'm here to serve God, my family and young people of colour in our business. I talked to Ava [DuVernay, whose Wrinkle in Time had just opened] this morning. Now, Mike knows more about what it's like for younger folks today. There were no black superheroes when I was growing up.
Galanes: And it was 38 years between Sidney Poitier's Oscar for best actor and yours.
Washington: And then something like five [Oscars] to black actors in the last 10 years.
Galanes: How about opportunities for people of colour?
Washington: That's why I'm here! That's why I'm still in the race. And I'm passing the baton. What a lot of people don't know is: when you pass the baton, you keep running behind the other runner, you don't just stop. I'm like, 'Make the turn, bring it home!' I like helping people. I want to see them do well.
Jordan: That's why I want to produce so much. I like creating opportunities for people.
Galanes: You were right out of the gate on inclusion riders, Mike. The first to say, 'My company guarantees that casts and crews will be diverse.'
Jordan: That's super important to me. No matter what community we're talking about. Everybody should be in a position where they can win.
Washington: I'm just wired that way.
Jordan: My path is my path. I can't take nothing away from nobody, and nobody can take nothing away from me. I'm running my race. But we can still encourage each other.
Washington: What's the harm in that? You'll never see a U-Haul behind a hearse.
© New York Times
Register for free to continue reading
Registration is a free and easy way to support our truly independent journalism
By registering, you will also enjoy limited access to Premium articles, exclusive newsletters, commenting, and virtual events with our leading journalists
Already have an account? sign in
Register for free to continue reading
Registration is a free and easy way to support our truly independent journalism
By registering, you will also enjoy limited access to Premium articles, exclusive newsletters, commenting, and virtual events with our leading journalists
Already have an account? sign in
Join our new commenting forum
Join thought-provoking conversations, follow other Independent readers and see their replies