NaNoWriMo: Forget growing a moustache, November is the month to start and finish a novel
Everyone, they say, has a book in them, and November is the month when those books are dragged, kicking and screaming, into the world. How is yours coming along, asks David Barnett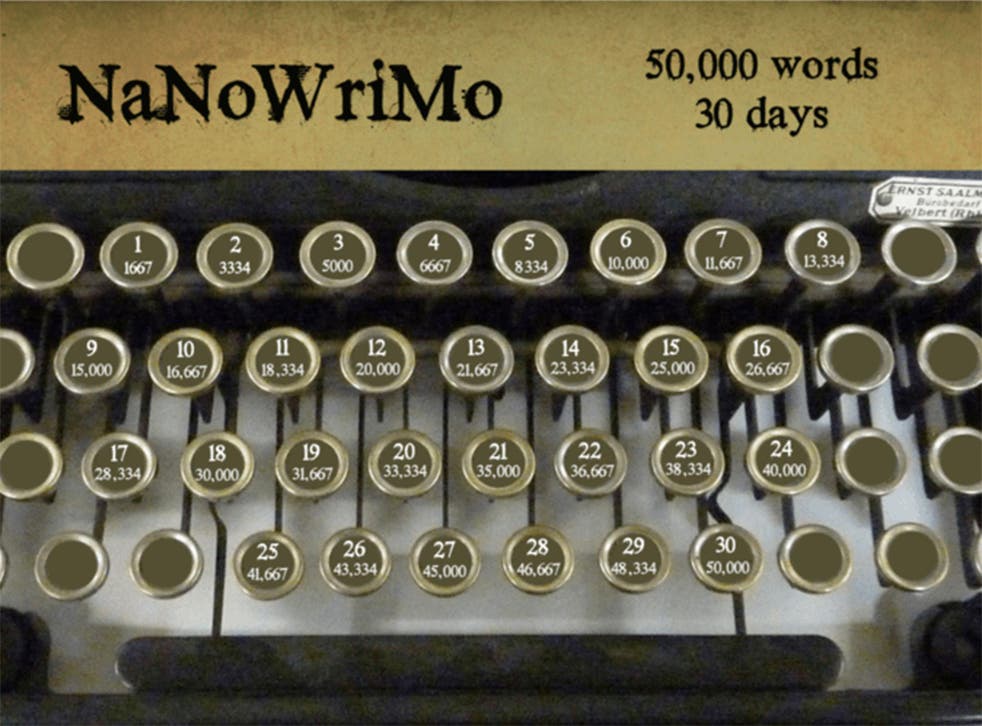 Look around you. It could be any of them. The colleague sitting across from you. The woman sitting next to you on the bus. The young man who served you your own coffee. Your own husband. Your mother. They're all at it. They're writing a novel.
Everyone, they say, has a book in them, and November is the month when those books are dragged, kicking and screaming, into the world. For this is National Novel Writing Month, or NaNoWriMo for the brevity (once) required for Twitter updates, and across the world fiction is the order of the day
In fact, according to the organisers, more than 400,000 people are expected to participate in this, the 19th year of the event. You don't have to sign up (though you can, to be part of the online community), you don't have to pay, you don't have to wear a badge or attend meetings. All you have to do is sit down and start writing on 1 November and on 30 November type THE END on a piece of fiction at least 50,000 words long.
"NaNoWriMo​ ​ignites​ ​people's​ ​superheroic​ ​creative​ ​powers​ ​every​ ​year​ ​by​ ​empowering​ ​them​ ​to write​ ​their​ ​stories," enthuses Grant Faulkner, executive director of NaNoWriMo.​ "​It​ ​takes​ ​courage,​ ​grit,​ ​resilience – and​ ​wild​ ​imaginative​ ​leaps – to​ ​write​ ​50,000 words​ ​of​ ​a​ ​novel​ ​in​ ​a​ ​month.​ ​Our​ ​stories​ ​save​ ​us​ ​from​ ​villainous​ ​forces​ ​that​ ​we​ ​encounter​ ​every day.​ ​Our​ ​stories​ ​determine​ ​the​ ​future​ ​of​ ​our​ ​world."
Depending on your view of writing, 50,000 words a month might seem an awful lot, or perhaps a little short for a novel. On the latter point, it is by today's standards; most novels are around the 90,000 or 100,000 word mark, that figure increasing significantly for doorstop-sized fantasy epics. But the official categorisation of a novel is a work of fiction in excess of 40,000 words, a throwback to the time when paperbacks were much slimmer than they are now. As a point of interest, if it's below that wordcount but more than 17,500 words it's a novella, 7,500-17,500 is a novelette, and anything below that we're talking a short story.
But 50,000 is the lower limit set by the NaNoWriMo team, which amounts to 1,667 words a day over the course of November, a target eminently doable, as any writer will tell you. But most of those participating in NaNoWriMo are, of course, not professional writers, and will be fitting their wordcounts in among work, education, family life and leisure.
Which perhaps raises the question, why do it at all? It's a big commitment, there are no prizes at the end of it, and – Grant Faulkner's assertions that stories can save the world aside – does it really matter?
Well, to those participating it does. To be a writer is perhaps one of the most widely held ambitions of modern times, and NaNoWriMo gives that kick up the behind, that focus, that framework to stop saying that one day you will write a novel and actually sit down and write it.
And while NaNoWriMo is meant to be a fun exercise that enables people to seek encouragement and support from other participants on social media and the organisers' own website, it can actually lead to that holy grail sought by many amateur scribblers: publication.
Anna Spargo-Ryan, of Melbourne, is the author of The Gulf and The Paper House, two novels published by Picador, and both were NaNoWriMo novels. She says, "I did my first NaNoWriMo back in 1998, but failed spectacularly and didn't try again until 2011, because I am easily disheartened and expect things to be simple. When I did try again, I had had one or two non-fiction bits published, but no fiction.
"Mostly I had given up on writing a novel the usual way, with a more reasonable number of words in a month. But also, I am extremely competitive. NaNoWriMo appealed to me because I could at least get down part of a novel, and I could beat down my competitors at the same time. Once I was convinced it was a very important race, it was easier to be motivated."
Spargo-Ryan completed the course with a 50,000 manuscript by the end of November, but knew that for a contemporary novel it had to be longer, so set to bringing it up to around 80,000 words. She says, "My first novel, The Paper House, gratefully sold only a few months after NaNoWriMo had finished, but it needed a lot of extra work – two years of editing with my publisher. My second novel, The Gulf, really is essentially the draft I wrote for Nano, with a couple of chapters moved around. That's not because it's half-finished or terrible, but testament to how much I learned the first time. When I sat down to participate in NaNoWriMo 2015, I had a much clearer idea of how to construct a story, so I wasted less time and had a more complete piece of writing at the end."
For Cressida McLaughlin, NaNoWriMo got her a literary agent, which led to publication. She has had three series of novels published with HarperFiction, including The Once In A Blue Moon Guesthouse and the Canal Boat Café. As an aspiring writer, she had completed her first two stabs at novels and sent them round to agents, collecting "a significant number of rejections". Then, she says, NaNoWriMo came around just as she was thinking of starting a third novel.
"There was a NaNo group advertised where I work, offering weekly lunchtime sessions for writing and encouragement, and so I decided to join and give it a go," says McLaughlin. "I found the process really liberating. I focused on the word count rather than the quality of writing, which wiped out my tendency to go back and look at the words I'd written previously at the beginning of each session, and in the end I wrote over 60,000 words that November. The encouragement of the group definitely helped, and offered an extra level of commitment, as I didn't want to be seen to be slacking by my fellow writers. I didn't use any of the online forums' help even though I knew that was available. I got a little plastic trophy at the end for hitting the wordcount!
"I think after having two rejected novels, writing my third book in such a short space of time really helped me get an agent, as it meant I didn't allow time for the doubt to creep in. I had the whole book finished in less than two months, but somehow it didn't feel too rushed because I'd had a target to hit every day, and really got into the rhythm of the story. It was constantly in my head, and I was able to keep the momentum going. Obviously I then spent a long time editing and revising it before sending it off to agents, but the process gave me a huge amount of confidence, and I think the book was more coherent for having written the first draft so quickly."
When Anne Lyle's Elizabethan fantasy novel The Alchemist of Souls was published by Angry Robot books in 2012, a large portion of her debut had been hammered out in NaNoWriMo. She says, "Back in 2006, desperate to be published but despairing of ever completing a novel-length manuscript, I signed up for NaNoWriMo. Thirty days later I limped over the finish line with just over 50,000 words of a more-or-less complete story. Of course the manuscript was in no way publishable and I had no idea how to revise a novel, having never finished one, but I had the bones of a story I was now passionate about. In early 2011 I signed a three-book deal with Angry Robot Books, the first volume of which was a top-to-bottom rewrite of my NaNoWriMo story."
So aside from indulging your passion for writing, and sharpening those skills through daily sessions at the keyboard, NaNoWriMo can actually lead to the dream of getting into print. So if you're hitting a mid-month slump with your NaNoWriMo project, take heart.
"Fiction writing is all about the passion, and NaNoWriMo doubly so," says Lyle. "If you find yourself stuck, write a scene between two of your characters that involves strong emotion: a flaming row, an actual fight or chase, or even a steamy sex scene that makes Fifty Shades look like a Sunday School picnic. Write for yourself, for fun. Doesn't matter if that scene ends up on the cutting room floor come 1 December; you'll have maintained your momentum, and you might even have found out a thing or two about your characters or world that you can use in the finished book."
McLaughlin agrees. "I would recommend NaNo to any writer. It gives you a completely different perspective to writing a draft over, for example, six months, and allows you to banish one of a writer's biggest enemies – procrastination. You just have to get on with it, you have no time to fiddle with it or worry whether it's good or doubt whether you should even be doing it. It's very freeing, even if it can seem daunting at the beginning, and the sense of achievement when the words start to pile up is huge! Also, as other people are doing it, it gives you that sense of camaraderie you get from a writing group – even if you're only in touch online. You can moan with other writers about how hard it is or celebrate a particularly large word count; you feel encouraged and supported and less alone."
And if you haven't taken the NaNoWriMo plunge this year but all that's whetted your appetite… well, it's not too late to start. You're just looking at something in excess of 3,000 words a day if you start today… just tell your friends you're not going to be seeing them until December, and turn off that TV.
Join our new commenting forum
Join thought-provoking conversations, follow other Independent readers and see their replies