Veterans Hearing Fund: Poppies are providing hope for ex-servicemen and women suffering from hearing loss
It's Remembrance Sunday, and over the past few weeks, millions have bought poppies from sellers up and down the UK. One area where it can make a real difference is tackling the epidemic of hearing loss in the armed forces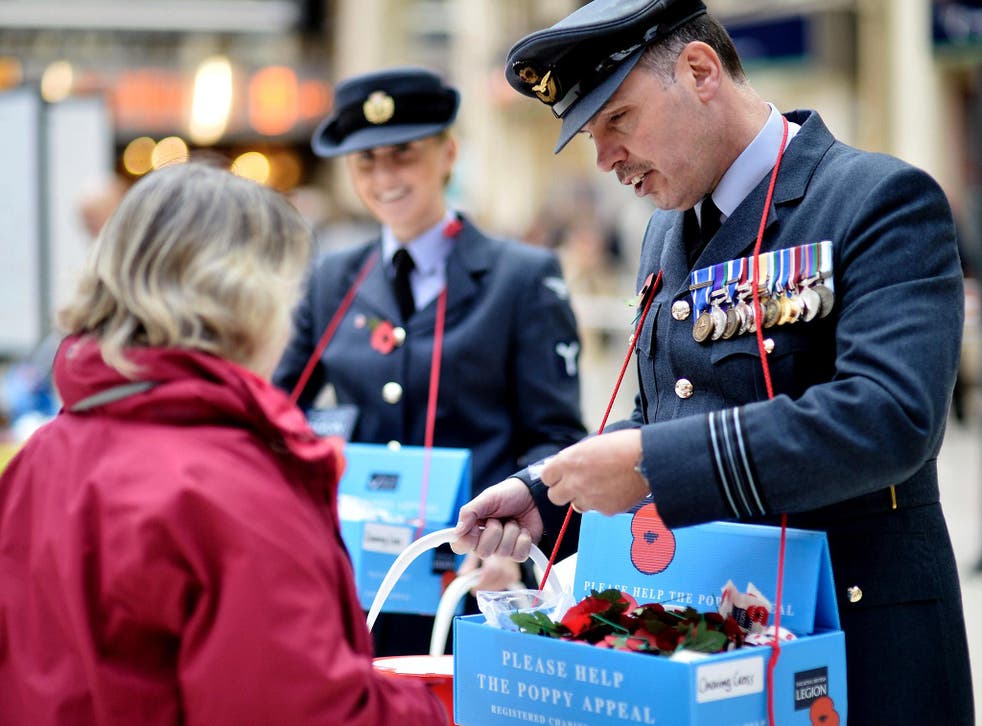 Most of us are aware that the money raised from the Poppy Appeal goes to those who have served, but the range of the hope it provides to those in need might be surprising.
Living with hearing loss is a major problem for around nine million people in the UK, according to the Disability Resource Centre. Of these, 300,000 are ex-servicemen and women, according to a piece of research carried out by the Royal British Legion in 2014. Another way of looking at this is that veterans under the age of 75 are three and a half times more likely to suffer from hearing problems than the rest of the British population.
Sixty-one-year-old Tony Pickering is a former warrant officer, who served in the Royal Artillery for 26 years. After joining up at 18, he completed four tours of Northern Ireland as a field gunner, and was "exposed to a lot of loud bangs over a long period". He has no doubt, he says, that this led to his later hearing problems. "Back then we didn't have the sophisticated ear defenders you have now," he explains. "Issue ear plugs always fell out or got lost, so we made do with maybe just a bit of cotton wool or a couple of 'tab ends'."
Pickering's hearing deteriorated throughout his service, and after leaving the NHS diagnosed him with hearing loss, giving him hearing aids.
Over the years, hearing loss has been seen by many as an "occupational hazard" of volunteering to join the forces, says Gemma Twitchen, senior audiologist at Action on Hearing Loss. But the extent to which hearing loss and tinnitus – two of the most common afflictions – can have severely detrimental effects on the communication, personal and professional lives of sufferers is an increasing problem.
"In my line of work now," says Pickering, "I have to attend a lot of meetings and it was hugely difficult to hear in group situations, let alone make notes. Even though my employers have been supportive, I was even considering retiring.
"The thing is, the NHS can only support you as much as they're able. Unfortunately, the tech wasn't suitable for my type of hearing loss, which is high tone – relevant to artillery service. I wouldn't be able to hear my car sensors, for example. I used to get associated headaches too." It's a major issue within the armed forces community, but in recent years, a new form of support has been made available, providing hope to veterans with hearing loss.
Three years ago, the Royal British Legion campaigned for the government to release funds to support this specific group of veterans. Despite the support that the NHS and other organisations provide, the environmental conditions veterans have experienced on a daily basis means that their needs are more specialised than most civilians, so more funding was needed. This campaign – entitled Lost Voices – was followed a year later by a 2015 Manifesto, which included a key policy recommendation to give veterans access to hearing aids.
As a result, the Treasury agreed to provide £13m over five years to finally help veterans with auditory problems. Remarkably, this money was sourced from the funds generated from the infamous Libor rate-fixing scandal; the campaign had unlocked fines accumulated from financial institutions to give hope to disadvantaged veterans. All of this was made possible through the money generated during the Poppy Appeal.
The Legion subsequently organised the funding into the Veterans Medical Funds, made up of the Veterans Hearing Fund (VHF) and Veterans Mobility Fund (VMF) – the former receives £10m, and the latter £3m.
Pickering says he heard about the Veterans Hearing Fund from a passing conversation. He visited the Legion's website and pulled up the link to the fund.
"The flash to bang from making the application to receiving my new ears, my new life, was much faster than the hoop-jumping I had to do with the NHS.
"Thanks to the grant from the Veterans Hearing Fund, I've got the most sophisticated equipment available and expert support from an audiologist who actually understands my problem – not many do! I've even received additional grants for extra tech that connects to my phone so I can sit at the back of a lecture and have no issues at all."
This is a key factor, says Twitchen, in treating hearing loss among veterans: ensuring that service men and women are not only provided with appropriate hearing protection, "but are also educated about the proper use of equipment to help prevent hearing loss and the impacts of permanent hearing loss and tinnitus, which can arise if protection is not used appropriately".
Alun Davies of the Royal Regiment of Wales suffered even worse hearing loss than Pickering. He joined the army in 1965, aged 18, and trained as an infantryman. "At Sandhurst we were taught to fire all the weapons then in use by the army," he says. "At that time, ear defenders were not generally issued but instead we were given cotton wool to roll into balls before stuffing them in our ears.
But the self-loading rifle fires at high velocity with a noise level of around 163 decibels. "The cotton wool," says 70-year-old Davies, "was not a success."
"What really blew my ears away were the mortars; they make a tremendous noise – 187 decibels. I was the officer responsible for the mortars for three years, and I well recall the noise during sustained firing causing me headaches, stars in my eyes, dizziness and tears. We were issued with early version of the Amplivox ear defenders, but these did not prevent ear damage.
Davies went on to serve a full 27 years, touring Ireland on multiple occasions. By the time he finished his service, he was profoundly deaf. He was given a war pension for deafness, but the Ministry of Defence did not provide him with any hearing aids. After trying over-the-counter hearing aids for many years with minimal success, Davies approached the NHS.
"By 2016, the aids I had were valued at £60 each, and they were hopeless. I could not hear my wife unless she was directly in front of me and close. It wasn't possible to follow the plot of a stage play, and conversations in a restaurant or boardroom were very difficult to follow. TV programmes without subtitles, such as sport and news programmes, were impossible to hear."
Finally, Davies approached his local government authority for assistance and they recommended the Veterans Hearing Fund. In under three months, he received a pair of state-of-the-art "receiver in the canal" hearing aids. "The difference is quite remarkable, amazing and wonderful," he says. "For the first time in years I can hear and enjoy bird song, and I can hear my wife not only around the house but in the car, which was previously impossible. I can enjoy a meal out and join in the conversation, and I can hear the television better.
"Along with the hearing aids I have been given a mini mic, a TV streamer and an amplified telephone. This set of equipment has totally transformed my hearing and I am of course most grateful to the Veterans Hearing Fund, which is part of The Royal British Legion, and to my audiologist."
Since the VHF's launch in 2015, the hope and help it has provided has been vital and widespread. To date, it has resulted in 469 grants worth £1.5m, delivering hearing aids, assisted listening devices and tinnitus therapies to former soldiers, sailors and airmen and women. Meanwhile, the VMF – helping those with physical disability – has led to 53 grants worth £300,000 for wheelchairs and orthotics. It's made a tangible difference.
Despite the support the NHS continues to provide to those suffering from hearing loss, it has natural limitations when it comes to treating injuries that are specific to armed forces personnel.
It's these special requirements that meant that the VHF was the driving force behind the 2014 campaign. The issue of hearing loss had long been exacerbated by simply discarding it, so specific needs had to be addressed. Among the specialist equipment provided is the Levo Therapy System for tinnitus – a mobile sound based therapy; Bluetooth streamers to link hearing aids to household items; and lip-reading courses to boost the social confidence of veterans with hearing problems.
"This is a great campaign by the Royal British Legion," says Twitchen, "which has led to the release of funds from the British Government to help ensure that veterans receive the support they need for their hearing loss and tinnitus post service."
All of this support was unimaginable 10 years ago, as those who had served their country and subsequently developed up hearing problems were left to deal with the consequences on their own. Now, thanks to a campaign funded by the British people, the 300,000 veterans in the UK that suffer from hearing loss have finally been given a previously unattainable gift; hope.
Steve Baynes, head of grants and social policy at The Royal British Legion, said: "With this year's Poppy Appeal underway, it's important that people understand where their money goes and the hope that it brings to our armed forces community. Ten years ago, thousands of veterans in the UK were struggling with hearing loss as a result of their service.
"Thanks to the generosity of the British public, we're able to ensure that these issues are addressed at the highest level. As a result, the Veterans Hearing Fund now offers our Armed Forces life-changing improvements in support and treatment."
Now, says Pickering, "it's a matter of spreading the word. I often go to Army reunions and a lot of guys are in the same situation – we were all exposed to a lot of guns and bangs. I'd like to make sure they're aware of the support that's available."
Join our new commenting forum
Join thought-provoking conversations, follow other Independent readers and see their replies