UK housing crisis: Could static-home parks offer a short-term reprieve?
Britain's deep and deepening housing crisis has no end in sight. Godfrey Holmes wonders if funding for static-home parks might offer some relatively affordable respite. But might such places first need to address something of an image problem?
Godfrey Holmes
Tuesday 01 August 2017 17:16 Comments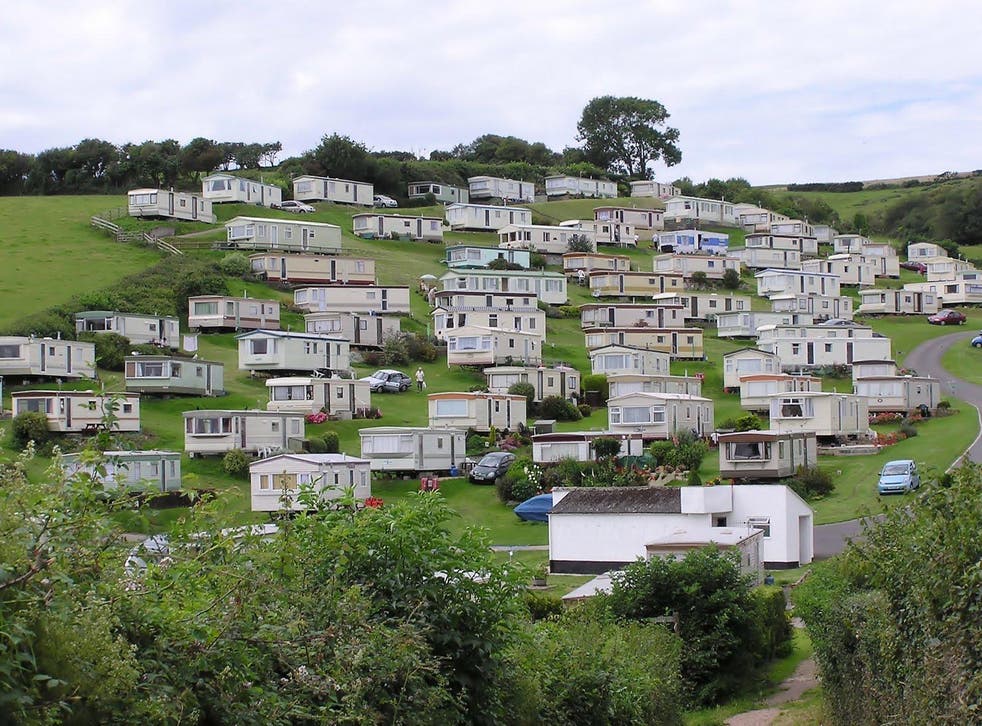 When, in 1881, WM Thayer penned the title for his monumental life of President James Garfield: From Log-Cabin to White House, he gave us both the cue and the clue to, in not solving, at least easing our housing crisis. And in Britain, it is a crisis: The Independent reported in January that more than 40,000 families were accepted as homeless by their local councils last year, a 32 per cent rise on the previous five years; an estimated 300,000 couples voluntarily or involuntarily live in another family's home, usually that of a close family member; Shelter says that more than 70,000 homeless children in England are living in temporary accommodation; more than 4,000 people, mostly men, sleep rough on the UK's streets every night;
The answer to the current homeless crisis might be the installation of "park homes". Here the word prefab is not comprehensive enough. Traditional Prefabs were an amazing success: churned out by the thousand in post-war factories more suited to building tanks and aircraft; compact; appealing; surprisingly durable; sometimes their occupiers' first experience of a kitchen, bathroom, back garden of their own. But these prefabs properly belong to streets or cul-de-sacs, not parks.
How about gathering with a hundred or so motor caravans – otherwise known as caravettes, caravanettes or campervans – placing them in a neat circle or rows of 10, then calling that a residential park? Not really. Although a family of two adults and two children could easily live behind the driver's seat of one of these increasingly roomy waggons, they are primarily meant to be vehicles: ideally suited to the odd week or weekend away by the sea, some rather cumbersome commuting in between.
That leaves us with three authentic versions of the park home: caravan, £13,000-27,000 brand new; log cabin, costing roughly £6,000 without transport, site fee, platform or mains; and trailer, up to £99,000 at the factory gate.
Caravans have rarely been out of fashion in England: horse-drawn at first; from 1920 onwards attached to and towed by a motor car. As permanent homes, two clear disadvantages of the caravan are size: restricted to maximum 2.3 metres width, 7 metres length; and balance. Because a caravan must travel on its own two wheels, in the middle of an undercarriage, stabilisers are required on site. And certain sites ban touring caravans.
Log cabins took ages to gain popularity: stigmatised at first through association with the humble garden shed; boosted then by traditional Swedish-style round-log construction; a distinct fire-risk; later ruled out by many local authorities for year-round occupation. In East Yorkshire, parks dedicated to the log cabin rarely exceed 20 units.
That leaves the main subject of this feature: mobile homes, patently not very mobile, therefore better described as statics (static caravans) – or trailers (trailer homes). These are the money makers. These are the units transient people really aspire to; structures pensioners see as perfect for retirement. Yet they owe their very existence, 1950 onwards, to a more generous width: 8 foot, 10 foot, 12 foot; also their robust steel-girder chassis.
It takes a Company such as Willerby or Tingdene about one day to manufacture a static home out of machine-carved timber and imported components: protected from the elements with stain or an aluminium skin. Each finished unit is then transported to site – or port – on a pupose-built trailer hauled by tractor: hence that transatlantic name for a static: "trailer home."
Pilots or police outriders are needed to accompany each completed mobile home. So in order to accommodate abnormal load restrictions – difficult within the confines of standard motorway lanes – statics are frequently sent out left-half on one lorry, right-half on succeeding lorry, each vehicle boasting half an apex roof reaching for the skies.
In turn, it takes about 48 hours to assemble a static on site: removal of polythene, application of glue, concrete platform, electric power-point, calor gas inlet, sewerage outflow, skirt, porch, verandah, chain, railings. Platforms are routinely known as a pitches, park space that has to be paid for monthly or annually, service charges added on to cover everything from latrines to lighting, mowers to Motown.
In the States, especially Sun Belt states such as Texas, Florida, California, trailer-living, modular-living, is literally a way of life; in parts of New York City, Cleveland, Seattle, as well. A staggering 8.5 million individuals or families live in trailers blessed by the Stars & Stripes. And just as new parks open, taking advantage of marginal land, other parks shut in order to take advantage of rising value. Los Angeles alone lost 4,800 lots between 1995 and 2014.
It was Hurricane Katrina, hitting – devastating – America's Gulf Coast in August 2005 that alerted most Britishers to a second tragedy: how Ronald Reagan's slashing of direct federal funding for public housing led to his relegating the white working class of New Orleans – other cities too – to barracks, trailers.
In turn, America's trailer parks were blamed for every national ill. Their "trailer trash" were cruelly portrayed, pilloried, as uncouth, unhygienic, slovenly, illiterate, insolvent, promiscuous, aggressive, given to dumping rubbish, burning tyres: guilty of whatever antisocial behaviour could not be laid at the gilded doors of the better-off. In other words, even if trailer moms, trailer dDads, toiled 60 hours a week in low-paid, low-prestige, dangerous jobs, they were defined by the fragility of their plywood roofs.
And some of these unhelpful stereotypes have definitely crossed the Atlantic, not helped by other ghosts from Britain's pre-war and post-war past. Army, navy and air-force housing, for instance, has been seen as bunkered, uniform in design, physically and socially isolated. Then quite a number of those iron homes for heroes, the prefabs, have dated: arguably spoiling the landscape and tempo of suburbs undergoing gentrification.
Nor were pockets of 1921 to 1939 "Plotlanders" free from stigma. Their chalets, too, begin to look outdated, by the 1980s, a bit substandard. Most tellingly, most instructively, trailer families were, and are, compared with Gypsies, travellers: already marginalised communities, persecuted, vilified, wherever they settle – or rather do not settle. Society always needs outcasts and outlaws. Who more visible – yet wanting to be invisible – than nomads of Irish or Romany descent? And they live in caravans!
So how can modern mobile home occupants redeem themselves: a task made more difficult by a preponderance of elderly, reclusive, dispossessed, residents in the relevant population? It might be the sheer quality of the shell that improves their public image. A pre-owned static costs as little as £20,000 for three bedrooms, lounge, wash basin, shower, kitchenette, integral fridge-freezer, sun-terrace, also certain site fees. Newer 12-footers in particular are sturdier than their predecessors: much better appointed; individually clad; customised; in the extreme awarded a glass conservatory.
And the movement has won over significant allies. Yvette Cooper, a former housing minister, has said that park homes are "an opportunity of provide diversity in housing choice". Lord Prescott – as befits an ex-Member for Hull East where many Statics are actually manufactured – has applauded them for their "major contribution" to the nation's housing stock. Even the Conservative Government of October 2016 proposed the rolling out of 100,000 prefabs, not all of them on wheels, part of a commitment to build a staggering one million new homes by 2020.
My own estimate is that 50,000 extra statics are needed next year alone: excluding units dedicated solely to the holiday market, thus destined for unprotected sites. "Protected sites" give park home families greater security. Here they pay council tax, have wheelie-bins, and are allowed to live in their homes 12 consecutive months at a time. Furthermore, as "permanent" fixtures, lessees are entitled to a year's written notice to leave the site. Into their written contracts, lessees are, however, still required to resell their units only to or through their site owner. Notably, site owners can be quite harsh towards debtors, drunks, noisy residents, parents of unruly children, restorers of sundry bangers, motorcyclists – or alsatians. To say nothing of tenants whose units have decayed, bringing a site further into disrepute.
True, 50,000 statics sounds very optimistic in the light of the industry's 2016 output, which was only 15 per cent of that target, nonetheless a sixth up on the previous year. Factory floor space exists in abundance, and machine tools. What's lacking is an experienced workforce with all the necessary skills. Room perhaps for a mission to colleges of further education to recruit apprentices in prefabrication?
Also, whither would the majority of new park homes be sent? Already, certain farmers, ramblers, day-trippers, bird-watchers, whoever, complain about the serried ranks of caravans or their equivalent disfiguring cliffs, pretty villages, riversides, national parks. Britain is not free of Nimbyism either. though this is a perspective not held as trenchantly as sometimes portrayed.
From rich commuter towns in the South-east, abundant forests and vales in the Midlands, fields straddling the Welsh border, there is evidence that new mobile home sites can be sensitively landscaped; split into avenues, crescents and squares; attracting top-notch swimming-pools, gyms, restaurants into the bargain. Superior sites already have auditoria for circuit singers, organists, entertainers. Hi-de-hi, Wakey-Wakey, chips and a pint with everything: no longer!
Which still leaves most sites desperate for the services of a GP, primary school, and phalanx of home-helps, health visitors, home care aides. Expensive – but still a cheaper alternative to housing elderly or homeless citizens in hostel, hospital, B&B.
The City of Peterborough was recently in the news for having that year to use Travelodges or cheaper hotels on 600 occasions average stay 20 nights. Nor will Peterborough, Chelmsford, Brighton, wherever, see light at the end of the tunnel while the law permits the summary eviction of private-rent tenants – a bulging population if ever there was one – with just 28 days' notice because such insecure victims of the nation's housing crisis have dared to complain or are missing a clear housing benefit entitlement.
Argument enough, surely, to ask for a large segment of the Government's £3bn Home Building Fund to go to prefabrication. Not that this answer will win friends straightway. Ben Jackson, for instance, Shelter's former director of campaigns, argues: " Low-cost park homes may be cheap to build and freely available on the open market – but they are not a solution to the shortage of long-term housing."
Wherever fearsome gales are remembered: 1987, 1990, 2004, 2013, July this year also : many homes-on-wheels were blown over. But maybe now a more favourable wind is blowing in the direction of park homes, whether caravan, log cabin or static. Alok Sharma, newly appointed housing minister, look no further.
Register for free to continue reading
Registration is a free and easy way to support our truly independent journalism
By registering, you will also enjoy limited access to Premium articles, exclusive newsletters, commenting, and virtual events with our leading journalists
Already have an account? sign in
Join our new commenting forum
Join thought-provoking conversations, follow other Independent readers and see their replies