Back in the groove: How vinyl rose from its sickbed to capture the eyes and ears of millennials
The tables have turned and the turntables are spinning in the bedrooms of a new generation of music fans. James Moore on the vinyl solution that's become a win-win for the industry 
James Moore
Thursday 21 September 2017 16:00 Comments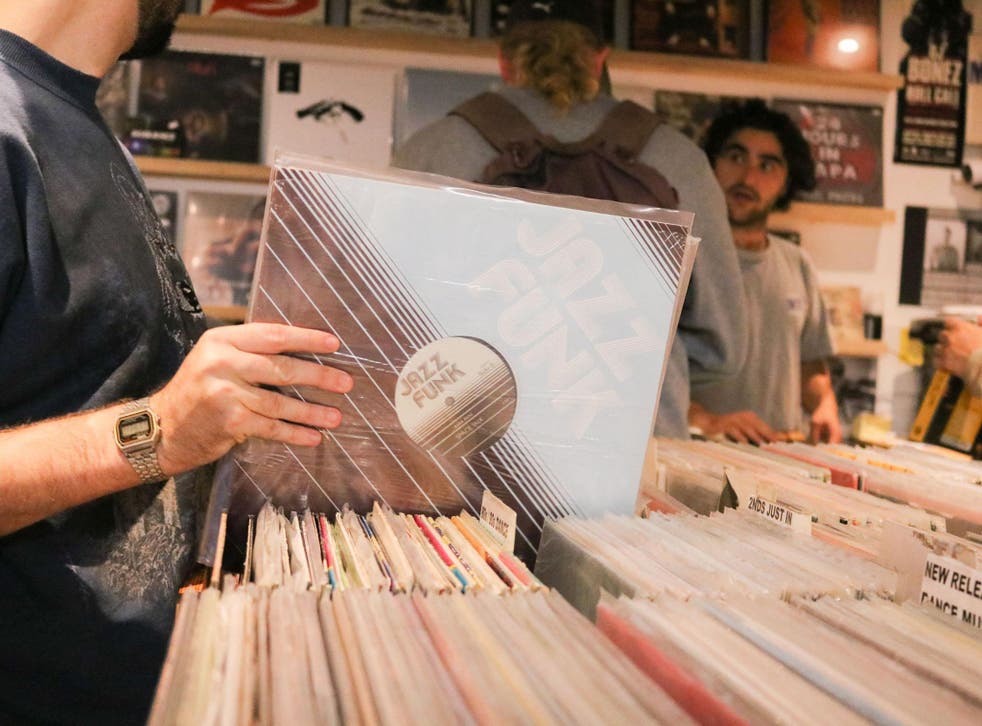 It's a lurid red in colour, and it exits its brightly coloured sleeve with a gentle swish. There's nothing gentle about the sound it makes when it meets the needle of my turntable. INHEAVEN's raucous guitars prove that millennials are perfectly capable of making the sort of noise Gen X-ers like me used hurl ourselves off stages to when it was performed live.
The south London band's eponymous debut album is thus tailor-made for the vinyl revival (the bright red is, of course, a limited edition) that will this year see the format recording its tenth consecutive year of growth.
Gennaro Castaldo, from music trade body the British Phonographic Industry (BPI), points to the emergence of an earlier wave of indie rock acts in the early Noughties – he cites the Arctic Monkeys in the UK, the Strokes and the White Stripes in the US – as playing a key role in keeping the format's flame burning when it was flickering.
It very nearly went out. A decade ago what used to be known as "records" were barely being kept alive by a small number of enthusiasts. A pitiful 205,000 units were shifted, realising just £1.1m, and the media (or those parts of it that noticed) was reading the last rites. Flash forward to today, and the projections are that the format will shift twenty times that number, and a still bigger multiple in terms of revenues, as retailers gird their loins for what could be a bumper Christmas.
Some of the hardcore aficionados were faintly appalled when the likes of Sainsbury's started to stock a small selection of classics on vinyl. But that's progress for you.
Progress is what the format continues to make. The BPI says that the first half of 2017 saw a 30 per cent rise in vinyl sales compared to the first half of 2016. Usain Bolt on steroids would struggle to keep up with the pace it's setting.
But, as Kim Bayley, chief executive of the Entertainment Retailers Association (ERA), points out, it took a lot of hard work by her members, particularly her independent members, to get us to this point.
"The record business jumped into the CD business and abandoned vinyl when there was still clearly demand – it was only after a sustained campaign from retailers, via Record Store Day, that they started making vinyl LPs available in the numbers we're now seeing and this has seen the market grow," she says.
That event, so important to independent record stores, has been enthusiastically supported by artists, who frequently put out specials and one-offs to coincide with it, retailers and record lovers alike.
Those record lovers are not just Gen X-ers like me, people who have rekindled a love affair with a format that had been cast aside when CDs emerged, with their pristine, if antiseptic, sound and their offer of extra tracks and other bells and whistles.
Streaming-addicted millennials, too, have been jumping in. The format will be on their Christmas lists, our Christmas lists, and those of a small army of baby boomers too.
At a time of heightened intergenerational tension (start with Brexit and follow the needle around from there) there's something that we can all agree on: vinyl is back and here's to its continued resurgence.
But the product, its packaging, and its marketing, have changed dramatically in the process.
Vinyl was for years the standard, and most popular format for listening to music. Its revival has been fuelled by its emergence as a premium product.
It doesn't take a maths degree to see that the average selling price in 2007 wasn't much more than a fiver per unit. At the time, the vinyl itself was usually thin, and the sleeves it came in were cheap.
Not any longer.
Now it's extremely rare to see any change from a £20 note for a single-disc release, like the aforementioned INHEAVEN outing.
To help justify that sort of price point today's vinyl platters are frequently heavyweights, and rather than cramming as many tracks as possible onto a single platter, doubles have become increasingly common.
Back in the day, so cross were the Clash when their label, CBS, refused to release London Calling on two pieces of vinyl that they recorded 1980's Sandinista as a triple in riposte.
Today? You want to put out your album out on two, or three, or even four slabs of vinyl? You got it. And we'll etch something pretty onto the final side to make it look nice if you haven't got enough material to fill it.
Such releases typically come with expansively produced gatefold sleeves together with multiple add-ons
The twisted psychedelia of The Black Angels' Death Song, the Texan outfit's fourth outing, is a lovely example. Really, it's a thing of beauty. It has a psychedelic pattern on the outer sleeve with a track listing inside the gatefold, along with a Daliesque picture. The latter is also included in poster form. There's a sticker too, although the vinyl itself is plain black (pity). Oh, and of course there's a download code. Shame on the record producers that don't include those. They should come as standard with any vinyl release. The whole package clocks in at £24.99 from Rough Trade, which is actually relatively modest.
To put it into context, the price of that one album represents more than a quarter of what you'd pay to access Apple Music's library of 40m tracks, including just about every artist you'd care to mention, for an entire year. But in many ways those two have become symbionts. Both the BPI and the ERA cite streaming as something that has helped to fuel the vinyl revival. Says Castaldo: "Essentially streaming is about access rather than ownership, so it leaves space for people to do both. It allows you to discover new music, or to rediscover old favourites, and then if you really love something you have the option to buy or gift it."
This, he says, has even helped slow the decline in sales of the CD, that one-time vinyl killer. The format that has suffered is the paid-for download. Rather than sell those, some independent minded artists have taken to giving them away for free; rap artists in particular.
A few years ago, frustrated by the inability to get their music up on iTunes, amid the sort of music industry wrangling that is the bane of many an artist's life, De La Soul briefly gave away their entire back catalogue. Incredibly, classics like Three Feet High & Rising and De La Soul is Dead still aren't available for purchase in that format, or for streaming. Fans won't care, because we took advantage of the offer. The band, meanwhile, got hold of our e-mail addresses for the purpose of promoting of live dates, and merchandise. A win-win, then.
Much the same thought processes appear to be at work with Run The Jewels, who offer all three of their (wonderful) albums as free downloads. Crazy? Like a fox. The band have one of the widest, and best, ranges of merchandise I've ever come across. And you can buy the vinyl releases if you want.
Interestingly, the legendary Public Enemy cited RTJ as one of the inspirations for their latest release, which was also available for free as a download when it emerged earlier this year. One of the stranger trends to have emerged through the vinyl revival is the purchase of records by streamers who don't even have turntables. Even those that have them don't always play their purchases. Last year a BBC/ICM poll found that 48 per cent of the vinyl buyers they surveyed in March 2016 said they had yet to play their purchases. Some 7 per cent did not own a turntable.
Says Castaldo: "There is that element of people just wanting to own the album as a piece of art, of people who love an artist they stream wanting to hold something by them in their hands. It's a bit like buying the original lyrics: you're purchasing an artefact that can you display."
That's an interesting point. The souvenir shop at the end of the current Soul of Nation: Art in the Age of Black Power exhibition at London's Tate Gallery is notably lacking in prints. But there is a soundtrack, put together to accompany it, that you can buy on vinyl, or CD, and several other limited-edition vinyl releases that tie in with it. You want to take some art away after experiencing it? There it is.
But what next? Cassettes? The second outing of Marvel's Guardians of the Galaxy franchise, in which the cassette plays an important role in the life of hero Peter Quill (Star Lord), saw the release of Awesome Mix 2 on the format. Some artists have also taken to releasing new material on it. But both Castaldo and the ERA think that it's something of a nostalgia-fuelled gimmick that is most unlikely to follow the same path that vinyl has.
The cassette was the portable format of its day and it doesn't lend itself to the sort of sumptuous packaging associated with modern vinyl. Then there's the low sound quality, with that ever-present hiss. Records, even expensively produced records on 180 gram vinyl, come with the odd crackle and pop. But those, like me, that buy the things to, you know, play them, have been tempted back by more than packaging.
The fact is that if you have a good turntable, the sound is divine. It's warmer, and richer, than digital music, or CDs. In listening to a record you are also experiencing the art as the artist intended it to be heard, and in the order of play. There is also something alluring about the ritual of carefully lowering a record on to your turntable before applying the needle. Watching it spin under the dust cover provides a pleasingly hypnotic spectacle that's all the better if the vinyl is multicoloured, or a picture disc. Those that buy vinyl without any intention of playing it are missing out on a treat.
So how far can the revival go? While sales have been booming, the format still represented only about 2.6 per cent of the overall UK recorded music market in 2016, based on album equivalent sales, and around 4.7 per cent of total album sales. Castaldo wonders if the number of factories producing records could put a natural ceiling on sales: "There is no sign that the growth in vinyl is slowing, but I do feel that there will be one, because the number of people drawn to it will be limited and there is the issue of plant capacity."
However, he adds: "Young people are increasingly turning to the format, as well as people who knew it and have returned to it, and there is gifting between the generations, so there's a way to go yet. Interestingly, a couple of years ago we saw artists like Adele and Amy Winehouse topping the sales lists, so while it has been seen as a very male phenomenon, that suggests otherwise.
"I'm not sure it will become a mass format like it used to be. But it should have a nice sustainable future as the industry evolves. And perhaps you might see, say, a Spotify offering links to its listeners so they can click through and buy what they have listened to as a vinyl release."
Vanessa Higgins, CEO of Regent Street and Gold Bar Records, and an independent label member of the BPI council, says we are increasingly in a multi-format age: "Fans are listening to music in so many ways now – we've definitely entered a multi-channel era. Millennials, who've grown up digital, are increasingly choosing to experience both current and heritage artists on vinyl also. Meanwhile older baby boomers are embracing streaming alongside their record collections. And, impressively, in between all that, there is still more than enough space for the CD, which remains popular, both with upcoming artists, who need an attractive physical product, and consumers, who still like to gift, collect and own the recordings they love."
But Kim Bayley has an important point to make. "More than anything, the revival of vinyl is a reminder to the industry and the media that they are sometimes too quick to write things off," she says.
Indeed so. With the industry making good money from the vinyl revival you'd hope that lesson would have been learned. You'd hope.
Register for free to continue reading
Registration is a free and easy way to support our truly independent journalism
By registering, you will also enjoy limited access to Premium articles, exclusive newsletters, commenting, and virtual events with our leading journalists
Already have an account? sign in
Join our new commenting forum
Join thought-provoking conversations, follow other Independent readers and see their replies