Writing a bestselling book
Is it possible to set out to not just write a book, but a bestselling book? Mark Stay and Mark Desvaux thought so a year ago… did they manage it? David Barnett finds out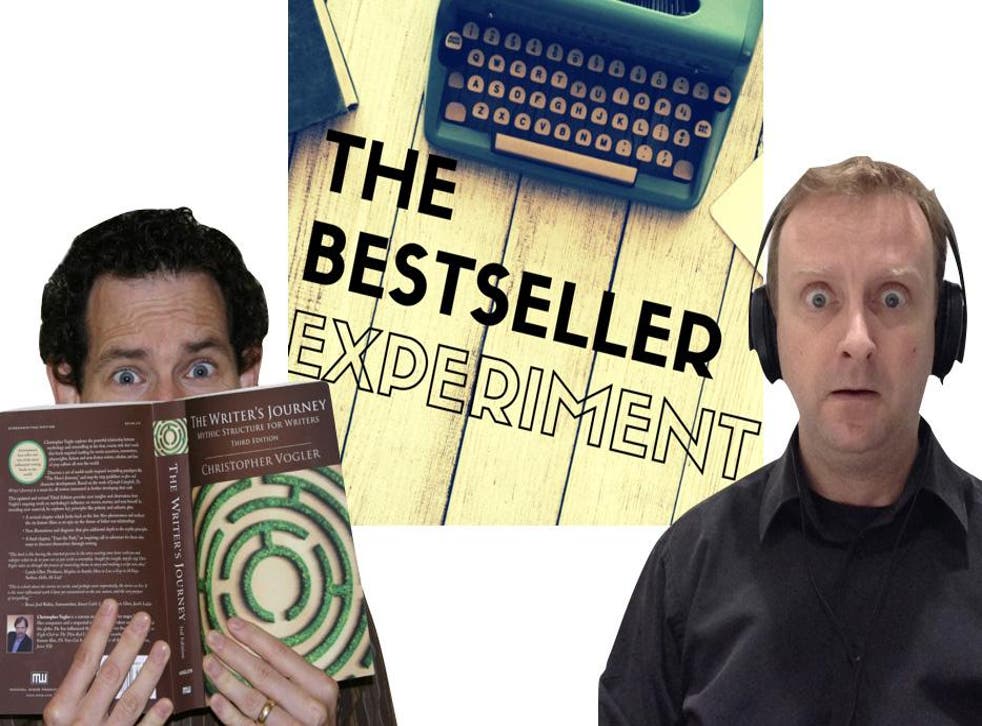 Every author hopes their novel will earn that elusive but much-desired tag of bestseller – can there possibly be any better branding to have on your paperback, one that will open more doors, attract more readers, and set the writer on the path to fame, riches and a warm glow every time they check Amazon?
But is it possible to actually set out to write a bestseller? We could all write a novel, given enough time, inspiration, and ink and paper. It might not necessarily be a very good novel, but we can be taught the mechanics. Indeed, hundreds of thousands of would-be novelists have been trying their hand at doing just that this past month as part of National Novel Writing Month.
But to set out to create not just a complete novel but an actual bestseller, that would be hubris of the most audacious kind, surely? Because, can we even say what makes a bestselling book, other than it's a book a lot of people want to buy? Stephen King is not JK Rowling is not Jeffrey Archer is not Marian Keyes. Their books are all very different, but they've all topped the bestseller lists at some time in their lives. Is there anything common to all those novels, any secret formula, any magic that can be tamed and tapped and brought to bear on building a bestseller from the ground up?
Mark Stay and Mark Desvaux didn't exactly know the answer to that a year ago, but they were determined to find out. So they launched The Bestseller Experiment, which would be a year-long project that would see them very publicly work on their book together, the processes laid bare in a series of weekly podcasts.
Stay works in publishing, for the company Orion, and already has writing experience. He co-wrote the screenplay and then the novelisation of the movie Robot Overlords, released in 2015, starring Ben Kingsley and Gillian Anderson.
His partner in crime, Desvaux, is British but based in Canada, and describes himself as a "dream coach" – a mix of life coach, entrepreneur and broadcaster, who's always harboured ambitions to write fiction. Together they were going to find out if they could write a book and get it somehow to the top of the charts.
I first spoke to them a year ago when they'd just launched The Bestseller Experiment. They weren't just going to sit down together and write a book, surfacing a year later with their efforts. They were planning to invite guests on their podcasts, successful authors, literary agents, editors and marketers in publishing, to try to nail down that elusive set of factors that turn a book into a bestselling book – if such a set of factors existed at all.
At the same time, they were inviting listeners to come along on the adventure with them, write a book at the same time as them, perhaps utilising the advice and thoughts from the army of big names coopted in to the experiment.
Among the guests were authors Joanne Harris, Joe Abercrombie, Michelle Paver and Maria Semple, and editors such as Sam Eades and Juliet Ewers who offered pearls of wisdom like Harris's forthright: "Ditch the word aspiring. It's bullshit. Just write."
But what, for the two Marks, would make a bestseller? Back in 2016, Stay told me, "It would be great to get somewhere in the top ten of the Amazon Kindle charts." Desvaux was more bullish. "I believe we can get right to the very top of the charts."
But was it possible, I asked them, to pin down like a butterfly those factors that would lead a book to becoming a bestseller? Wasn't there just sometimes some unexpected magic involved, especially for a book that seemingly comes out of nowhere, not written by a household name, but which captures the imagination?
"What we're trying to do is go through bestselling novels to see if there are any commonalities in there, then see if we can distil them down, apply them to our own writing," said Desvaux. Stay acknowledged that not every aspect of novel writing could be taken apart and scrutinised, adding, "There's always going to be an elusive spark with any kind of creative endeavour, but we want to discover on our journey what makes a bestseller and what, if anything, is common to those books."
One year on, the big question is, did they complete a book? The short answer is yes, they did. It's called Back to Reality and the pair self-published it as an ebook, as Mark Stay and Mark Oliver. And thanks to the advice they'd been given on writing, formatting, marketing and publishing, the feel-good time-travel comic fantasy had a rather good release day.
By the end of the very first day it had hit the top spot on seven different Kindle bestseller categories on Amazon in the UK plus it made number one in the Humorous Science Fiction and Fantasy list on Amazon.com, coming in above Neil Gaiman and Terry Pratchett. So, in other words, they did it. They wrote a bestseller.
Stay says: "I've been a Neil Gaiman fan since Good Omens and I used to sell Neil's books when I worked at Headline Publishing. I went to every single event, and it got the point where he started calling me 'the fanboy'. So, to find myself in his and Terry Pratchett's company on a bestseller chart is a genuine pinch-me moment. Quite unbelievable. This whole year has been an incredible roller coaster, but this was the thing that had me floating on air."
But it wasn't just about their journey, it was about those who had listened to the podcast (in their thousands; at one point it was the most-downloaded podcast on iTunes) and joined in the year-long experiment to write along with the two Marks. Stay adds, "The most wonderful thing has been hearing from the listeners of the podcast who've got in touch to tell us how they were inspired to finish their book because of the advice they got from our guests, and how they've already had their own Kindle bestsellers."
Desvaux, the dream coach, says it's all about self-belief. "If you want to write a bestseller, you first have to believe it is possible," he says. "Up your game and write as if you are already a bestselling author. Set your 'bestseller' target before you start writing. Chart position? Book sales? Make it real. Create a mock book cover with 'No 1 Bestseller' on the cover. Display it in front of where you write."
So what are the two Marks' top writing tips for those who'd like to embark upon their own bestseller experiment? Here's their top ten advice, distilled from a year of podcasts and interviews from the biggest names in the business:
Set a deadline and make it public.
Don't wait for permission to start. If you're writing, you're a writer.
Write every day (or be thinking about your writing every day that you're not writing).
Just get it on the page – then rewrite, rewrite, rewrite… then rewrite some more.
Tell the truth – dig deep and go for emotion every time. 
Don't worry about writing that divides people. You'll never please everyone, but you MUST please yourself.
Start a mailing list. Start building your readership today.
Build a team. Beta readers, editors, authors. Help is there if you ask for it. You don't have to do this alone.
And it's okay to be scared, confused, lost. It happens to all of us…
… but never be afraid to test your limits and fail. It can only make you a better writer.
They've also distilled the best advice from their guests into a free ebook, called Vault of Gold, which you can also find on Amazon, and you can still access the podcasts at bestsellerexperiment.com
Join our new commenting forum
Join thought-provoking conversations, follow other Independent readers and see their replies