Jesus Christ has become an unlikely pin-up for hipster marketing companies
Kevin Lee Light, aka "Jesus", is the newest client of creative agency Mother while rival agency Anomaly has launched a Sexy Jesus calendar
Nathalie Olah
Thursday 18 December 2014 22:30 Comments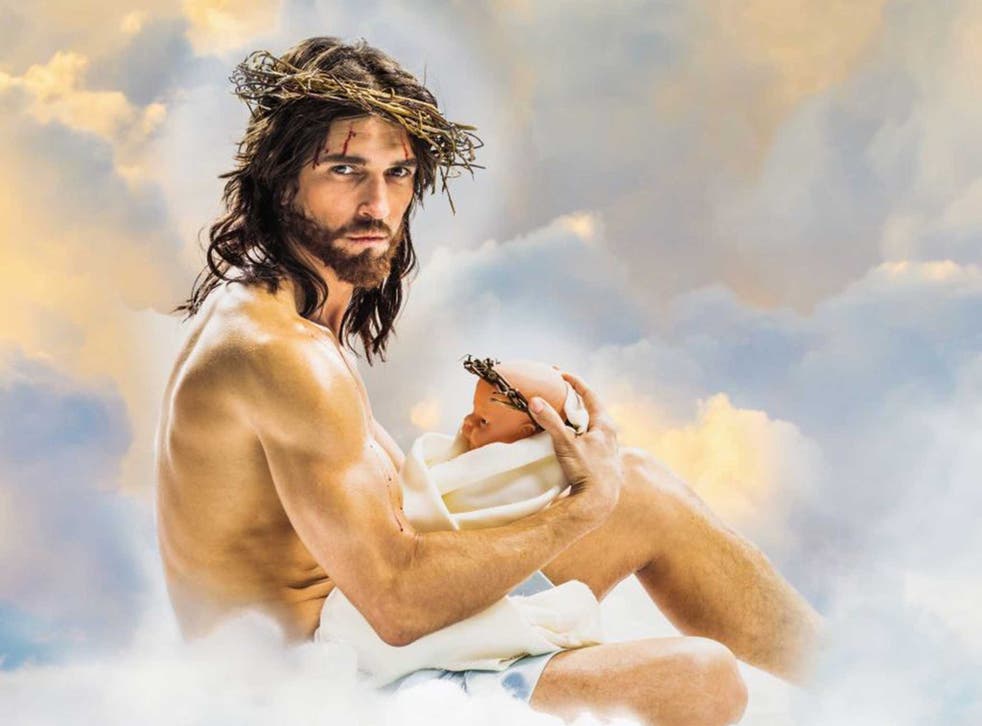 No crucifix, no dogma, no thorns. He arrived in London from LA on Monday with nothing but a hessian smock on his back and a pair of Nike trainers on his feet. But could Kevin Lee Light, aka "Jesus", aka the newest client to be represented by creative agency Mother, offer us spiritual solace?
Since his arrival, selfies with Light, a Jesus impersonator, have proliferated on social media sites, while Mother has published shots of him calming storms of Christmas shoppers on Oxford Street. What would have once attracted moral outcry is now embraced by everyone. Literally. Light gets a hug and a high-five from grannies, bankers and teenage girls wearing the hijab. Jesus, it's safe to say, is having a moment. Earlier this month, rival agency Anomaly launched its Sexy Jesus, which depicted the Messiah in a series of Athena-style poses, with cheeky captions such as "Behold".
When I arrive at Mother's offices in east London to meet Kevin Lee Light, I'm immediately struck by his height (6ft 4in), his giant hands and the heavy lines that surround his eyes, which deliver an unwavering stare from behind the parted veil of his shoulder-length, tawny brown hair. An instant, Rasputin-esque spectacle: beguiling, unnerving but instantly captivating.
Light cites a TMZ bulletin in May 2009 as launching his present "career". I use quotes because he assures me that money is not his objective. In fact, when a Mother employee tries to hand him some petty cash to spend while he's here, Light first refuses, before offering it to me. "Making money out of this is an awful thought," he says.
TMZ declared that Jesus had returned to Earth and was addicted to coffee, after Light was photographed inside three different coffee shops in the space of one day. Audiences were immediately fascinated and the Jesus story went viral, bringing Light fame as well as occasional misfortune. He tells me of a run-in with Jared Leto in LA. He was walking through the city – a rare undertaking in that part of the world – and was approached by the actor as he stopped to catch his breath. Leto asked him for a picture and posted the unflattering results online. "I thought he might be a good person to carry on what I had started, but not after that." Light says, half joking. "That was a sly move."
It is a coincidence of almost biblical proportions. Leto's been making the transformation from pop-punk pretty boy to Jesus-alike for some time, with his flowing dip-dye locks. But where has the Christ craze come from? Obviously the beard and his sandals-and-socks combo ticks a lot of on-trend boxes at the moment. But fashion's obsession with the son of god could probably be traced back to the "Jesus Is My Homeboy" T-shirts sported by everyone from Paris Hilton to Brad Pitt in the mid-2000s.
The Christian faith is becoming popular again, too. According to a recent FT report, church attendance in the capital rose 16 per cent between 2006 and 2012.
In the past month, billboard campaigns for the Hope City Church have appeared across London, most notably on the main junction at Shoreditch High Street, at a site once used to promote cool brands such as Supreme and New Era. 'Happy New Selfie' reads the slogan alongside a zany poster girl making funny faces.
Whether the religious organisation from Sheffield will have any success in reaching the morally wanton media class of east London is still unsure.
But perhaps in times of crisis – whether financial, existential or otherwise – it's natural to turn to religion. And maybe the cool new Pope is something to do with it. Or it could just be Christmas. Whatever the reason, Christianity, and Christ in particular, are having a second coming.
Register for free to continue reading
Registration is a free and easy way to support our truly independent journalism
By registering, you will also enjoy limited access to Premium articles, exclusive newsletters, commenting, and virtual events with our leading journalists
Already have an account? sign in
Join our new commenting forum
Join thought-provoking conversations, follow other Independent readers and see their replies