Andrew Gilligan: It was not the Standard wot won it for Boris
The paper has been accused of politicking to oust Ken Livingstone. Far from it, says Andrew Gilligan. It was just reporting the truth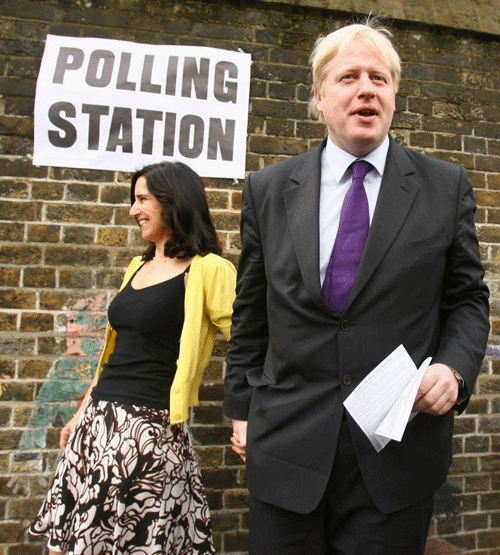 Throughout the London mayoral campaign it obsessively spewed vitriol, it ran as many as five knocking pieces a day and some of its news stories were transparent propaganda. Over Boris v Ken, seldom has a serious newspaper embarrassed itself more thoroughly than The Guardian. To the paper's writers, Johnson was a "sociopath", a "moneyed creep... from postcode Posh", a "racist", a "snob", "loathsome", a "moron" and of course a (gasp) "public schoolboy", quite unlike anyone at The Guardian, naturally.
News stories claimed that Boris was "shunning the hustings" (when he had in fact attended every day that week, except the day the story appeared) and that a "resurgent Mayor" had "narrow[ed] the gap" in the polls (that day, the polls had gone from a dead heat to Ken six points behind). Surprising, then, that this textbook practitioner of attack journalism should so furiously criticise my own newspaper, the London Evening Standard, for lighting some of Kenworld's dark corners. One Guardian columnist, Jonathan Myerson, compared my editor, Veronica Wadley, to Goebbels; Polly Toynbee called us "a Tory campaign-sheet more virulent than any previous one I can remember", peddling "spurious 'scandal' after 'scandal'", and Farringdon Road seems to have decided, in its Saturday headline's words, that "it was the Standard wot won it" for Johnson.
Just as the Guardian's judgment of Boris is overheated and awry, so too is its view of the media battle. I wrote most of the stories Polly and Jonathan hated so much, and this I know: it was not The Sun wot won it in 1992, and it was not the Standard wot won it for Boris in 2008.
Livingstone's share of the first-preference vote last week (36.3 per cent) was actually higher than in 2004 (35.7 per cent). Ken lost not because the Standard (or indeed Gordon Brown) cost him votes, but because he faced, for the first time, an opponent around whom the always high levels of hostility to him could coalesce. Precisely because he is not a racist, a snob, or a sociopath, Boris was that opponent.
What the Standard can claim is this. Firstly, in the same way as Boris brought together an existing anti-Ken majority, our investigations into Lee Jasper and the missing millions crystallised many Londoners' existing doubts about Livingstone.
Had our news stories been "spurious", "virulent" or "Tory campaigns" they would not have mattered. But they were factual and measured, thoroughly and transparently sourced, widely followed-up, had important real consequences, such as resignations and arrests, and have of course never, in any specific particular, been denied.
We gave Ken six days to answer our questions before publishing. Five months on there are still no answers. Instead, to our incredulity, he unleashed a barrage of abuse against me and the paper that confirmed not just our stories, but the fears about him.
And that was the second way in which we hindered Livingstone: by throwing him off balance. He had to fight us, rather than the election. Some said not that our stories were untrue, but that they were overplayed. But it was Ken's extraordinary response that made the story so big. At any time, he had the power to can Jasper and end the misery. He clung to him for three months, blinded to the fact that there was a real problem by his hatred of the Standard.
The Standard is no "monopoly" – it fights for media air with 12 nationals, four frees, BBC London, LBC and ITV. Yet it is true that for all the local newsprint that there is in London, mostly on Tube carriage floors, there is relatively little local journalism. The Standard helped set the agenda in this election, belying claims that the freesheets own the future and showing that properly resourced reporting is as important as ever. (Dear Polly, caught between conflicting desires to slam our evil influence and to belittle our "small circulation", squared the circle by claiming our newsstand billboards somehow exercise occult control over Londoners' minds.) I don't agree that investigative journalists should only investigate right-wingers. Power is power, exercised similarly by both left and right. But did we subject Boris to enough scrutiny?
I was the first reporter to expose what became Johnson's single biggest campaign headache, his unrealistic Routemaster bus costings. Beyond that, we looked – quite hard – for other things, but as he hasn't been in power for the last eight years, there was little new to find. Presumably the anti-Boris papers came up with the same blank; they certainly never printed anything.
The Standard's comment pages were hostile to Ken. But we used arguments, mainly derived from the facts we discovered, not insults. We separated news and comment. In commentary I make no secret of my views, so readers can take them into account as part of deciding how seriously to take my news reports. It doesn't seem to have stopped the judges, who gave those reports the top prize in newspaper journalism.
Nor is our hostility for commercial reasons, whatever 100,000 conspiracies Ken may weave about Metro distribution contracts. It was in the Standard's commercial interest for Livingstone to win, because opposition sells papers. Our hostility is empirical, derived from our day-to-day reporting experience of Ken's truthfulness and record. As his own former leader, Neil Kinnock, said, "everyone likes Ken, except those who know him". More than any other paper, the Standard knows Ken.
The Mayor's defeat has left a Livingstone-shaped hole in the Standard's world. For 30 years we have hated each other, but also rather needed each other. Still, I have a feeling that Boris will make a decent substitute. The scrutiny of him begins tomorrow.
As he looks back on his demise, Ken would be wrong to blame the media. The real reason was exemplified by what another Guardian columnist, Zoe Williams, wrote: "We know what London is," she said. "Boris is not London." Last Thursday, the people of London begged to differ; and it was that air of entitlement that cost Ken, and the Guardianistas, the Mayoralty.
Join our commenting forum
Join thought-provoking conversations, follow other Independent readers and see their replies