Hard truths for the trade in 'Flat Earth News'
An investigation into British journalism by one of its own takes to task a profession more used to dishing out criticism than taking it. Tim Luckhurst reports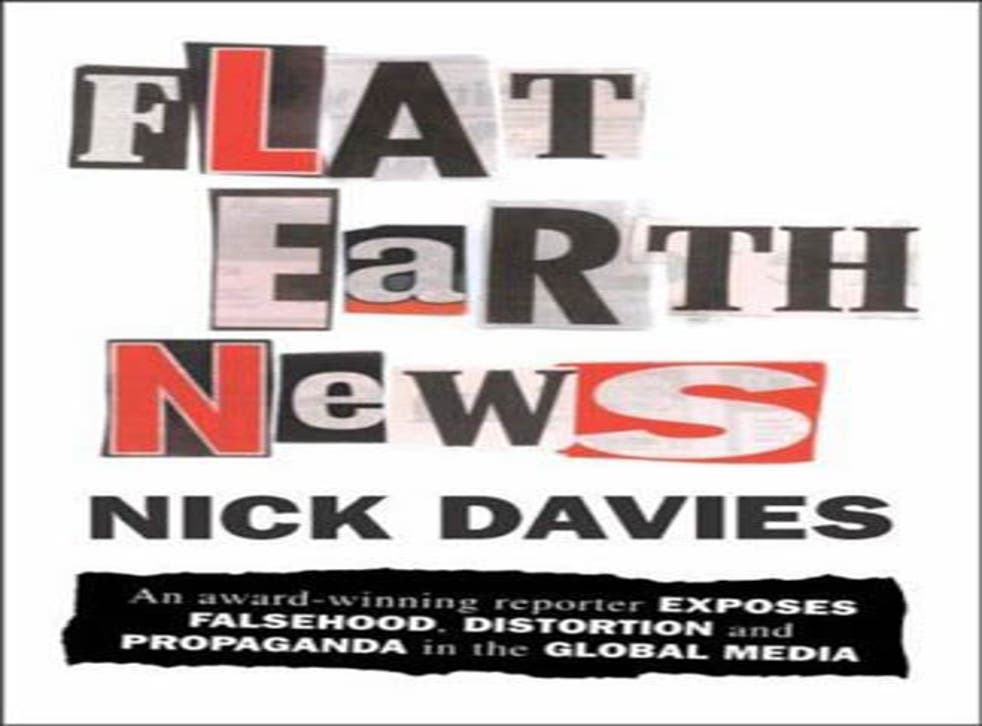 It is a book many newspaper proprietors would have preferred to see unpublished and every British journalist and student of journalism should read. Flat Earth News by Nick Davies is an exposure of "falsehood, distortion and propaganda in the global media", but is mainly about British newspapers. It is compelling and important.
Journalists are notoriously reluctant to think about the principles and practice of our trade. In many newsrooms there is nobody who will admit to having read anything suspected of applying academic rigour to the conventions of the industry. Their colleagues might laugh.
Davies's book gives cynical hacks cause to think. It is written by an insider who really does know what goes on inside newsrooms. It captures truths about what happens when principles are corrupted and reporters forced to do too much, too fast.
But it is not perfect. Davies admits that. He is a reporter and reporters have always made mistakes. What offends him is the frequency with which today's reporters are encouraged not to care about accuracy, objectivity and the "fourth estate" values which have allowed journalists to swaddle ourselves in the certainty that our work serves the purposes of democracy.
Davies believes "we are deep into a third age of falsehood and distortion in which the primary obstacles to truth-telling lie inside the newsrooms".
At the root of the problem lies commercial pressure, but not the ideological pressure blamed by Marxist academics anxious to portray the press as an establishment conspiracy. Davies blames the more insidious influence of media conglomerates that prefer profit to political influence and pare editorial staff to the bone to achieve it.
This leads overburdened reporters to fill the pages of their newspapers with "Flat Earth News", a worthless commodity defined here as an unreliable statement or story "created by outsiders, usually for their own commercial or political benefit, injected via a wire agency into the arteries of the media through which it then circulates around the whole body of global communication".
The information is not checked. Reporters, raised on the legend of Bob Woodward and Carl Bernstein, have abandoned their obligation to check that what they are writing is true. Being a veteran to whom facts matter, Davies cites numerous examples.
Among them is the story of Paul Hucker, the football fan who apparently paid £100 to obtain £1m-worth of insurance against the risk that he would suffer emotional trauma if England failed at the 2006 World Cup. If it sounds incredible that an insurance company would cover such a risk at such a price, that is because it is.
The story was a deliberate and cynical puff, one of a series invented by a marketing man who had already duped journalists with invented policies to cover eventualities including being kidnapped by aliens, spooked by ghosts or disappointed by Christmas presents.
The football insurance story got into newsrooms via the Press Association news agency. It appeared in newspapers, on websites and on radio and television around the world, running, says Davies, "through the unguarded gates of the media with the ease of a Brazilian striker penetrating the England defence".
In an article in Press Gazette Davies explained why PA, the widely respected national news agency, got the tale wrong. There are no longer enough reporters on the ground at local newspapers or in local news agencies to feed it reliable news. "I believe PA is honest in intent, efficient in performance and cost-effective as a business," he wrote, "and entirely inadequate for the role in which it has now been cast."
This is the essence of Davies's case. With help from academics at the University of Cardiff he has discovered that 80 per cent of home news stories in a sample of quality national newspapers consisted of agency or PR copy. He told Press Gazette: "It's mad that reporters spend so much time rewriting agency copy so that their newspapers can pretend that their reporters have worked on it."
On this he is right. Journalism's reliability has declined because there are now too few reporters with time to get out of the office and meet people. Reporting by telephone is no substitute for personal contact and even reporting by telephone is a luxury. When the editor screams for a front-page story, a feature and six "nibs" – news briefs – to fill page five, it is easier to rewrite press releases and download second-hand news from the internet.
So is British journalism guilty as charged? Here a confession made in the spirit Davies aims to encourage. I have not had time to read his entire book, but I have read large parts of it in the 24 hours since I was asked to write this piece. I will finish it and I will recommend it to my students.
My impression is that Davies makes a powerful case for the prosecution. The commercialisation of British newspapers by faceless corporations has damaged honest reporting more than a previous generation of ideological newspaper barons did. There is a depressing amount of bland "churnalism" going on and only the most deluded will deny it.
To that extent he has flung open the doors of a trade that loathes self-analysis like cats loathe swimming.
But three flaws make Flat Earth News valuable rather than definitive. The first is that Davies uses his book to pursue a feud of relevance only to staff of his own employer, the Guardian Media Group. His attack on former Observer editor Roger Alton is implausible and mean-spirited. Alton is among the most talented, honest and successful editors of his generation. Nothing here challenges that.
Second, Davies ignores much that is brave and honest about the British press. Summarising his case he quotes the fictional Kent Brockman, TV newsreader in The Simpsons, saying: "Journalists used to question the reason for war and expose abuse of power. Now, like toothless babies they suckle on the sugary teat of misinformation and poop into the diaper we used to call the six o'clock news."
It is a claim too far, as Peter Hain and Derek Conway are only the most recent British public figures to discover. When editorial resources are brought to bear on topics of clear, public significance, this country can still boast that it has a vibrant, insightful and courageous national press. It also has the BBC.
My third caveat is as much prediction as criticism. I suspect Flat Earth News will come to be seen as among the last excellent books about journalism by a member of the pre-digital generation. Many of the sins he identifies are too easily detected by informed internet readerships. That which survives unchallenged in print is increasingly exposed to ruthless scrutiny on the web. Cynicism is not a new phenomenon in British journalism, but it has a new foe.
Nick Davies
The veteran 'Guardian' reporter and documentary film-maker has turned his investigative eye upon his own trade and revealed some troubling realities about the occupation supposedly dedicated to seeking out the truth
Join our new commenting forum
Join thought-provoking conversations, follow other Independent readers and see their replies