Meet the voiceover stars: From Mind the Gap to the talking clock, the industry is finding its own voice
We hear them every time we turn on the TV, whenever we listen to an audiobook and even when we go shopping. But voiceover artists end up being, well, invisible. Rachael Naylor tells Gillian Orr why she's helping the industry speak up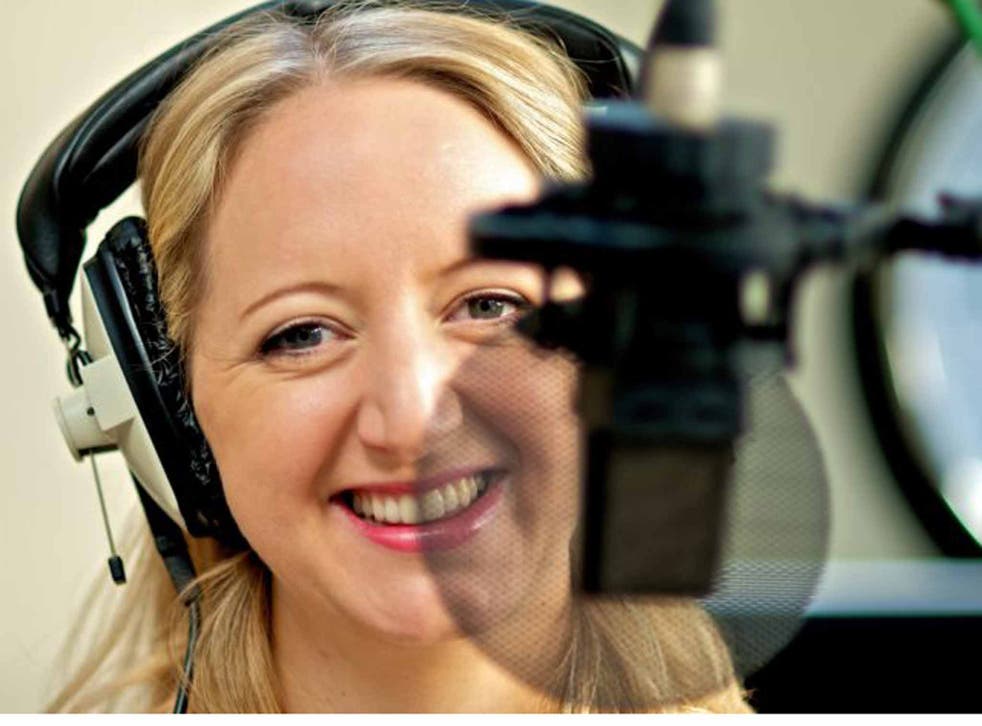 Rachael Naylor has a cold. And it is bad news indeed. You may not know her name but, as one of the country's most in-demand voiceover artists, you will certainly recognise the 34-year-old's voice. When she bounds into The Independent offices to meet me, her exasperation is clear. After all, a case of the sniffles can cost Naylor big bucks.
"I went all winter without as much as a sore throat!" she exclaims. "But my husband got sick, then my daughter. I knew it was coming. I'm usually really careful. If someone tells me they have laryngitis, I'm out the door so fast."
Like many voiceover artists, she started out wanting to be an actress. But when she completed the radio segment of her drama course, she soon found herself at home in the booth. A voiceover artist for the past 13 years, you can hear her dulcet tones on everything from Olay sponsorship ads to One Direction DVDs to Virgin Media's phone line.
But now Naylor has a new task at hand. Earlier this year she set up the VoiceOver Network, the first industry collective of its kind in the UK. It was after having drinks with three voiceover artist friends a couple of years ago that Naylor realised the need for such a platform. "It was a really useful evening and I thought we should do it more often. The next month I organised another night out and it just snowballed. Suddenly 30 people wanted to come. There was nothing like that going on in terms of people getting together and helping each other out and networking."
Sounds familiar: The voiceover stars

Show all 5
Naylor started to put on official events, inviting producers and agents to also attend. At the Christmas party last year, much of the A-list of the scene came down, including Big Brother's Marcus Bentley, The X-Factor's Peter Dickson, and Redd Pepper, aka "Mr Movie Trailer Man".
For such a burgeoning field, it is unusual to have no industry body. In the US, the trade is taken much more seriously, with networking events, registers and unions.
"I was baffled as to why no such thing existed. More people want to become voiceover artists and with the rise of audiobooks, video games and so on, there is more demand than ever. But no one knows how to start out."
What do voiceover artists make of the rise of the celebrity voice, something that has exploded in the past decade? Where once famous actors were embarrassed to involve themselves in such exploits, they are now lining up to sell everything from Visa cards to yoghurt.
Rather than cursing them for taking a slice of the lucrative market (artists can earn anything from £300 to £5,000 for half an hour's work), Naylor welcomes the big names.
"Yes, sometimes it's annoying if you go up for a job and you really want it and you then find out someone famous has got it because they're famous but that's just life. They've raised the profile of the industry and it has made people more curious and respectful about what we do."
Naylor insists that anyone can become a voiceover artist and she advises setting up a home studio, just as she has, from which you can work and connect with clients. Although hers is far more hi-tech, she says that one can be made for as little as £150.
"You just need a mic, your interface which connects to your laptop, and you can get away with soundproofing using just duvets and pillows when you're starting out."
Nor do you require a particularly great voice. "I mean, it needs to be decent, but it's about how you control it. You need to be able to change your pitch and tone. Oh, and to know how to sight-read."
Since broadcasters moved away from the so-called "voice of God" style (big, booming, male), towards more approachable tones, there is ample opportunity for anyone to get involved.
Indeed, until Naylor turns it on, her voice is pleasant but quite unremarkable. I ask her to deliver me a line. "Good afternoon and welcome to Virgin Media!" she purrs at me. Even with a cold, being on hold never sounded so good.
Join our new commenting forum
Join thought-provoking conversations, follow other Independent readers and see their replies