The digital takeover: Why 2013 must see the end of traditional news consumption
News organisations are hopelessly wedded to print-led and out-of-date means of delivering content. If we are going to start paying for newspaper websites this needs to change -and fast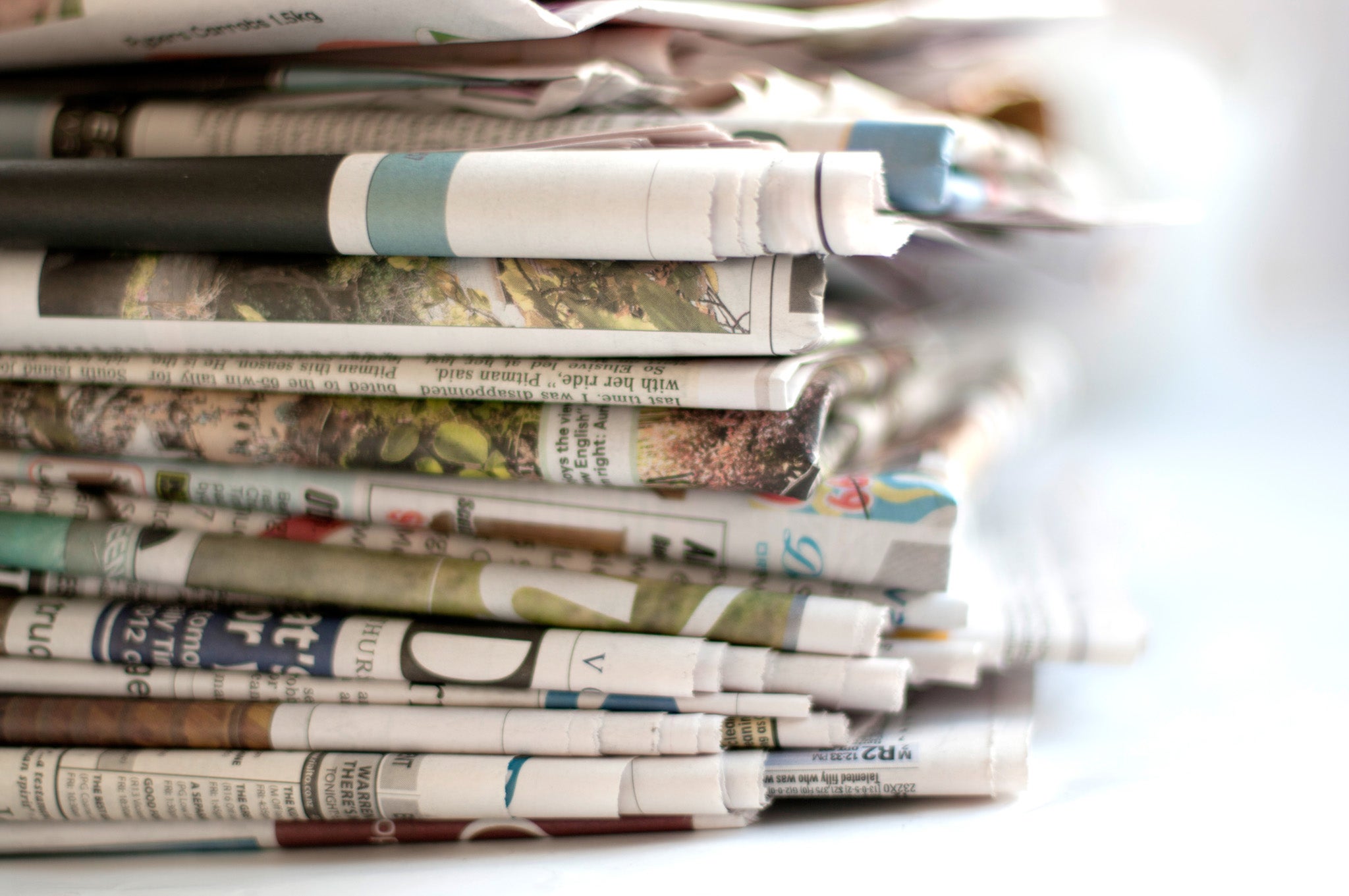 I was in charge of The Sun website on the day that Amy Winehouse died. Driving in Hertfordshire when the call came through from the newsdesk, I was told: "The body of a woman has been found at a house in Camden, but we do not know if it is Amy or not."
The Sun, in common with all other mainstream media, drew short of immediately stating online that the singer was dead, while the proper editorial checks were made. Twitter meanwhile was awash with the news straight away.
Then something very interesting happened. People began to tweet the fact that they didn't believe Amy was dead, because it hadn't been reported by the traditional news media.
Only when news organisations, like The Sun, confirmed the news did it become "official" in the eyes of the public. What does this tell us about the future of newspapers in a digital world?
Exactly five years ago I plotted some figures that suggested 2013 would mark an irreversible watershed in the history of the UK newspaper industry.
I was running the online operation at the News of the World and we predicted that Sunday 26 May 2013 would be the day on which the paper's digital reach in the UK would overtake its printed readership.
Quite a few people scoffed. Few really believed that we'd be swamped by a digital tsunami of such epic proportions within the space of five short years.
Yet fast-forward to today and all bets on print are off. When the new National Readership Survey (NRS PADD) figures are published next week, they're expected to again show that over the course of a month, the Daily Mail has more UK online readers than print readers.
Of course, The Independent, The Daily Telegraph and The Guardian crossed that particular Rubicon some time ago. But somehow it feels more immediate now that the middle and popular markets are catching up.
So how can newspapers cope with such a seismic change in an industry that traditionally relies on print for 98 per cent of its profits - but one in which news of Amy Winehouse's death emerges on Twitter?
To answer this, I think we need to understand the psychology of why people are willing to pay for newspapers in the first place. It's no coincidence that both The Sun and The Daily Telegraph have recently decided to impose digital pay-walls.
When I plotted figures for the News of the World back in 2008, I used data spanning 10 years for both print and digital. At the time, the News of the World was officially ranked by Alexa as the world's fastest-growing website, but print sales had already been in decline for a couple of decades.
What fascinated me was the shape of each graph – downward for print and upward for digital. They both remained at a constant gradient regardless of whatever strategy was being pursued at the time.
In other words, nothing that we did could affect people's decisions about where they wanted to consume content.
If they were going to read online instead of buying a paper, then we could not change that. Unfortunately, it was a fact the industry refused to accept at the time, but it's not too late now to adapt.
While the Mail seems intent on going down the digital free-to-access route, don't for one minute think that Associated won't be watching the efforts of The Telegraph and The Sun with great interest. And so we come to the elephant in the room: paid content.
A few years ago I was lucky enough to meet Steve Jobs and somebody I was with asked him what he thought an online newspaper should look like. The great visionary paused for a moment, and replied: "I think you should start with the front page, it's kinda served you well for 150 years."
Then he said:  "And you should stop using things for purposes which they are not designed for."
Jobs was telling us there was no need to throw the baby out with the bathwater, but he was also saying that the current browsing journey through most newspaper websites is too muddled, and lacks structure. The average user journey fails to cater for the psychology behind reading habits.
The great thing about a printed newspaper is that it's a finite journey. When you finish turning the pages you've "read the paper". You're satisfied that you've consumed something, and it's reassuring to know that you're in the know.
Reading a website isn't like that. It's an abstract journey without an end – like one of those cheap buffet meals offering endless choice, but which never actually fills you up.
Jobs openly acknowledged that the news media is the best at what it does. But we're hopelessly wedded to an out-of-date means of delivery – and the way in which we use digital means of delivery is both clumsy and clunky.
If people are going to pay for newspaper websites this needs to change. We need to make the reading experience smoother and more satisfying and be brave enough to develop browsing journeys with a finite end.
Logic tells us that if you give people more choice they'll consume more. But human beings are not logical in their behaviour. We are wonderfully illogical and hopelessly irrational.
I remember seeing research in the States which showed that if you tell people on a website that they are viewing 'Page 1 of 12', they'll probably click through all 12.
But if you give them an endless list of choice they'll only click five or six pages and get bored. So paradoxically, in an online, tablet or mobile world, less really can mean more.
Undoubtedly, both The Sun and The Telegraph will play to their respective strengths. The Sun's announcement, in particular, that it has acquired Premier League rights will go down well with its readership as marketing tool.
But content alone will only be part of the answer. The biggest threat to either project in my opinion will be latency. By this I mean the clunk and the grind of the browsing experience.
Most websites are engineered to perform optimally on a fast broadband service, on a decent PC, with an up-to-date browser. But that's like printing newspapers that can only be read on a sunny day. If the ink went runny every time there was moisture in the air nobody would tolerate it.
Most readers don't have superfast broadband 100 per cent of the time, their PCs can be slow and cumbersome and their browsers don't always have the latest plug-in. So we should "stop using things for purposes which they are not designed for" and strip things down to essentials.
The speed at which a website loads is crucial. Every second that can be shaved off the browsing experience will add hundreds of thousands of unique users.
This is something that Google – and in particularly co-founder Larry Page – understands intimately. When I met Page at a function he saw the implications of load speed as being crucial to the success of the digital newspaper industry.
He told me the human brain perceives anything less than 100 milliseconds (that's one tenth of a second) as being instantaneous - although if you can distract the mind with a screen transition you can make 200 milliseconds seem instant.
At the time, Google was returning its results within 100 milliseconds, which when combined with the 100 millisecond latency built into most computers, made results visible to the user within 200 milliseconds. The reason Google is the biggest search engine in the world is down to one thing above all else: speed.
Interestingly, like Jobs, Page also saw the challenges created by the browser journey as being important. He pointed me towards Google's Fast Flip in Google Labs (an experiment it later dropped, that involved loading content quickly in linear fashion) as the sort of thing the newspaper industry should be endorsing.
Understanding browsing patterns will be crucial to the success of both The Sun and The Telegraph.
One of the things they'll both undoubtedly be doing at the moment is experimenting with eye-tracking. This is where a camera is calibrated on to a volunteer's pupils whilst they read a website. Data can be used to record which parts of a web page a user's eye is drawn to.
The results of these sorts of tests always fascinating. People often have a complete blind spot to anything that flashes up on the page that is unexpected. Users like to get what they expect when they click on something, which is why Google algorithms place so much weight on link descriptions being accurate.
A frictionless means of payment – of which iTunes is a great example - will also be crucial: users hate clunky delays while payments are processed. 
The good news for the newspaper industry is that most of this is just a technical challenge - and it can all be solved with proper effort and investment. The bad news is that the genie of free content is already out of the bottle.
That's why I expect that whatever The Sun and The Telegraph might currently intend to do online they will probably eventually end up adopting a mixed model where at least some of their content remains visible for free. (This is the case currently on The Telegraph which allows users to read 20 articles per month for free and offers two digital subscription packages: a cheaper one with limited access; and a pricier one with extra perks).
If everything stays behind a walled garden then there's simply no way for users to find content. Better to adapt a similar approach to the Wall Street Journal, which remains the one shining example of paid content within the Murdoch empire. The WSJ continues to allow free access to a large amount of its content, evolving a model where there's an up-sell for a richer content.
Of course there are those that say newspapers have no place in a world dominated by social networking platforms like Twitter.  But in my view, Twitter should be seen as an ally not a threat. After all, all those Twitter users may have learned about tragic death of Amy Winehouse in 140-odd characters - but it didn't prevent them from clamouring for accurate newspaper coverage of her sad demise. 
Quick Stats:
When the last NRS figures were published in March (the first to include comScore data), they showed the Daily Mail website had already nudged ahead of its print edition elder sibling in some metrics.
The Daily Mail had a monthly print readership of 11.289 million: just behind its UK online monthly audience of 11.994 million (which includes the Mail on Sunday - see link for full data table).
On any given day, due to the fact that online readers are less regular in their reading habits, the print edition remains ahead of the web by 4.258 million compared to 2.786 million online – but the gap is closing fast.
The Mail's overall website traffic is in excess of 100million, but this measures global browsers as opposed to people in the UK, which the NRS's PADD ('Paid and Digital Data') was set-up to record.
*Gary Thompson worked for News International as a senior journalist for 18 years. He is currently an independent media consultant and PR advisor to FilmOn.com – the world's largest provider of internet TV.
Join our commenting forum
Join thought-provoking conversations, follow other Independent readers and see their replies