Dave Hogan: The snapper the stars still come out for
From Madonna to De Niro, celebrity lensman Dave Hogan has snapped a galaxy of stars, but the fight to get pictures published is a brutal, high-speed battle, he tells Rob Sharp
Monday 01 December 2008 01:00 GMT
Comments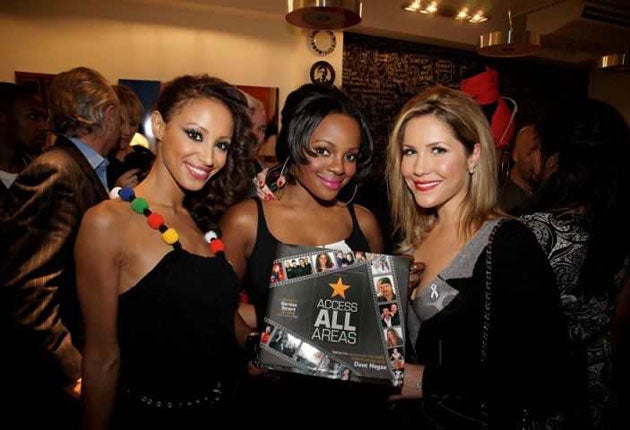 If you are one of the country's most famous celebrities, chances are you see the unwashed hoards of photographers who follow you around as the enemy – at least some of the time. But one man has made a career out of being different from the average paparazzo.
Dave Hogan has photographed the world's best-known people – Michael Jackson, Paul McCartney and Madonna among them – during a 30-year career. With his full-time job at photography wire service Getty Images, he distances himself from the pack of photographers hanging around outside West End nightclubs, generally because he is inside the venue, getting the pictures first. He is spoken of with affection and knowing glances within the industry.
If you saw recent pictures splashed across newspapers showing the launch of Atlantis, the super-hotel in Dubai, they were probably taken by the man in question, who has an anecdote or two for every job he goes on. "It was a £20m-bash and all the stars were there," he says, mildly, in a gentle Welsh borders accent. "It was probably the biggest bash for celebrities that I have ever been to. And normally the people who were there – Lily Allen, say, or Robert De Niro – would turn up for what they were contracted to do, but in this case everyone stayed up all night. You would look up and there would be £5 million-worth of fireworks exploding. That's why I was there – the people who organised it realised how money makes money."
Hogan's book has a brief biography of the great man before being split into chapters based around different celebrities. It shows how the celebrity landscape has changed. Hogan began his career taking pictures at Peter Stringfellow's West End nightclub – before it showcased girls in their scanties. But before long, he was rubbing shoulders with Kylie Minogue, Take That and Posh & Becks. "Hogie always delivers the goods, and is the man I want photographing the bands I manage – I can't give him higher praise than that," writes X-Factor judge Louis Walsh. "He's a nice guy, a character, and everybody loves him."
"Hogie" laments the change in the industry that has occurred since he started plying his trade. "When I started there wasn't anyone working in PR," he says. "Peter Stringfellow was the master. If there was a star in town they would be at his club, and they would get a bottle of champagne on condition that they were photographed with the owner. Then, the film would be processed and the papers would decide who they would include. Now it is instant. If you don't send the pictures immediately someone will beat you to it."
With a 24-hour news culture – and photo agencies such as Darryn Lyons' Big Pictures following around celebrities with video cameras and posting the results on YouTube – the competition is that much more fierce. "At Atlantis, I take the memory card out, I have someone with a laptop and a 3G card and within two minutes it is on the Getty Images newswire and is available in 50 countries around the world, with The Sun being my principle showcase."
Earlier this month Sienna Miller won a settlement of £53,000 with Big Pictures over claims of harassment and invasion of privacy. The settlement includes an undertaking that the agency will not pursue Miller – by car, motorcycle or on foot – or "doorstep" her at her home or that of her family. Does Hogan ever feel that he has crossed the line? "I don't do what you would term paparazzi work," he says. "I only work with artists and management when I have access to all areas, when they want me there. If they don't want me there, I kill 'em with kindness and walk away. When I first started there were only around four photographers on the street. Though when Diana died that all changed. The guys who are chasing celebrities around, they don't even talk to their subject matter. They are so desperate to get the first picture it is almost as though they will stop the competition from getting what they need. When I began my career, we would often let the other guy in to get his picture. Now, if some other guy gets it, the picture goes everywhere. It is dog eat dog. You let someone else in to get the picture, you don't get the money."
He is also not too impressed by some of the people that he is charged with photographing. "It's the biggest thing that pisses me off, because we have something like the London Olympics coming up, which involves generally talented people going out to achieve something," he says. "The majority of teenagers that you talk to at the moment will be discussing on the playground who the latest non-entity it is who has been evicted. They are following these people around as if they were the Pied Piper. But do they have any talent? The general answer to this question is 'no'. And the sad thing is that anything these people say becomes important to the younger generation. With many of the proper, talented musicians, they spent a certain amount of time learning their craft. Many people miss that out entirely."
That is not to say that more established artists cannot be handfuls. "Prince used to be the worst one," he adds. "He used to change his mind quite a lot, like he would agree to be photographed and you would travel a long way to meet him and then the whole job would be off.
"The best punishment he ever gave a few of us was when I went to Paris to shoot him one year, managed to get hold of a photopass and then wasn't allowed to take any snaps. And he forced me and my fellow photographers to sit in the front row of his concert. It was the most painful thing to experience.
"I don't enjoy a concert where I am not allowed to photograph people. I would rather not see it than feel like I am missing a picture."
He has plenty of celebrity anecdotes, like the time when he was told he could photograph Madonna and Guy Ritchie at the Brit Awards earlier this year. They were going through their now-recently-concluded divorce at the time. "I was taken up to the couple and was told to photograph them together, but I couldn't get those pictures because Guy was on the other side of table.
"Madonna said: 'I suppose one of us has to get up.' She got up and went over to Guy. It seemed as though she was the one who was doing the running to make it work. You watch the strain of these public high profile situations. It is sad when it all goes wrong."
The week of our interview, the snapper was due to head off on holiday to East Africa to photograph whale sharks. "Underwater photography is my dream. Madonna pictures sell better, though."
Nowadays, just as for everyone else, times are harder for Hogan. He recently paid his own way to photograph Duffy in New York, something that would have been unthinkable just several years ago. "I used to go to so many parties which had that special 'wow' factor," he says.
"But there are fewer parties in credit crunch Britain. People are not spending the money they used to. For example the recent Bond premiere [Quantum of Solace] was very lavish but no one wanted to do anything. A lot of the stars turned up for their cocktail and the whole event just seemed a lot more controlled. That reflects the age we are in."
So, with so many memories of flash bulbs igniting over the years, what does Hogan think is the enduring moment to tell whippersnapper photographers about? "Standing on stage with Michael Jackson in 1997 in Germany with 75,000 people screaming at him. The hairs on your neck stand up. You understand why it is that they do what they do."
Access All Areas, a book containing some of Hogan's most famous pictures, is published by Green Umbrella, £20.
Join our commenting forum
Join thought-provoking conversations, follow other Independent readers and see their replies