Editor Marty Baron talks Spotlight, scoops and the digital age
Newsaper editor Marty Baron was key in exposing child abuse within Boston's Church. As the film inspired by his work heads to the Oscars, he tells Rob Hastings about the challenges of going digital – even when Jeff Bezos is your boss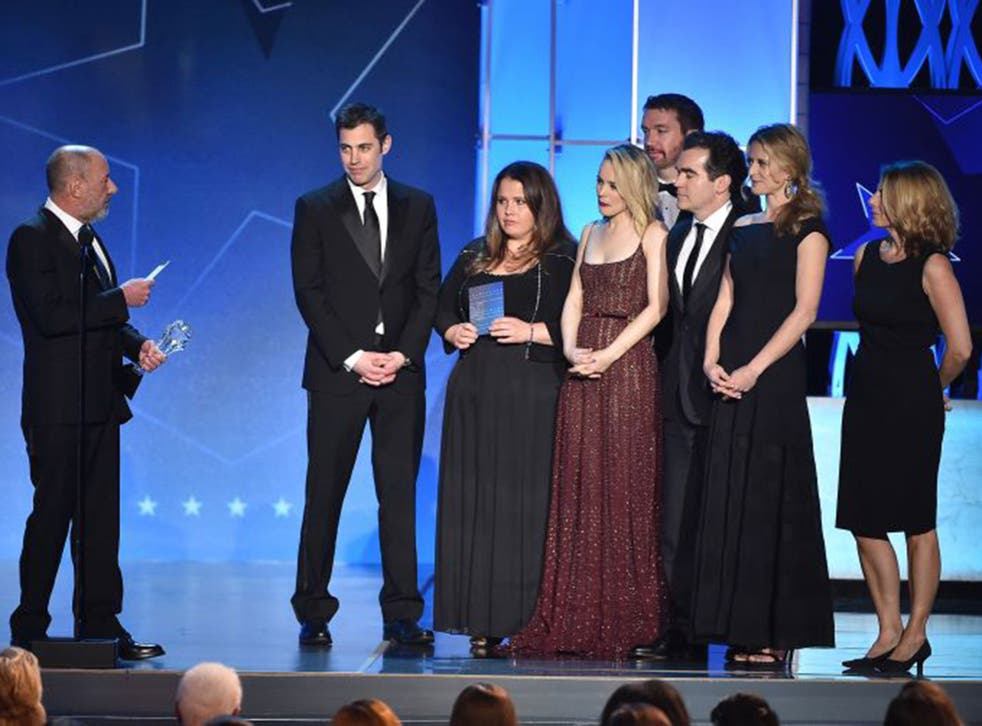 Marty Baron learned at least one thing from the film Spotlight. As well as providing him with a ticket to the Oscars, the film led to Baron – now heralded as one of the world's greatest newspaper editors – discovering how the staff of The Boston Globe had moaned about him on his first day in charge, behind his back.
"Reading the screenplay was a bit of a revelation for me," he admits with a chuckle. "I wasn't actually aware until I read the screenplay that there was this problem of recalcitrance on the part of the staff."
As the film shows, it was during his debut editorial conference at the Globe in 2001 that Baron provoked frustrated mutterings and shaken heads among the paper's investigations team, from which the film takes its name.
On that first morning in the editor's chair after arriving from The Miami Herald, Baron questioned why Spotlight hadn't tried to secure the release of court documents about an abusive Catholic priest he had read about in a minor article. Doing this would probably be a waste of time as it was an old and dubious story, the team's editor and reporters felt – and it would risk alienating their readers in the Catholic-dominated Boston. The team reluctantly steeled themselves to give it a go, but not without a gripe first.
"Nobody ever told me at the time," Baron says. "Why would they? I was the new guy, this outsider in Boston."
The 61-year-old has the chance to playfully remind his former colleagues of how they initially recoiled, when they attend the Oscars ceremony together on Sunday night. Telling the story of what became a ground-breaking investigation into how the Catholic Church covered up abuse of children by multiple priests – journalism at its finest, which all first stemmed from Baron's one awkward question in that conference – the movie is in the running for six Academy Awards, including Best Picture.
Baron – who I can attest from the occasions I've met him is played impeccably in the film by Liev Schreiber as a quietly dignified, self-assured, unshowy man – is no stranger to such prize-givings. Now editor of The Washington Post, which he led through its controversial exposure of Edward Snowden's NSA surveillance files, he has overseen many a win at the Pulitzers – known as the Oscars of journalism. But the critical and commercial success of Spotlight has given wider exposure to him than even the biggest newspaper gong could offer. He is now being widely and favourably compared to Ben Bradlee, the legendary editor of The Washington Post during the Watergate scandal – who was also immortalised by Hollywood in that earlier paean to investigative journalism, All The President's Men. Schreiber has even suggested that playing Baron was akin to taking on the roles of Hamlet or Iago.
"A little over the top, I think!" Baron says of this comparison, adding that he hopes he is "more decisive than Hamlet was". Speaking to The Independent on the phone from his Washington office, he says he's happy with the film and Schreiber's portrayal of him. "I'd have to be a pretty awful grouch to complain about how I'm portrayed on the screen."
While he has been celebrated by his colleagues and counterparts for some time now, he didn't see the wider acclaim coming.
"I was fairly confident the movie would never get made," he says – and not just because it concerns child abuse and confronts problems in a major world religion. "It's about journalists, and we're not the most popular characters in society these days."
Spotlight Exclusive Interview With Cast & Crew
Never mind the movie getting made. Of greater concern is whether the tricky and time-consuming reporting that led to the revelations about the Catholic Church hiding the truth of its abusive priests would be carried out now, in an internet journalism age characterised by its critics as being hooked on "churnalism" and "click bait".
"The resources available to do that work are much diminished today, and the patience for that work has eroded as well," Baron says. "When I talk to students, young people are astonished that you can spend that much time on a story, that you would be allowed to do an investigation that deep. It's a bit troubling that people are surprised by that, because those kinds of investigations are necessary when the stories are particularly difficult… There's really no alternative if you really want to get at the truth."
He is not saying this as a digital doomsayer, however. How could he be? the Post moved into brand new offices just last month, its political staff for this year's American elections boasting twice as many reporters as in 2012, the audience size for the paper's website recently beat its old rival, The New York Times, for the first time with more than 65 million unique visitors a month, and he's that confident there will still be a print edition come the 2020 election, too. Purchased by the billionaire Amazon owner Jeff Bezos just days after Baron took over, the Post now has all the resources it needs for old-fashioned reporting as well as the new demands of the web.
"We do spend, when it's warranted, months and months and months on major investigations," Baron says. But the internet means they also "have the capacity to tell stories in powerful new ways now through the use of video and audio, and original documents, and incorporating social media".
"Those are tools that were never available to newspapers before, and if we're smart about it we can deploy them in a highly effective manner. At the same time we can have an enormous impact because the whole world can read our stories. People talked about the church investigation as being the first true, worldwide internet story because the stories were being read all over the world, including in the Vatican. And it allowed people all over the world to react, and to compare notes, and to share information, and to organise among themselves."
The full impact of articles proliferating and being shared online about crimes that previously remained hidden has been felt in Britain, too, in the wake of the many historical sex-abuse revelations since the unmasking of Jimmy Savile as perhaps the country's most prolific paedophile. Encouraged by allegations finally being aired, other witnesses have found the courage to come forward, and more abusers have been put in prison. But some say the pendulum has now swung too far the other way – as some reputations are trashed unfairly by a media suddenly too eager to cover unsubstantiated claims that would previously have been left unreported, while police are keen to be seen to take every claim seriously. Think Paul Gambaccini, or Lord Bramall. Should the accused therefore remain unnamed, until they are convicted or at least charged?
America has a different media environment with looser libel laws, of course. But considering the Spotlight cases, Baron says the current rules are fine as long as the journalism is responsible. "We didn't wait until they were charged because the reality was hardly anybody was being charged at the time – that was part of the problem. If we had waited till people were charged, we wouldn't have named anybody. When you have a situation where the courts and all of law enforcement are entirely deferential to the Church, as in this instance, you can't do your job if you don't name the people."
Responsible journalism relies greatly on the usually unheralded work of editors like Baron – checking, questioning, affirming. They send stories away with red pen, they cut, they re-write. By all accounts, Baron seems born to do this – not that many would have predicted it.
"I was a particularly prickly and difficult reporter," he says. "I think some of my fellow editors were shocked when I was named an editor initially given how difficult I was." Yet it was his understanding of the intensity with which reporters feel for their stories that made him a success.
Dealing with management is another concern altogether. Baron's ultimate boss, Bezos, runs an internet retailer widely criticised for employment conditions in its headquarters and its warehouses. As a rule, newspapers generally need a rich owner, but they inevitably raise questions about credibility on reporting certain stories. Is trying to be the middle man of these two worlds the hardest role in journalism?
"It's a huge challenge," Baron says. "I'm responsible for the journalism that we do, and the journalism needs to be independent – and I believe here at the Post that it is independent. At the same time, I am part of management and I have a responsibility to make sure we succeed commercially… I think ultimately all of us need to fall back on our principles."
And those are?
"The single biggest asset we have is our credibility with the public; if we do something to put that in jeopardy then we don't have a business… The public wants us to be independent, and they want us to be energetic and aggressive, and uncovering the news. They want us to be honest, and honourable, and fair, and accurate. They want us to tell them what we've found, and tell them what we've found in a straightforward and unflinching way."
Forget click bait – these are words that might be deemed "Oscar bait" if they were written in a Hollywood script, for their idealism and virtuousness. But Baron says them quietly and humbly – not for effect. If Spotlight has any legacy for journalism, he wants it to be a call to arms for the big cheeses at newspapers everywhere. "My hope is that it causes owners, editors and publishers to re-dedicate themselves to investigative reporting and also that it causes the public, the sceptical public, to recognise the necessity for this kind of work, and to appreciate what's needed."
Ben Bradlee couldn't have put it better himself.
Join our new commenting forum
Join thought-provoking conversations, follow other Independent readers and see their replies