Gay rights activists defy Ugandan laws by publishing new LGBTI magazine
Thirty thousand copies of 'Bombastic' are to be circulated by hand - and the effect will be inflammatory in the socially conservative country
Jamie Merrill
Sunday 04 January 2015 01:00 Comments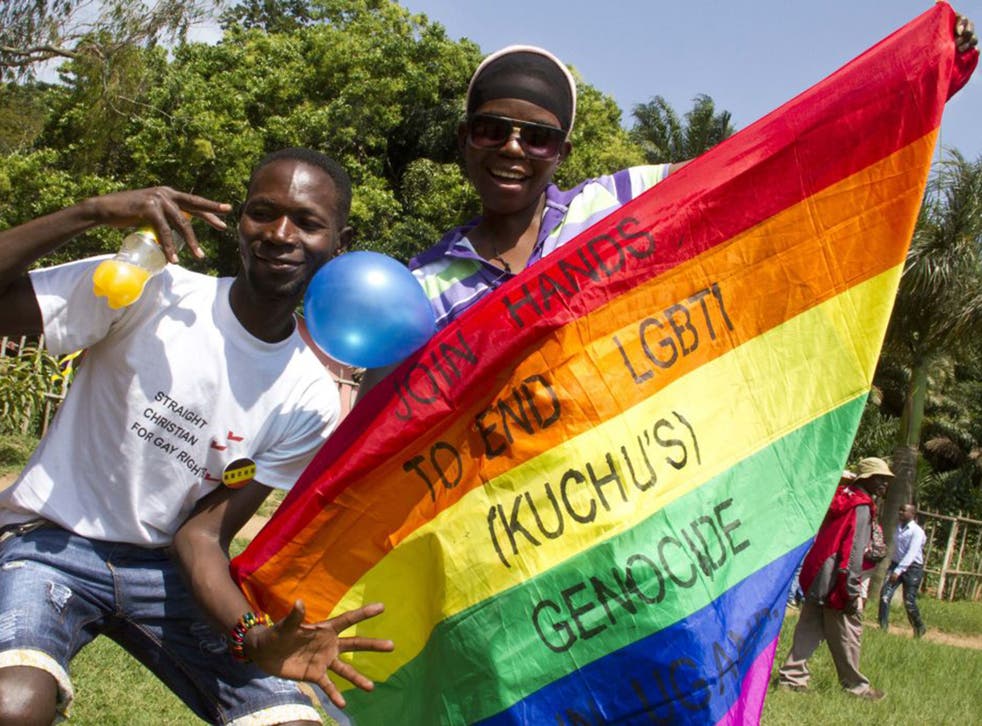 Gay rights activists in Uganda have risked detention by police, threats of violence and death threats to publish a new magazine sharing the stories of the country's lesbian, gay, bisexual, transgender and intersex (LGBTI) community.
Campaigners in Kampala have launched Bombastic to "share the realities of being gay" in Uganda, where homosexuality activity is illegal, the mainstream media is openly hostile towards gay people and the government has repeatedly tried to introduce new laws to ban the "promotion of homosexuality".
Homophobia is rife in the socially conservative country, but the team of 130 campaigners and volunteers behind Bombastic intend to hand out tens of thousands of copies by the end of this month and have plans to publish the ground-breaking title four times a year.
"Bombastic came about because we wanted to put right many of the falsehoods spread by the Ugandan media, which regularly publicly humiliates and degrades homosexuals," said Jacqueline Kasha, a lesbian activist and the magazine's organiser. "Instead, we are sharing our stories in the hope that we can change social attitudes. The people we are trying to reach out to are the people who are threatening to burn our houses and beat us."
The first issue of the free magazine contains 20 personal stories, as well as articles on the clergy and homosexuality and health advice; 15,000 copies were printed before Christmas and a further 15,000 are expected to be delivered this week.
"We are not journalists and I don't respect the media here in Uganda," Ms Kasha said. "The media is furious with us because we are reclaiming our stories. We expect them to retaliate. We are always frightened, but nobody else is going to stand up for us; our community needs a face."
Last February a Ugandan tabloid was condemned for naming the country's "200 top homosexuals" a day after a bill toughening penalties for gay people was signed into law by President Yoweri Museveni. The law was later overturned due to a legal technicality.
The tabloid's headline, "Exposed", raised fears among activists that it would incite a witch-hunt against gay people in the country. The gay activist David Kato was murdered in 2011 after his name appeared on a list published by a magazine calling for the execution of gay people.
According to Ms Kasha, Bombastic volunteers in the eastern part of the country have already been temporarily detained by police, and she has been threatened with court action by members of the clergy. Nevertheless the campaigners plan to hand out copies of the magazine at parliament, the President's office, and embassies in Kampala on Tuesday.
Frank Mugisha, a friend and colleague of Mr Kato and one of the most prominent gay rights activists in the country, said: "Bombastic is vital step for the LGBTI community in Uganda, which has had its stories told negatively by the media. This offers us the chance to give our community its own voice, and hopefully that will help show society there is a more positive picture of the LGBTI community."
Homosexual activity is already illegal under a 1950s penal code dating from British colonial rule, but in the past two years the Ugandan government has attempted to introduce wide-ranging new laws, with tougher penalties for gay people and banning the "promotion" of homosexuality.
The law calling for tougher punishment for gays was rejected by the constitutional court in August, but international human rights groups have repeatedly described attempts to crack down on gays as draconian and "abominable". Barack Obama said attempts to criminalise promoting homosexuality were "a step backward for all Ugandans".
A revised bill is currently at draft stage and needs to be discussed in parliament, but leaked documents show it will outlaw "funding for purposes of promoting unnatural sexual practices". Those who "aid and abet the promotion of homosexuality" face years in jail. It also outlaws "exhibiting unnatural sexual practices", and deems consent invalid as a defence. Those who own property where acts labelled "unnatural" occur may also be prosecuted.
Mr Mugisha believes there is cause for hope, however. "Social attitudes are changing for the better," he said. "There has been a shift in the last five years as more young Ugandans become more accepting."
The LGBTI community takes some heart from comments made in September by President Museveni, who has been in power for 30 years. He said the country might need to consider the cost on trade and economic development of further crackdowns. This followed a Gay Pride rally in August, which was given government permission.
The London-based human rights campaigner Peter Tatchell said: "Despite intensifying anti-gay repression in Uganda, the LGBT movement is bolder and more open than ever. The launch of Bombastic and Kuchu Times [a gay rights news website] is a poke in the eye for homophobic politicians and clergy. It's a gesture of defiance, signalling the new assertiveness of LGBT Ugandans.
"These publications challenge de facto censorship. They give Uganda's gay community a platform that is mostly denied them by the mainstream media."
Register for free to continue reading
Registration is a free and easy way to support our truly independent journalism
By registering, you will also enjoy limited access to Premium articles, exclusive newsletters, commenting, and virtual events with our leading journalists
Already have an account? sign in
Join our new commenting forum
Join thought-provoking conversations, follow other Independent readers and see their replies