Looks good on paper: Forget tablet editions - a new wave of young independent publishers is producing wonderful hard-copy titles
Ian Burrell
Wednesday 19 February 2014 22:45 Comments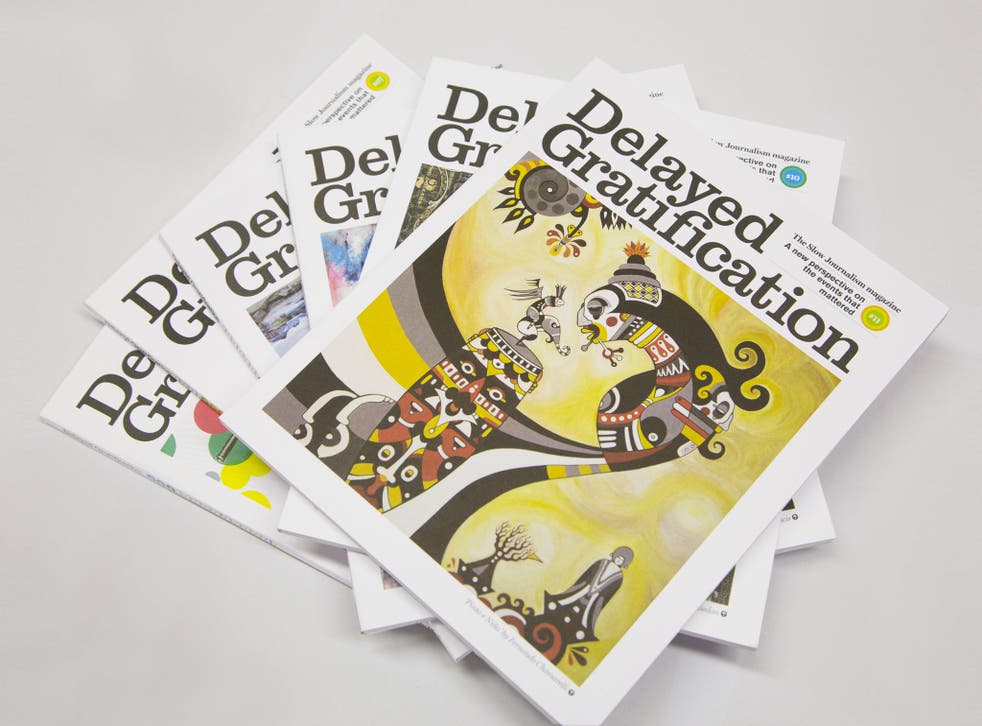 In the days of punk, young publishers operating from bedrooms and kitchens would design and distribute their print creations with little more than a block of paper, a typewriter, a photocopier and a stapler.
Today, independent publishing has grown up and the primitive monochrome fanzine has flowered into something more artful with scores of new titles serving niche international customer bases as a generation raised on digital media rediscovers the pleasures of the printed page.
Titles from the food-culture magazine The Gourmand to the interiors journal Apartamento are defying trends in the traditional industry, where big publishing houses are wrestling with the great conundrum of how to take their news-stand readership to the digital uplands of tablet and mobile.
These often-luxurious print products are not cheap. They typically sell for £10 an issue – with the glossiest fashion titles carrying a cover price of up to £30. With written media being increasingly consumed for free, it is an extraordinary development.
"What I can see is a sea change among the younger generation," says Jeremy Leslie, the writer of the MagCulture.com blog and website. "Ten years ago, they all wanted to build a website because it was deemed challenging. Now, they have all got blogs and [microblog] Tumblrs and take all that for granted. They're excited about doing print because they don't understand it."
For the past decade, as talk of the death of print at the hands of digital has grown louder, the independent-publishing sector has expanded. Three years ago, the magazine-industry body, the Professional Publishers Association (PPA), recognised the development and set up the Independent Publishers Network (IPN), which attracted 280 delegates to its December conference. The chairman of the IPN, Kevin McCormick, who co-founded Wild Bunch Media, operates Women's Running, a specialist fitness title. According to Barry McIlheney, the chief executive of the PPA, "We are inundated with young graduates setting up their own thing."
Part of the trend is explained by the entrepreneurialism of young people joining the creative industries. With jobs hard to come by, they are making products to highlight their talents – to potential clients as much as to possible employers. Digital technology has taken the business of creating content from the closed world of traditional media and made it a function of every company and institution with a website. New graduates know that they are well placed to produce this material and are founding creative agencies to meet the need.
Oh Comely is a lifestyle magazine produced by the creative agency Adeline Media, co-founded by Liz Ann Bennett and Des Tan. Out every two months, it is distributed – unusually for the sector – through WH Smith, and has just published its 19th edition. The magazine eschews the ranks of cover lines that adorn most women's magazines on the news-stand in favour of lots of white space and simple cover portraits of young females.
As Bennett explains, she and Tan do copywriting and design for clients and the magazine acts as a showcase for that. "There's a desire for physical objects," Bennett says of the rarely acknowledged interactive qualities of print. "The way humans interact with a screen is very limited in terms of physicality – you are just touching and swiping. With a magazine, you can cut things out and doodle on it, you can interact in a way that says, 'Humans can do more than just type.'"
She believes that print can provide something that technology can't. I don't like reading long pieces online," she adds. "I have to have something physical."
Oh Comely is one of 22 independent titles distributed by Stack, a business that offers customers a surprise magazine for a subscription of £5.50 each month. Other titles range from the street-art journal VNA to the cycling title Rouleur, the travel title Boat Magazine and the news-based Delayed Gratification.
On the Stack website, its founder, Steve Watson, promises clients: "Every month, that big brown envelope will thump on to your doormat, containing one of the world's best independent magazines. You never know what you're going to get next, but you do know it will be a beautiful, intelligent magazine you probably wouldn't otherwise have come across."
According to Watson, who says customers post photos of their newly arrived magazines on the social-media sites Twitter and Instagram, the amount of time we spend in front of digital screens is a help rather than a hindrance to his business model. "A lot of people these days respond to the idea of being away from the screen, which feels very much like being at work."
The growth of independent print is happening in parallel with the revived interest in vinyl, for which high production values are also important and many collectors favour a 180g record pressing that often combines the physical pleasures of fine artwork and sleeve notes with a free digital download.
In colleges, media students who have grown up as "digital natives" are showing renewed interest in the old craft skills of print production. Courses in letterpressing and screen printing (invented in China thousands of years ago) are popular again, says Simon Hinde, the programme director of journalism and publishing at the London College of Communication. "Young people are interested again in things that 15 years ago people thought were on the way out because of digital. To them, it feels like new technology because it's unfamiliar."
Visible ownership is very important to magazine buyers, Hinde says. "It can be a beautiful artefact that people can see you reading on the train and it says something about you, your taste and cultural values."
This trend is not a denial of the growth of digital media so much as a consequence of it. The internet drives magazine subscriptions while digital software underpins production quality. "It's not like the punk magazines that deliberately looked cheap," Hinde says. "If you have decent software and an Apple Mac, you can produce something fabulous."
Eleanor Brown has opened X Marks the Bökship, a venue in Bethnal Green, east London, which enables small publishers to bring readers together for events. "It's a way for them to make themselves more visible," Brown says. She recently staged the launch of Untitled (September magazine), a 500-page compilation of printed images sourced over many years by the artist Paul Elliman and selling for $88 a copy.
Brown opened her space three years ago after realising that Britain had nowhere like New York's Printed Matter, Inc or Toronto's Art Metropole centre to support its burgeoning independent-publishing scene.
Britain is a hub of independent publishing. Jeremy Leslie notes that English is "the lingua franca" for global titles – even those produced in France or Italy – which depend on limited sales in each of many countries around the world. Kaleidoscope, the arts-and-culture title founded in Milan in 2009, is a good example.
The independents have taken advantage of a loss of confidence by the big publishers. According to Leslie, the preponderance of news-stand food titles with recipe-based editorials and celebrity-chef interviews has allowed independent magazines to serve serious foodies something more original.
Many mainstream publishers have "become spreadsheet-led", he says. "They have been successful money-making machines and the rug has been pulled out from beneath them. A lot of independent publishers are making hay, creating beautiful magazines that people desire and pay quite large amounts for. It's fascinating to watch it develop."
Register for free to continue reading
Registration is a free and easy way to support our truly independent journalism
By registering, you will also enjoy limited access to Premium articles, exclusive newsletters, commenting, and virtual events with our leading journalists
Already have an account? sign in
Join our new commenting forum
Join thought-provoking conversations, follow other Independent readers and see their replies