Murdoch says sorry to Grant over 'love child' remark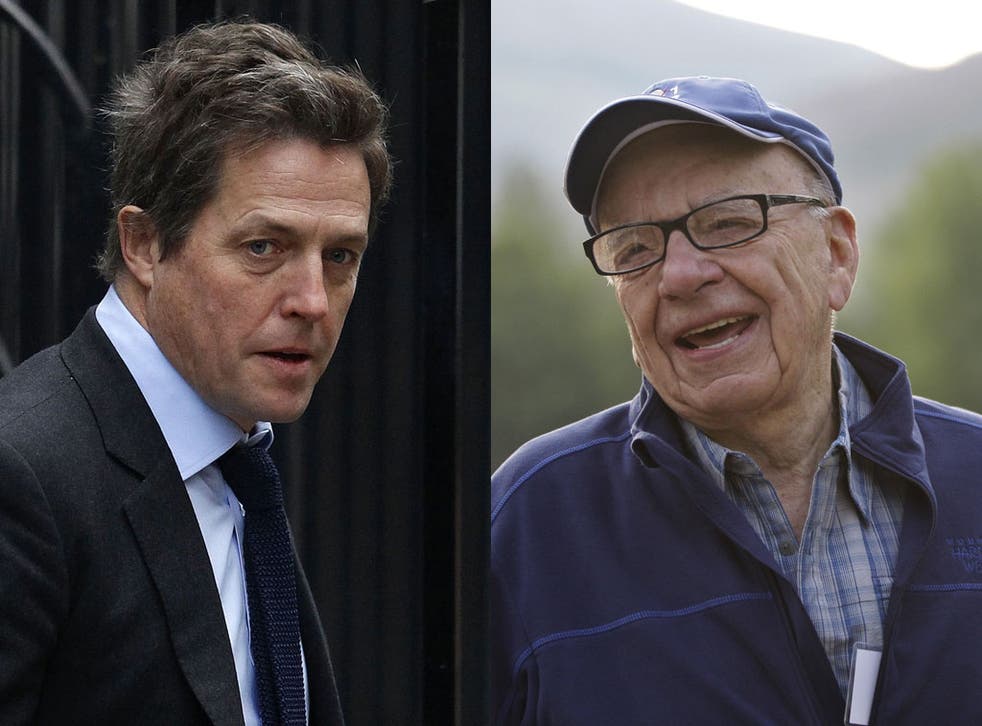 Rupert Murdoch experienced the dangers of tweeting in haste for the second time in 24 hours yesterday, issuing an apology to Hugh Grant for a liverish message questioning the actor's commitment to his daughter.
The media mogul, who has gained a reputation for plain speaking since joining the site earlier this year, posted a typically blunt retort when asked if he agreed his journalists and executives were "scumbags" – a phrase he seemingly used to describe phone-hacking campaigners earlier this week.
Mr Murdoch's grammatically-challenged reply – "They don't get arrested for indecency on major LA highways! Or abandon love child's" – initially went unnoticed, until Twitter users, and perhaps Mr Grant's lawyers, raised the accuracy of his tweet with him. Mr Grant found himself in the headlines last year when it emerged he had become a father for the first time after his former girlfriend, Tinglan Hong, gave birth following a brief relationship, causing him to complain about intrusive coverage that formed part of his evidence to the Leveson Inquiry.
A repentant Mr Murdoch tweeted yesterday: "Hugh Grant states that he is deeply involved in his daughter's life – I accept that, regret tweet on the matter. Apologies to both parents."
The mea culpa was the second Twitter climbdown by the News Corp chairman in a day, after he took to the website to criticise a meeting between David Cameron and celebrity members of Hacked Off – which represents the victims of media intrusion.
In the wake of the discussions between Mr Cameron and a deputation, including Charlotte Church and former BBC Crimewatch presenter Jacqui Hames, Mr Murdoch wrote: "Told UK's Cameron receiving scumbag celebrities pushing for even more privacy laws. Trust the toffs! Transparency under attack. Bad."
The magnate, who insisted he had not be referring to the two women, later tweeted: "I did not say all celebrities were scumbags. Check my tweet. And apology to any who misunderstood."
Hacked Off said his words did not amount to an apology. A spokesman said: "Those tweets were received by more than 340,000 people and saying 'I'm sorry you misunderstood' is not an apology."
Join our new commenting forum
Join thought-provoking conversations, follow other Independent readers and see their replies