Police and public officials still being offered thousands of pounds for information on celebrity private lives
Probation and prison officers targeted by a former Metropolitan Police forensics and surveillance officer now running a news agency selling pictures and stories to newspapers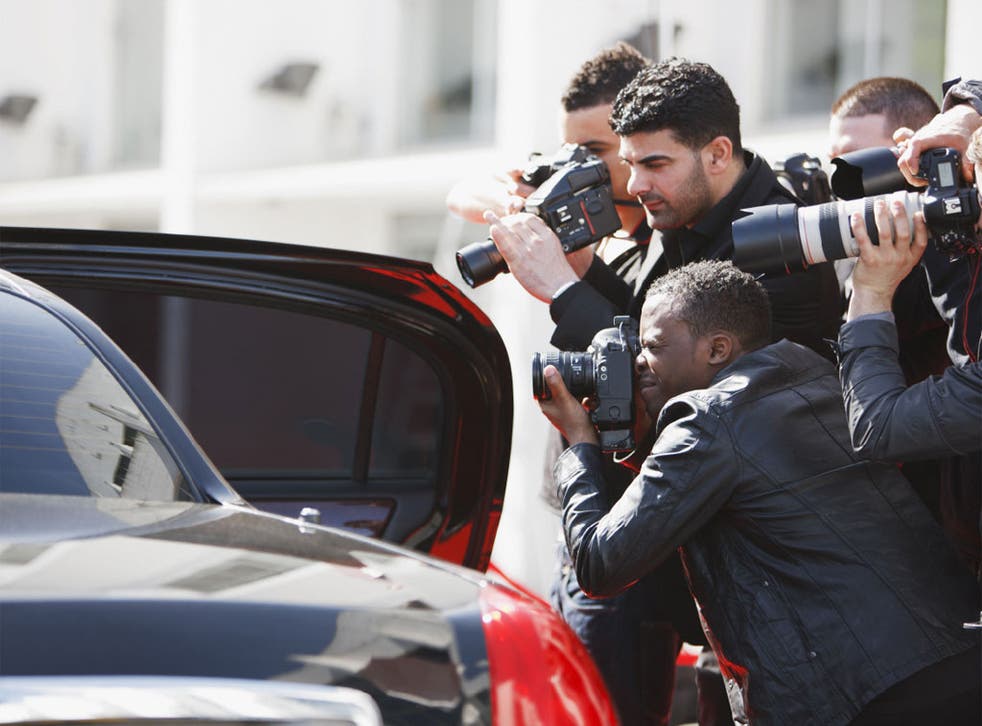 Police and other public officials are still being offered thousands of pounds for information about the private lives of celebrities, The Independent can reveal.
An investigation by Exaro, the investigative website, www.exaronews.com, found that officials such as probation and prison officers are being targeted by a former Metropolitan Police forensics and surveillance officer now running a news agency selling pictures and stories to newspapers.
This is despite the current police investigation into the alleged bribing of public officials by journalists, and the Leveson inquiry into media ethics.
Today a prison officer and two other people were arrested in connection with the police probe into corrupt payments to officials by journalists.
So far a total of 37 people have been arrested in connection with Operation Elveden, the investigation into suspected corrupt payments to public officials.
But despite this Newspics, a press agency based in Shenfield, Essex, still appears to be offering four-figure sums for 'scoops' through its website.
The agency claims endorsements from the picture desk of The People, the red-top Sunday tabloid, OK magazine, the celebrity title, and the Press Association, the national news agency. The Independent has published legitimate photographs taken by Newspics photographers.
On a page of its website headed 'news exclusives' it says:
"Do you know of a story, a scandal, something that made you interested, chances are that a newspaper will pay for that information. Do you know where a prominent person is living or what they get up to, is a celebrity having an affair that you know of, do you know anyone who's on reality TV? You can earn yourself good cash now by calling.
It then adds: "All sorts of people have been paid thousands of pounds by us for giving information that leads to a picture being sold or a story being written, are you a doorman, police worker, civil servant, probation officer, prison officer, nurse? Make some extra money without anyone ever knowing…"
Newspics is run by Matt Sprake a former forensics and surveillance officer for Scotland Yard who carried out anti-terrorism duties during his 10-year police career.
Sprake runs the agency with his wife, Marion, a banker who used to work for Barclays. He claims to have a network of 35 photographers, and a discreet studio "just 20 minutes from the City of London" for celebrity client portraits.
Part of his agency's website is devoted to its "surveillance photography", offering a menu of services, including "covert foot follows", "covert vehicle follows" and "remote technical surveillance".
"You can utilise the very same skills that are used by the security services and the police," clients are promised.
"Our surveillance team has worked for and been trained by various police and government surveillance agencies within the UK. If you need it photographed without being seen, we are your experts."
When contacted by Exaro, Sprake defended himself, saying that he had never paid a police officer or "anyone in authority" for information.
He said that he had wanted to remove the wording discovered by Exaro, but he was unable to do so because the website was "broken".
"I wish I could change this website," he said. "It was by three different companies and when one of them went bust, we could not change the website. It was a pain."
But he told Exaro that he exercised caution with tip-offs: "I would not touch anything that is operational or compromising. We had people contact us on stories like the royal family, for example. My first question was, 'How do you know that?'
"'Well, I have heard it in a briefing.'
"'Sorry, can't touch it.'"
Sprake said that the wording on his agency's website was "just advertising" aimed at the "general public".
On the social-media website, Myspace, he puts his income at between £100,000 and £150,000 a year.
Sprake continued: "I used to work for a specialist department at the Met in Scotland Yard looking, basically, at terrorism work. The level I was working at involved very covert stuff.
"I got out after 10 years. You are limited on the number of years you are allowed to do, so I am now doing other work. But I have still got all that training that is very handy to have."
He says that police officers contact him to "moan" about their conditions.
He also claims that his agency is "monitored by some departments in the Met for where some of our stories have come from."
"You have got to be very careful whenever you get information from a police officer. They are not going to be paid because it is obviously illegal. The story will only be put forward if they have obtained that information through something that would be general information.
"If they ring up and say I have seen this bit of paper and this story is going on, well, we do not touch that because that would be highly illegal. So we are very careful."
He said that most of the agency's press work came directly from newspapers rather than information given by sources.
Mr Sprake said that he "adhered" to the code of conduct of the Press Complaints Commission (PCC), which is a claim made by his agency on its website in relation to its surveillance work.
However, a PCC spokesman said that the code did not apply to picture agencies or freelance photographers. "This highlights the same issue that Lord Leveson has already raised: whether agency photographers or the paparazzi, as well as editors, should be covered by the code."
Exaro's full report of the investigation can be found by clicking here.
Register for free to continue reading
Registration is a free and easy way to support our truly independent journalism
By registering, you will also enjoy limited access to Premium articles, exclusive newsletters, commenting, and virtual events with our leading journalists
Already have an account? sign in
Register for free to continue reading
Registration is a free and easy way to support our truly independent journalism
By registering, you will also enjoy limited access to Premium articles, exclusive newsletters, commenting, and virtual events with our leading journalists
Already have an account? sign in