The Sun registered as an official Leave campaign group and spent £96,000 on Brexit campaigning
Electoral Commission documents suggest The Sun registered as a political campaign group for Leave on 15 June – one week before the referendum
Siobhan Fenton
Social Affairs Correspondent
Tuesday 29 November 2016 13:51 Comments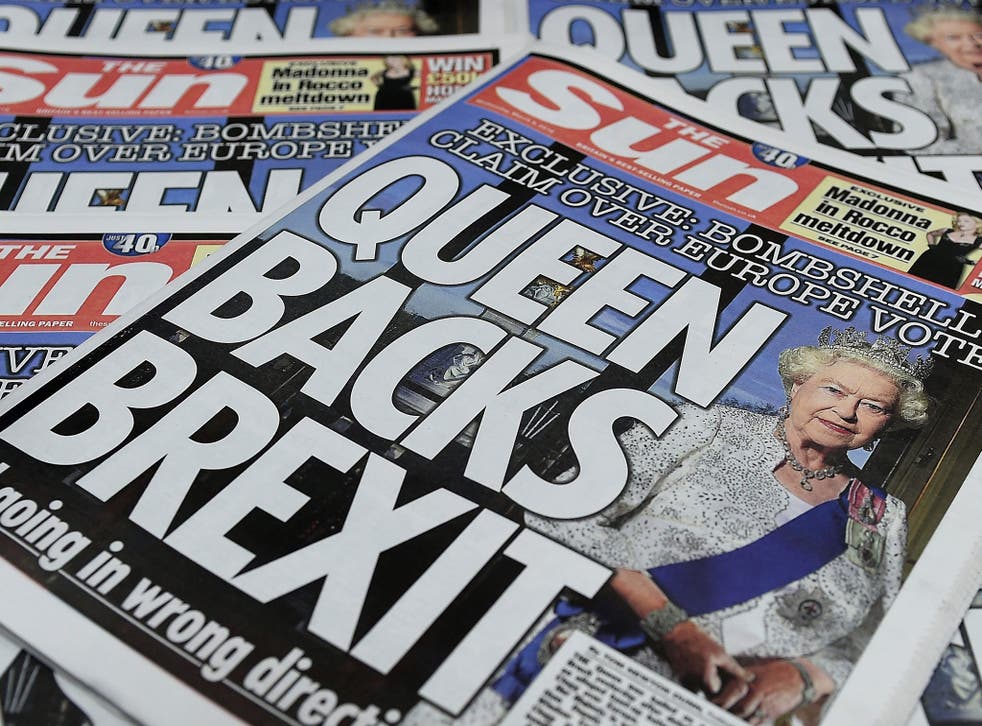 The Sun newspaper spent more than £90,000 campaigning as a Leave group during the EU referendum, electoral spending documents have suggested. Referendum funding information figures published by the Electoral Commission show the tabloid's newspaper group registered as an official Leave campaigning group on 15 June – just one week before polling day on 23 June.
The group subsequently spent £96,898 on campaigning for Leave as News Group Newspapers Ltd, the parent group which owns Rupert Murdoch-controlled newspapers including The Times and The Sun.
During the referendum campaign, The Sun came out in emphatic support of the UK withdrawing from the EU. In an editorial, the newspaper told readers to "Be-Leave In Britain", describing the EU as "greedy, wasteful, bullying and breathtakingly incompetent in a crisis.
"Outside the EU we can become richer, safer and free at long last to forge our own destiny – as America, Canada, Australia, New Zealand and many other great democracies already do. And as we were the first to do centuries ago. If we stay, Britain will be engulfed in a few short years by this relentlessly expanding, German-dominated federal state."
Mr Murdoch has long been vocal in his opposition to the EU. When questioned as to why, he reportedly once said: "That's easy. When I go into Downing Street they do what I say; when I go to Brussels they take no notice."
What experts have said about Brexit

Show all 11
The Guardian, The Times, The Financial Times, the Daily Mirror and The Independent backed remaining in the EU, while The Sun, the Daily Mail, the Daily Express and The Telegraph backed EU withdrawal.
The Independent has approached The Sun for comment.
Register for free to continue reading
Registration is a free and easy way to support our truly independent journalism
By registering, you will also enjoy limited access to Premium articles, exclusive newsletters, commenting, and virtual events with our leading journalists
Already have an account? sign in
Join our new commenting forum
Join thought-provoking conversations, follow other Independent readers and see their replies