A game of pass the buck at the BBC
The rapidly escalating furore over a radio show 'prank' by two of its most high-profile stars is reverberating all the way to the top of an already wounded corporation. Jonathan Brown reports
Wednesday 29 October 2008 01:00 GMT
Comments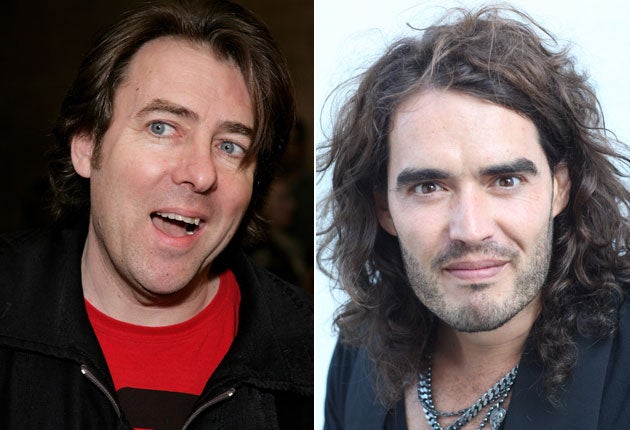 For Nic Philps, the 25-year-old son of a vicar, producing such brilliant but unpredictable stars as Russell Brand and Jonathan Ross must have seemed a daunting opportunity. With just a few years' experience under his belt since leaving university, he was responsible for managing two of the BBC's most controversial stars in a risqué show that was broadcast to millions of listeners.
Yesterday it got even more daunting as the £25,000-a-year producer found himself at the centre of a hurricane-force political and media storm.
Yet Philps makes an unlikely fall guy. The BBC prides itself on its unstintingly high editorial standards required to meet the strict public broadcasting remit to which it must adhere if it is to justify the billions of pounds of licence fee-payers' money it receives each year.
These standards, it was claimed, had been comprehensively redrawn and were now rigorously enforced in the wake of a series of damaging scandals that have embroiled the broadcaster in vicious spats over recent years with the Government and the Royal Family, as well as resulting in a steep decline in the trust of the general public.
Yet for all the layers of management at the famously bureaucratic broadcaster, the rookie producer is the first and so far only behind-the-scenes name to emerge in what has become an increasingly vociferous blame game being played out amid a crisis atmosphere at BBC Radio with mounting top-level political criticism pouring forth over Ross and Brand's offensive onslaught against the unlikely target of the distinguished comedy actor Andrew Sachs and his granddaughter, the 23-year-old dancer Georgina Baillie.
Despite issuing "unreserved and unequivocal" apologies by the BBC and – it is said – equally heartfelt private apologies to the Mr Sachs, though not his granddaughter, from the broadcasters themselves, the row continued to grow ever more explosive yesterday with demands that the director general Mark Thompson step in to make his own personal expression of regret for the incident.
Hopes that the controversy might begin to die down were not helped by the elevation of the story to lead item on BBC Radio 4's flagship Today programme by gleeful corporation journalists no doubt mindful of £6m-a-year Ross's jibe that his extraordinary remuneration package was well worth the jobs of 1,000 BBC hacks.
The stakes rose still further when Ofcom confirmed it was to investigate whether the phone messages left on Sachs' answerphone and later broadcast on Brand's Saturday night Radio 2 show breached its rules and caused "harm and offence". An unfavourable verdict could result in a £250,000 fine that would dwarf the payout following the faked Blue Peter contestant controversy.
Meanwhile, indignation continued to grow as newspapers, websites and television channels relayed further salacious details from the programme, countlessly reshowing Brand and Ross's implausible initial attempts to "apologise" – all captured on grainy video. The BBC only belatedly removed Brand's podcast of the show from its site with the row already well under way.
A spokesman for Gordon Brown added fuel to the fire, albeit belatedly leaping into the row, describing Ross and Brand's actions as "clearly inappropriate and unacceptable behaviour". The Culture Secretary, Andy Burnham, tried his best to keep out of the row by insisting the public must wait for the result of the regulator's investigation. David Cameron urged a fully transparent investigation. "We need to know who made the decision to broadcast it," said the Tory leader. "How high up the editorial chain did it go? Who examined it? Why did they conclude that it should be broadcast?" The BBC responded to the growing furore by ordering an urgent review under the control of the director of music and audio, Tim Davie. He must have his report on the director general's desk in time for him to meet the BBC Trust, the corporation's governing body, next week. There the findings will be considered by its chairman Sir Michael Lyons, who had promised to rebuild the BBC's reputation in the wake of a welter of fakery scandals which prompted the retraining of all frontline editorial staff on how to regain the trust of viewers and listeners.
One of the key figures in the inquiry will be the Radio 2 controller Lesley Douglas, who also oversees the digital station 6 Music. Douglas has been widely feted for boosting Radio 2 audience figures. She has successfully faced down criticism in the past – rejecting hostility over her appointment of Chris Evans to the drive-time slot, while standing firm in the face of criticism of the 6 Music morning show presenter George Lamb. She is said to be passionately loyal to Brand, having brought him to Radio 2's Saturday night schedules in an attempt to inject more of a cutting edge into night-time programming.
The key thrust of the inquiry will be whether there was a systemic failure to follow the strict compliance rules or whether it was down to one individual making a mistake. Yet senior jobs could still go. While Brand and Ross's antics are not considered to be anywhere like as serious, the David Kelly affair was eventually to cost the job of the director general Greg Dyke, and the "Crowngate" incident involving wrongly edited footage of the Queen forced the resignation of the BBC1 controller Peter Fincham.
One shred of consolation for the BBC is that it received only two complaints following the actual broadcast of the pre-recorded programme 10 days ago. Public outrage was ignited only after details were published in the Mail on Sunday four days ago.
In its editorial guidelines, the BBC states that it seeks to "balance our rights to freedom of expression and information with our responsibilities, for example, to respect privacy and protect children".
It adds: "We aim to reflect the world as it is, including all aspects of the human experience and the realities of the natural world. But we balance our right to broadcast and publish innovative and challenging content with our responsibility to protect the vulnerable."
The initial inquiry will centre on whether procedures were followed. Pre-recorded shows require that the show's producers complete a compliance form flagging up concerns over any potentially offensive content, among them strong language, sexual material, violence or impartiality – all of which appear to have been breached on the Brand show. The producers must explain why they want to broadcast such material. The form must then be signed off by "senior editorial person" – either an editor or a commissioning editor. The name on that document will be spending an uncomfortable few days.
The granddaughter: Georgina Baillie
Perhaps the final verdict in the Brand-Ross debacle could be given by Georgina Baillie, the granddaughter of Andrew Sachs. Though she has so far refused to be drawn into the row, what has emerged about the 23-year-old dancer – who goes by the stage name Voluptua with her raunchy burlesque group, The Satanic Sluts, – is that she is apparently at ease with public exposure. Yet despite her penchant for extravagant corsets and riding crops, it seems she was ill-prepared to be subjected to this level of humiliation and media interest, and has cut short a European tour. Ms Baillie's MySpace entry says she has a fun-loving and raunchy personality, her marital status is "swinger" and she likes "pretty men with tattoos". She adds: "I like to party. I don't care if you call me a "waster" or even a "groupie".
Who is to blame? The chain of command
Producer of Russell Brand's show: Nic Philps
Role: Knew Brand and Ross had been refused permission to make the calls but told them to do it anyway.
What he has said publicly: "I am not saying anything – you will have to speak to the press office".
Senior producer: Unknown
Role: Listened to pre-recorded programme before it was aired and gave permission for it to be broadcast.
What he/she has said publicly: Nothing. The producer's identity is being guarded by the BBC.
Radio 2 Head of Programmes: Lewis Carnie
Role: Agreed format of Brand's show but probably did not hear prank calls.
What he has said publicly: Nothing
Radio 2 Controller: Lesley Douglas
Role: Initially Commissioned Brand's radio show but unlikely to have known about the calls.
What she has said publicly: Nothing
Director BBC Audio and Music: Tim Davie
Role: Responsible for output of all BBC radio stations but would not have known about the prank calls. Has power to sack Ross and Brand.
What he has said publicly: "We're going to have a full investigation and take the appropriate action."
Director general: Mark Thompson
Role: Agreed deal to hire Ross as BBC's highest-earning presenter. Will have to rule on findings of internal inquiry and has power to sack anyone.
What he has said publicly: Nothing
BBC Trust chairman: Sir Michael Lyons
Role: Oversees BBC's activities, acting as a watchdog. Faced with decision over whether to hold full-scale inquiry.
What he has said publicly: Nothing
Join our commenting forum
Join thought-provoking conversations, follow other Independent readers and see their replies