Jeremy Clarkson: Other channels prepare to poach presenter if he leaves BBC
Almost half a million people have signed an online petition calling for the presenter to be reinstated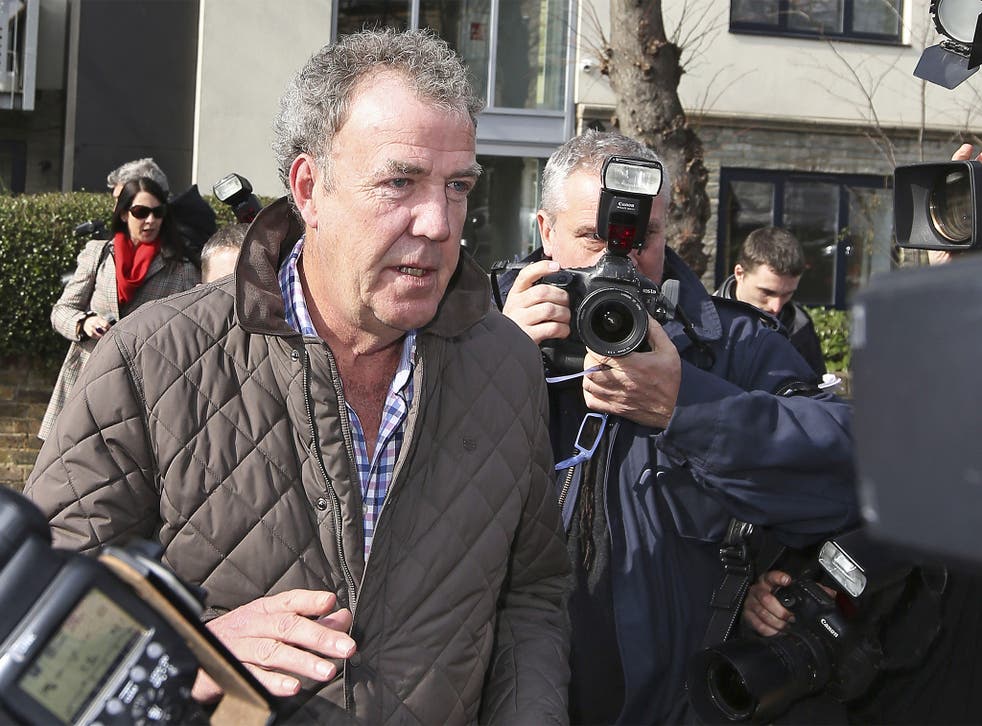 The UK's commercial broadcasters are poised to enter a bidding war for the services of Jeremy Clarkson, amid suggestions that the Top Gear presenter may quit the BBC even if he is cleared of claims that he punched a producer in a row about food.
Clarkson is suspended from the Corporation for his part in an alleged "dust-up" with 36-year-old Oisin Tymon, apparently sparked by the lack of a hot dinner after a day's filming in Newcastle. The BBC has postponed the final three episodes of the current series pending its investigation.
Both ITV and Channel 4 have previously tried to poach Clarkson, whose contract runs out at the end of the month. The Independent understands that at least one senior BBC executive is keen for the presenter to leave, believing him to be an "embarrassment".
Jeremy Clarkson's Top 25 Most Obnoxious Lines

Show all 26
Friends of the presenter said his career at the BBC was probably over. "Can I see him going back to film another BBC series? I don't think so. But he'll be fine. The other broadcasters will bite his arm off," one source said.
Leaving his home in Kensington, London, Clarkson joked with reporters: "I've been suspended haven't I? I'm just off to the job centre." Asked if food was the root cause of his suspension, Clarkson said "no, no, no", but he admitted he did have regrets about the incident. He was later seen at Chelsea's Champions League match against Paris Saint-Germain.
By tonight, more than half a million people had signed an online petition calling for the presenter to be reinstated. Change.org said the "BBC: Bring Back Clarkson" petition was the website's fastest-growing in years.
Clarkson is understood to have told friends that he did not punch Mr Tymon, but that some "handbags and pushing" did occur. Mr Tymon's lawyer said his client would not comment until after the BBC investigation was complete.
Clarkson's co-star James May said the row had been sparked by catering arrangements, but said he was not there when it happened. "I think he's been involved in a bit of a dust-up and I don't think it's that serious," he added. When May was initially asked if Clarkson was innocent, he quipped: "Of being a knob? No."
The Prime Minister offered stronger support for Clarkson, who has a house in David Cameron's Witney constituency, describing him as "a friend" and "a huge talent".
"I see that he said he regrets some of what happened. All I would say, because he is a talent and he does amuse and entertain so many people, including my children who'll be heartbroken if Top Gear is taken off air, I hope this can be sorted out because it is a great programme," he said.
Lord Hall, the BBC's Director-General, said he was "a fan" of Clarkson but acknowledged that the allegations were "serious". He added: "The most important thing in anything like this is to gather the facts."
The Radio Times reported that Ken MacQuarrie, the head of BBC Scotland, will chair a disciplinary panel into the incident, but it was not expected to reach a verdict before the weekend.
Top Gear generates an estimated £50m a year for the BBC with an audience of 350 million in 214 countries.
Join our new commenting forum
Join thought-provoking conversations, follow other Independent readers and see their replies