Murdoch family fortunes shine on Elisabeth in £400m deal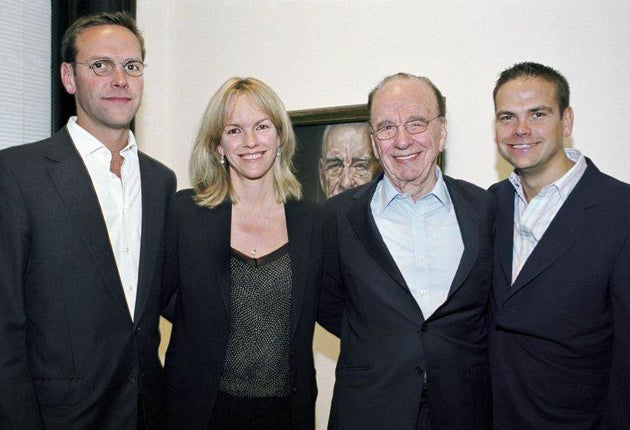 Elisabeth Murdoch is on the verge of re-entering the fold of her father Rupert's News Corporation media empire, which is close to acquiring her television company Shine Productions in a deal worth up to £400m.
Ms Murdoch founded Shine, which produces shows such as The Tudors and Masterchef, almost exactly a decade ago and has built it into a powerhouse in the British independent television sector and a transatlantic business. She is poised to make a personal fortune from the deal from her 53 per cent stake.
Observers of News Corp's internal politics will be fascinated by the growing professional relationship between Rupert and Elisabeth, who for the past year has attended News Corp board meetings as an observer. Though she has so far declined offers to sit on the board, that position is likely to change if the deal goes through.
Ms Murdoch has never worked directly for News Corp but is a former managing director of Sky Networks, the programming arm of BSkyB (which has NewsCorp as its largest shareholder).
The acquisition will increase speculation over which of Mr Murdoch's offspring might succeed him as the head of News Corp.
The media mogul turns 80 next month, though he remains sprightly. His eldest son Lachlan, 39, was once anointed but then disappointed his father by quitting his role as deputy chief operating officer of News Corp in 2005. Younger sibling James, 38, is currently in pole position having been made chairman and CEO of News Corp Europe & Asia in 2007 following a promotion from his previous post as chief executive of BSkyB.
Until recently Elisabeth, 42, had not been thought to be in the running. During the past 10 years she has enjoyed building up her own company and has shown herself to be a skilled networker. She is a popular figure in the television industry.
Married to the influential public relations man Matthew Freud, she forms half of one of Britain's power couples. The couple used their Notting Hill home to host a London fundraiser for Barack Obama's election campaign, where the guests included Elle Macpherson, Jemima Goldsmith and Thandie Newton. Those attending Elisabeth's 40th birthday party in 2008 included David Cameron, George Osborne, Tony Blair, Peter Mandelson, Bono and Bob Geldof.
James Murdoch, whose role includes responsibility for managing his father's stable of British newspapers, has seen his star fall recently with the resurgence of the phone-hacking scandal at the News of the World.
The arrival at News Corp of his sister might not be a threat to his position. Tim Luckhurst, Professor of journalism at the University of Kent, said: "Bringing Elisabeth back inside the tent puts her back at the heart of decision making in News Corp.
"She will have a seat on the board alongside her brothers James and Lachlan, but I'd be astonished if she wants to replace James as their father's heir apparent. He may appreciate her wisdom and support as the phone-hacking crisis develops," said Professor Luckhurst.
The buy-up would make News Corp an even more powerful player in the British television sector at a time when its bid to take outright control of BSkyB is at risk of being referred to the competition authorities by the Culture Secretary, Jeremy Hunt.
Ms Murdoch may simply wish to expand the Shine business at a time when the television production sector is in a period of consolidation. She is thought to want to remain directly involved in the business and is hopeful that her father's financial resources will enable it to grow rapidly.
She set up Shine immediately after leaving BSkyB (which has a 13 per cent share in the company) and has since gone on to make a series of acquisitions within the industry, including the purchase of Kudos, makers of Life on Mars, and the American-based Reveille, producers of Ugly Betty. Neither Shine nor News Corp was prepared to comment on the possible takeover.
Join our commenting forum
Join thought-provoking conversations, follow other Independent readers and see their replies