New Doctor shows he's right man for the job
Actor Matt Smith had his first adventure in the Tardis last night. And Matthew Sweet believes he may be the best Time Lord yet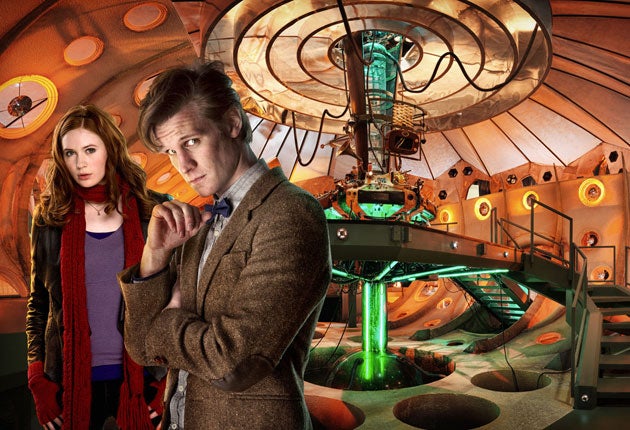 He died for us. He rose again. This is what Doctor Who does – or has done since 1966, when William Hartnell transformed into Patrick Troughton, complete with a new pair of pixie boots. These days, the Doctor's footwear doesn't regenerate with him. Audiences may be happy to accept a transdimensional police box piloted by a thousand-year-old man who can save the universe with a screwdriver – but a pair of Converse trainers rearranging their molecules into some Doc Martens? Get real.
Matt Smith's Doctor didn't have time to consider a new image until the closing moments of his inaugural episode, plumping for a bow-tie in the middle of a speech to a giant alien eyeball. Most of his predecessors spent their first episode fainting and mumbling continuity references, but the Doctor's new boss, Steven Moffat, wasn't having any of that.
Before his new body had quite solidified, the Time Lord's 11th incarnation had been smacked over the head with a cricket bat, handcuffed to a radiator, suspended by his fingertips from the door of the Tardis as it hurtled towards Big Ben, and established the properties of his new taste buds by walking into the nearest house and behaving like the stripy character in The Tiger Who Came to Tea. ("You're Scottish, fry something," he told the little girl in the kitchen – who was soon revealed to be his new companion, Amy Pond, a decade before her formal acceptance of the position.)
Moffat's story was built from elements familiar from the scripts he supplied to his predecessor, Russell T Davies: a hospital ward packed with twitching coma patients; a monster that hides in the peripheral vision of its victims; a portal to another world concealed in a child's bedroom. But this was more territory-marking than self-plagiarism: a signal that this programme is entering a more uncanny phase. As last night's principal monster emerged from its secret room in an ordinary house, taking the form of a blank-eyed man and a vicious-looking dog, everything felt creepily right.
And Moffat has clearly picked the right leading man. Like the Mona Lisa, Matt Smith has a twisty smile and barely discernable eyebrows. He has other things, too, that make him unlike the people you pass on the street: a thick messy lick of chestnut hair, an oddly acromegalous jaw, and a big bony forehead – the kind of facial escarpment rarely seen beyond the shores of Easter Island.
Last night he fell from the sky, gorged himself on fish fingers and custard, crashed a fire engine into a hospital, told Patrick Moore the secret of super-light-speed travel, and saved the world from an eyeball. But from the moment he appeared, dangling from the architrave of his time machine, the new boy demonstrated that he can more than fill the shoes of his predecessor. Matt Smith fights aliens. He wears tweed. He loves custard. He is the Doctor. And he might be more the Doctor than anyone who was the Doctor before.
Join our commenting forum
Join thought-provoking conversations, follow other Independent readers and see their replies