Will Lewis: The Daily Telegraph's youngest-ever editor
Podcasts, vodcasts, e-mails - oh, and a daily newspaper - are Will Lewis's weapons in the war to pull in readers. The Daily Telegraph's youngest-ever editor tells Ian Burrell why his hi-tech HQ knocks spots off the competition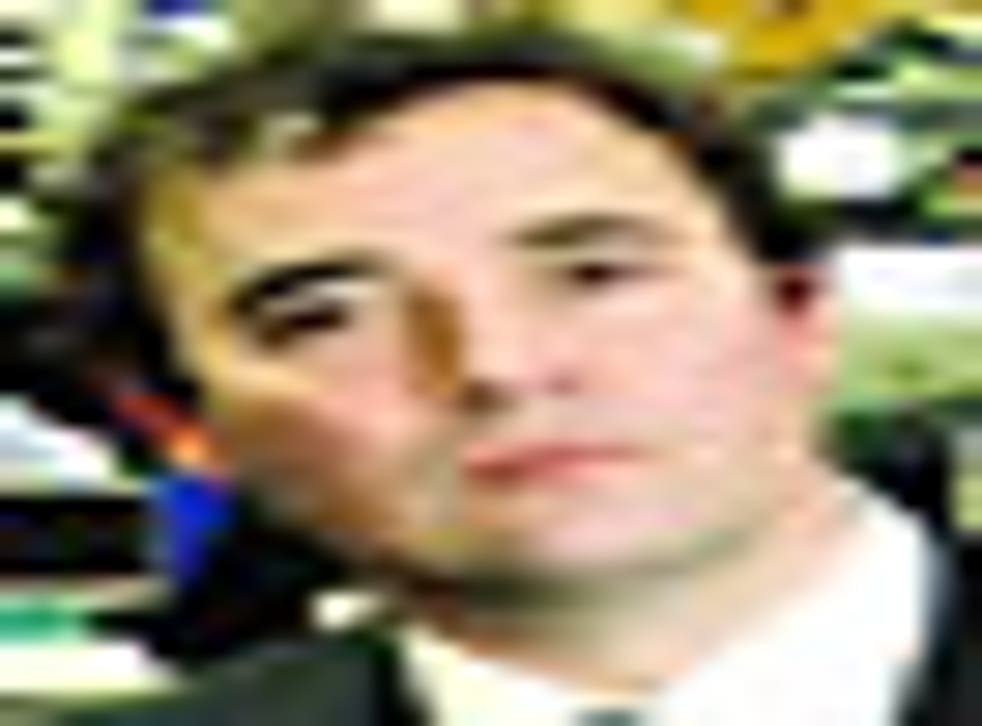 With the manner of a captain taking his place on the bridge, Will Lewis climbs a flight of stairs, places his hand on a rail and looks down across the 67,000 square feet that form the main deck of the craft at his command.
The Daily Telegraph, like a famous old 19th-century ship of the line miraculously refitted as a steam-powered fighting vessel, has been equipped with the technology to do battle in the new era of digital media. The design and the specification are Lewis's, from the central round table where senior executives conduct their news conferences, illustrating their arguments with the help of overhead plasma screens, to the diagonal "spokes" of desks that emerge from this hub, at which specialist reporters sit ready to file stories by podcast, vodcast or plain, old-fashioned keyboard.
As a back-drop to the scene, the Telegraph's youngest-ever editor has placed a further screen, this time of Leicester Square proportions, bearing the front page of Telegraph.co.uk. Smaller satellite screens, grouped around this main attraction, are tuned to Sky News, BBC News 24 and specialist pages of the Telegraph's website.
This newsroom, says, Lewis, 37, is hewn from the "largest open-plan office in central London". He descends the stairs to give a guided tour, during which he passes specialist recording studios for audio and video, where an in-house camera crew is setting up.
Lewis spent months planning this, first touring the world's newsrooms and then shut away in secret finalising the details and preparing to inherit the editorship. He says his starting point for the radical design was finding a home for Matt (Pritchett) and Nicholas Garland, the Daily Telegraph's famed cartoonists, each of whom has been allocated a corner of the building and a view of Victoria to fire their imaginations. That might be true but it wasn't ink and paper that was utmost in Lewis's mind when he was fashioning the Telegraph's future.
This is Lewis on the 12 months ahead: "The execution of a multimedia strategy, that's what 07 [2007] is all about. 07 for us is doing more of these things at different times of the day in a way that services the reader. We are into that nuts and bolts time of product launches, making people realise we are back, confident, number one in quality newspapers and number one quality newspaper website in the UK. Now let's bring it on. Does that make sense?"
Not to some Telegraph veterans it doesn't. More than 50 jobs were lost in a round of redundancies that accompanied the group's recent move to Victoria from its previous home in Canary Wharf's highest skyscraper. Strike action over new working practices was averted only after Lewis and his Sunday counterpart Patience Wheatcroft relented on demands for compulsory Saturday duties. Some staff sensibilities remain bruised.
The shiny new offices have an atrium furnished with brown leather sofas and a coffee bar that offers pastries and smoothies. There are bijou Belgravia boutiques and restaurants across the street. But few journalists have the time to explore them, not when they are part of a 24-7 news operation.
Lewis argues that newspaper organisations need to abandon the "arrogant" notion that news is something that only comes out first thing in the morning. "I suspect we might have been guilty of not making ourselves available to people at a time and at a way of their choosing. But if you're 25 and don't want to buy the Telegraph tomorrow morning that's OK because we can now offer you our website. If you don't want to come on the website, it's OK because we have an e-mail service where we can get you. If you just want to watch, we've got a video service," he says. "This is going to sound trite but it's our mantra. We want to give people what they want, when they want it and in the form that they want it."
If consumers want foreign news coverage at 4pm they will not wait for the next day's newspaper. "We get that now, we are very reader responsive now. Our arrogant days are over, of saying 'Young man... if you qualify...," he says, adopting the comic voice of a hectoring official and going into a skit with his editor-at-large Jeff Randall, who is sitting alongside him.
Lewis is feeling good about his Telegraph revolution and Randall is a good part of the reason why, having delivered his editor what is arguably the scoop of the year, the exclusive story of Michael Grade's departure from the BBC to become the new executive chairman of ITV.
"Grade defects to ITV" was the four-word headline in screaming 150 point, alongside a six-column picture of the departing BBC chairman with his fingers crossed. Next to the picture was a Matt cartoon of the BBC's Pudsey the bear, smoking a cigar, and the caption "Chairman in Need". Randall's story was tagged with a big red "Exclusive" and turned to two more pages of analysis and comment. Grade himself would have admired such a belt and red braces job.
John Witherow, the editor of the Sunday Times, where Lewis previously worked as business editor, e-mailed his former protégé to say: "Well done, but I think you might have underplayed it."
Despite the scale of the print headline, the Telegraph chose to break the story many hours before the newspaper arrived on newsstands and in letterboxes. Lewis released the story online during the evening, surprising some rivals who thought he might have "spoofed" the paper's first edition to keep the competition off the scent.
"Wrong, wrong, wrong," is his verdict on spoofing tactics. "You've missed the boat then. The battleground now is ownership of the story in whatever medium you have got. Being aggressive is the only way to do this."
The Telegraph channelled its aggression through Randall, who dominated television and radio news bulletins for the rest of that night. "We rammed home the message that this is our story and if you want to read about what is an important story for quite a few people in Britain then you come to the Telegraph," says Lewis.
As for the treatment in the paper, that was just a further ramming home of who exactly "owned" this story. "Jeff is an extremely well-known journalist. To have that [display of the story] no one can say Jeff must have done a follow-up. It was nicely done, it wasn't a horrible, white-on-red "Exclusive", it was nice and tasteful. Plus the headline and the impact of the story - we weren't shy about it were we?"
The editor then leaves Randall to discuss the minutiae of his scoop and heads for the vast plain of the Telegraph newsroom to conduct afternoon news conference at his Arthurian table. Sometime later he returns, clutching a piece of paper and a smile. "Ooh, we've got a good paper tomorrow," he exclaims, using another comic voice, this one sounding a bit like Frankie Howerd.
For many weeks to come Telegraph journalists will have the chance to do some performing of their own. Because upstairs in a mock newsroom, they are undergoing screen tests and voice tests as part of an exercise to determine who will be the future stars of Telegraph.co.uk as it takes advantage of the more visual online experience of the new Web 2.0 era. "There are 30 up there at the moment learning the dark arts of multimedia and video," says Lewis, who prefers the word "training" to "auditioning" because "I wouldn't want to worry them - it's more about giving people a chance to do what they might want to do more of."
Nevertheless, he takes a close personal interest in how the journalists cope with their new environs during these five-day training sessions. "I'm intimately involved. I'm up there a lot on Thursday and Friday when they are practising. We've got a mock-up newsroom with the same hub and spoke and they get to practise it in a particularly brutal Friday when we chuck five or six stories at them and they are expected to run through the multimedia gears and produce all sorts of stuff including the paper, video and audio. We go through it and discuss the decisions they made."
Randall again comes in handy here, telling them of his early difficulties in crossing over from press to broadcasting and advising them that no one with their roots in newspapers can expect to stand in front of a camera and instantly perform like a Nick Robinson or Huw Edwards.
Many of the Telegraph's big hitters are already regulars in the new formats. "On our website on any given day are Joshua Rosenberg, Hilary Alexander, Charles Clover, Jeff Randall, Simon Heffer. Our stars, our very best people, are the ones providing the words, sounds, content, comment for the website. If you like the Telegraph newspaper and you've got a broadband connection and a decent PC you don't have to wait for tomorrow's paper," says Lewis. "What we recognised quite early on is that 'on the web' (that comic voice again) you are not short of 'stuff' are you, there's a lot of 'stuff' on there. What's missing is quality."
Time and again, he comes back to the importance of the website, stressing repeatedly its performance in the Hitwise web survey, which placed it top of national newspaper websites for visits by UK-based users (Guardian Unlimited has more overseas users).
His zeal for the digital offering and the rolling out of the new newsroom has led some commentators to detect the increasing influence of deputy editor Ian MacGregor and executive head of news Tony Gallagher, in importing a Daily Mail agenda to the print product's presentation of news coverage - more opinionated and more populist.
Lewis says this is nonsense. "This Mail lark! The Mail is not our point of reference. The paper is meant to have a balance of authority and accessibility and we are inching our way to achieving the ideal combination of the two. We beat each other up every day on this. But the Daily Mail is not our point of reference. We are the bloody Daily Telegraph and we are producing newspapers and websites for our readers and that's it. Our point of reference is our readers and not anyone else."
As far as the paper goes, those readers bring in a circulation which is holding firm ("robust" is Lewis's description) at 900,000 (with the help of an increase in bulk sales).
He won't have it that rivals think that his readership is too old and fusty to be experimenting with digital interactivity. "We are not short of 35-year-old people reading Telegraph stuff. There's nine million people a month who come and use a Telegraph product at least once - that's not a bad starting point for an expansion strategy."
He's also genuinely affectionate in his descriptions of the older, traditional Daily Telegraph readers and, though he later berates the Conservative Party for embracing the language of The Guardian's Polly Toynbee, when he talks of his audience the word he uses to describe it, on three separate occasions, is "caring". As well as conservative ("small c"), the readers are liberal ("small l"), he says.
They also like corresponding and are embracing the chance to do that online, feeding debates which are then re-published in the newspaper.
A former Daily Telegraph editor, Martin Newland, described Lewis as having "boundless energy and optimism". His workrate was phenomenal at the Sunday Times, where he was known as a scoop-getter, just as he was before that at the Financial Times. In his relatively short career, he has already walked the walk. And it is not difficult to see why Telegraph Media Group chief executive Murdoch MacLennan was taken with his enthusiastic, fearless approach to the future of newspapers.
Many of his staff have yet to be convinced that the Telegraph management have gone the right way about asking them to take on multimedia roles without proper financial reward but you sense that Lewis, who in a memo berated some of the refuseniks as "Luddites", would have little sympathy. Blogging is simply giving readers a chance to "share the reporters' lives", he says. "Reporting is good fun, right? It's a great job. During the World Cup, David Bond, one of our best reporters, got the job of being our man around the England camp at Baden-Baden. We gave him a BlackBerry and said you are the luckiest man alive, it's a job that every 35-year-old bloke wants. Share your life with us for those weeks that England are there."
On the subject of the Telegraph's politics under his stewardship, he is a little guarded, save to repeatedly stress the paper's continued adherence to its traditional support for small government and low taxes but properly functioning public institutions. He says he "understands" the need for Conservative rebranding but thinks David Cameron needs to widen his entourage and do more to win the instinctive trust of voters.
"I said this to David. He's been very well served by a very loyal group of people but I think that as the project develops they need to broaden their inclusiveness to bring in people who have a different skills."
He knows his Telegraph project is a work in progress too. But Will Lewis, the boundlessly energetic enthusiast, is determined that whether consumed digitally or in its traditional broadsheet format, his paper - sometimes maligned as the organ of choice for Angry of Tunbridge Wells - will look at the world with a glass half full.
"Once you've read the paper I want you to feel like you've been improved - it's either food for thought, it's challenged you in some way, it's provoked you. It's meant to be a kind of creative process," he says. "I don't want people going away, as they do with other papers, thinking I hate myself and I hate the bloke next to me even more and want to smack him in the face. I also don't want people thinking, oh there's not much going on actually. Britain is a passionate place and the Telegraph is passionate about Britain."
There's one other special thing about a title that can run a competition for pictures of "wacky winter gardens" and get 55,000 responses. "Britain is also quite an eccentric place. Don't please ever confuse our professionalising our processes and procedures with us producing a paper and website each day that reflects the natural eccentricities of British life." And this time there's not a hint of a comic voice.
Register for free to continue reading
Registration is a free and easy way to support our truly independent journalism
By registering, you will also enjoy limited access to Premium articles, exclusive newsletters, commenting, and virtual events with our leading journalists
Already have an account? sign in
Register for free to continue reading
Registration is a free and easy way to support our truly independent journalism
By registering, you will also enjoy limited access to Premium articles, exclusive newsletters, commenting, and virtual events with our leading journalists
Already have an account? sign in
Join our new commenting forum
Join thought-provoking conversations, follow other Independent readers and see their replies