Norway is building the world's first 'energy positive' hotel
The hotel, located in Norway's arctic region, will produce more energy than it consumes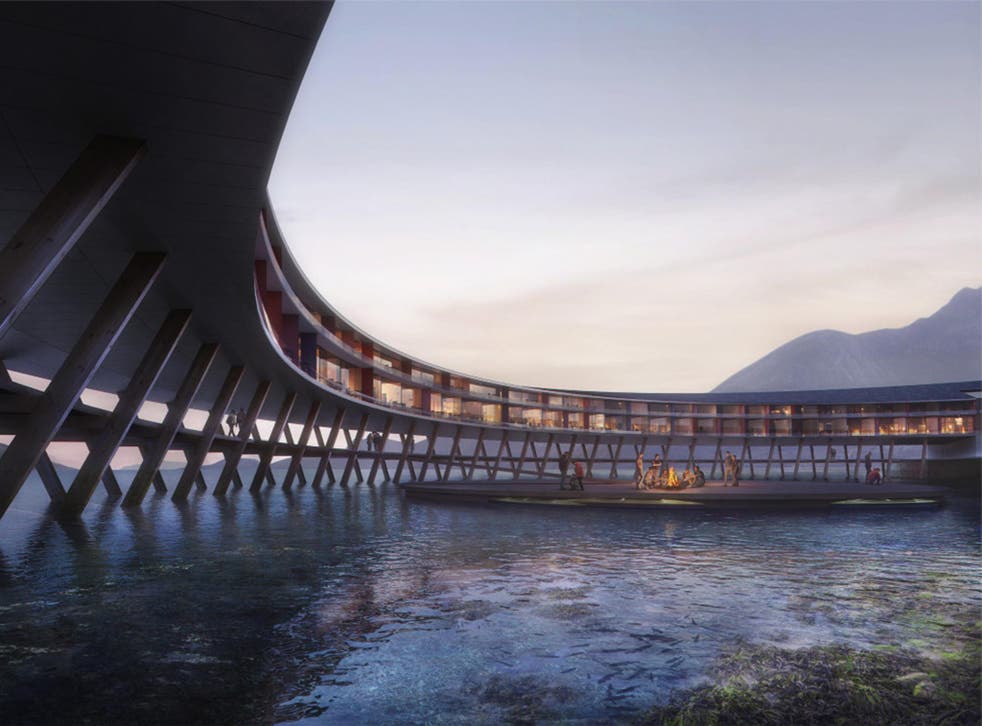 The world's first "energy positive" hotel is set to be built at the base of the Almlifjellet mountain in northern Norway; Svart, which takes its name from the nearby Svartisen glacier, will use 85 per cent less energy than a modern hotel in addition to producing its own energy.
Designed by Oslo-based Snohetta architects and commissioned by tourism company Arctic Adventure of Norway, the circular hotel will provide 360 degree views of the nearby fjords.
The hotel will be suspended above the water on V-shaped stilts to reduce its environmental impact.
The poles, which reach metres into the fjord below, will be made from weather-resistant wood and will provide a walkway for visitors to use in the summer.
The firm conducted numerous studies into energy optimisation as part of research for the project, such as extensive mapping of how solar radiation behaves in relation to mountainous areas to optimise how Svart can harvest such energy. The interior of the hotel is purposefully laid out to concentrate the sun's energy to the areas that typically use more power, such as the restaurants and bars.
The designers have taken cues from local structures to ensure the hotel can withstand the harsh and unpredictable weather of Norway's arctic region – inspired by "hjell" (wooden structure for drying fish) and "rorbu" cabins (seasonal homes used by fishermen) characteristic of the area, the hotel is built at an angle to deflect harmful winds, while still being close enough to water to retain its heat.
Svart – Svartisen, Norway

Show all 5
"Building in such a precious environment comes with some clear obligations in terms of preserving the natural beauty and the fauna and flora of the site," says Snohetta founding partner Kjetil Traedal Thorsen.
"It was important for us to design a sustainable building that will leave a minimal environmental footprint on this beautiful northern nature. Building an energy positive and low-impact hotel is an essential factor to create a sustainable tourist destination, respecting the unique features of the plot, the rare plant species, the clean waters and the blue ice of the Svartisen glacier"
The hotel is set to be complete by 2021 and will be accessed by an energy neutral shuttle service from the nearby city of Bodo.
Join our new commenting forum
Join thought-provoking conversations, follow other Independent readers and see their replies