Alexandra Bastedo: Co-star of the late-1960s science fiction espionage series 'The Champions' who went on to run an animal sanctuary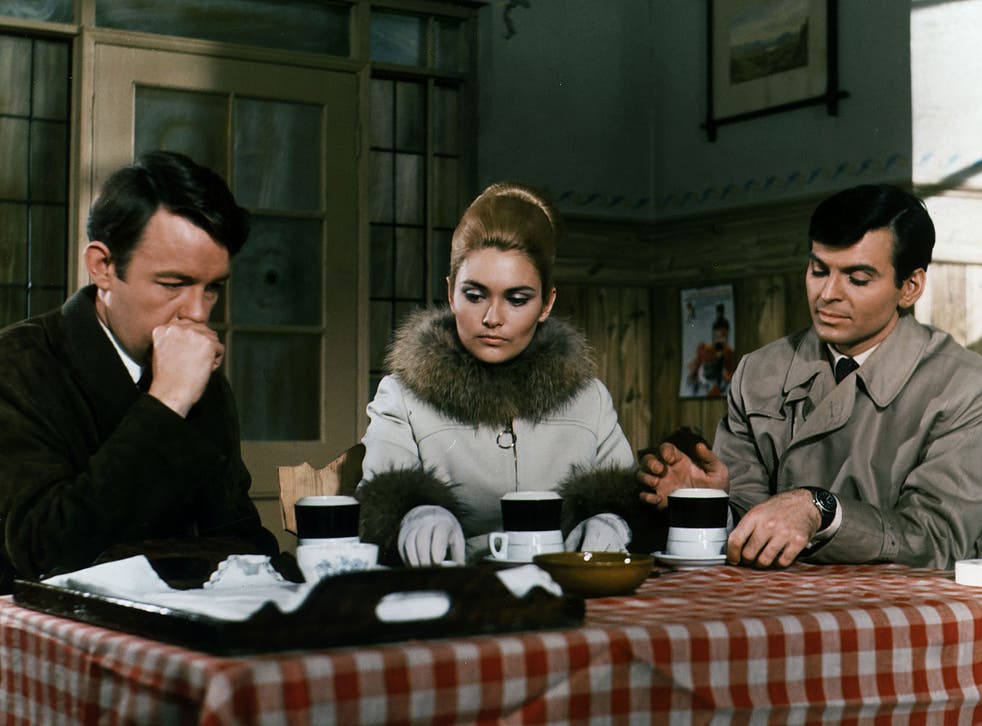 Alexandra Bastedo was an actress who came to fame as the secret agent Sharron Macready in the television series The Champions, directed by Cyril Frankel, which ran for 30 episodes during the late 1960s. For the last 30 years she had run an animal sanctuary.
She was born in 1946 in Hove, West Sussex and attended Brighton and Hove High School. When she was 16 she entered a competition in the London Evening Standard and won a trip to Hollywood to take part in the spy thriller The Candy Web (1963), directed by William Castle. She played a diplomat's daughter at a boarding school, who with her fellow pupils becomes involved in a story of international intrigue.
While the film was not especially well received, the early exposure to Hollywood brought her a number of minor roles in film and television throughout the mid-1960s, including an uncredited role as a radio operator in the spy film The Liquidator (1965), directed by Jack Cardiff, two episodes of The Saint and the 1967 Bond spoof Casino Royale. Bastedo also modelled for Shell posters, but on condition that the images were not displayed in Britain. It was as a result of this modelling assignment that she was fortuitously discovered by the director Cyril Frankel, who saw her picture while on holiday in Austria.
The Champions was conceived during the Cold War amid a fascination with the world of spies and shadowy underground organisations, already popularised in programmes such as The Man from U.N.C.L.E., Thunderbirds and the James Bond franchise. Bastedo played the super-intelligent and glamorous agent Sharron Macready, starring alongside Stuart Damon as Craig Stirling and William Gaunt as Richard Barrett, on the team of Nemesis, an international spy organisation based in Geneva.
During the first Nemesis mission, to China, their plane crashes in the Himalayas and they are rescued by a mysterious civilisation who save their lives and endow them with superhuman powers, such as enhanced memory, strength and telepathy (each one always knew if either of the others were in danger). Armed with these new abilities, they return to the world in the role of "Champions of law, order and justice".
Interviewed in 2011 on BBC4 she recalled, "Our enemies varied, sometimes the Chinese, maybe the Russians, they could be anybody at that time... Of course, because of political correctness you can't make anybody a villain these days because we're friendly with everybody..." Asked about her experience in The Champions and her rapid rise to fame, she remarked, "There is a saying which goes that: 'One should be happy at the time and not in retrospect.' I was only 20 at the time that we made The Champions and I took it for granted as it had been so early on in my life. I would have preferred to have had a more gradual rise in my career before I experienced the kind of exposure that appearing in The Champions brought." She noted with pleasure that some 40 years later she was still receiving mail from fans of the series, which has been repeated many times on both BBC and ITV.
Her picture appeared in Birds of Britain (1967), a non-ornithological collection of glamour shots of pop stars and actresses produced by the photographer John D Green. That image went on to be used by the Smiths for the cover of their 1988 live album Rank. In Spain she was nicknamed "La Bastedo" and took part in a number of thriller and horror projects, including the gothic La Novia Ensangrentada (The Blood Spattered Bride, 1972), directed by Vicente Aranda, in which she played the vampire.
In 1980 she married the director Patrick Garland (Independent obituary, 24 April 2013), with whom she had worked on a number of plays. The ceremony was held at Chichester Cathedral, which had been the venue for Garland's production of Murder in the Cathedral three years previously.
Jon Plowman, producer of Absolutely Fabulous, in which Bastedo appeared for an episode in 1997 as the model Penny Caspar-Morse, told The Independent, "Essentially with Penny she was laughing at her own past as an actress in big glamorous TV shows like The Champions... She joined the cast with great gusto and fun and was very prepared to add lines and moments in rehearsal, which was how we created the show." After that she appeared briefly in Batman Begins (2005), as a Gotham society lady, and the same year appeared in two episodes of EastEnders.
Her autobiography, Beware Dobermanns, Donkeys and Ducks (1995), affords little space to her time on stage or screen. Instead she concentrates on the stories of the animals she had rescued and looked after. For the last 30 years she had run the Alexandra Bastedo Champions Animal Sanctuary, latterly based at her home at West Chiltington, West Sussex. She took delight in her new life away from the limelight. "The lovely thing about animals is they don't care what you look like and whether you've combed your hair or got no make-up on or scruffy clothes," she said. "I'm at my happiest when I'm here amongst my animals."
The actress Liza Goddard led tributes to her online, saying, "My dear friend Alexandra Bastedo died today. A beautiful person who will be greatly missed." Her friend, the actor Peter Egan, said via Twitter, "Deeply sad. Our dear friend Alexandra Bastedo lost her battle with cancer... A beautiful woman and Animal Champion."
Alexandra Bastedo, actress, model and animal welfare supporter: born Hove, West Sussex 9 March 1946; married 1980 Patrick Garland (died 2013); died Worthing, West Sussex 12 January 2014.
Join our new commenting forum
Join thought-provoking conversations, follow other Independent readers and see their replies