Bert Stern: Photographer who became best known for the 'Last Sitting' of Marilyn Monroe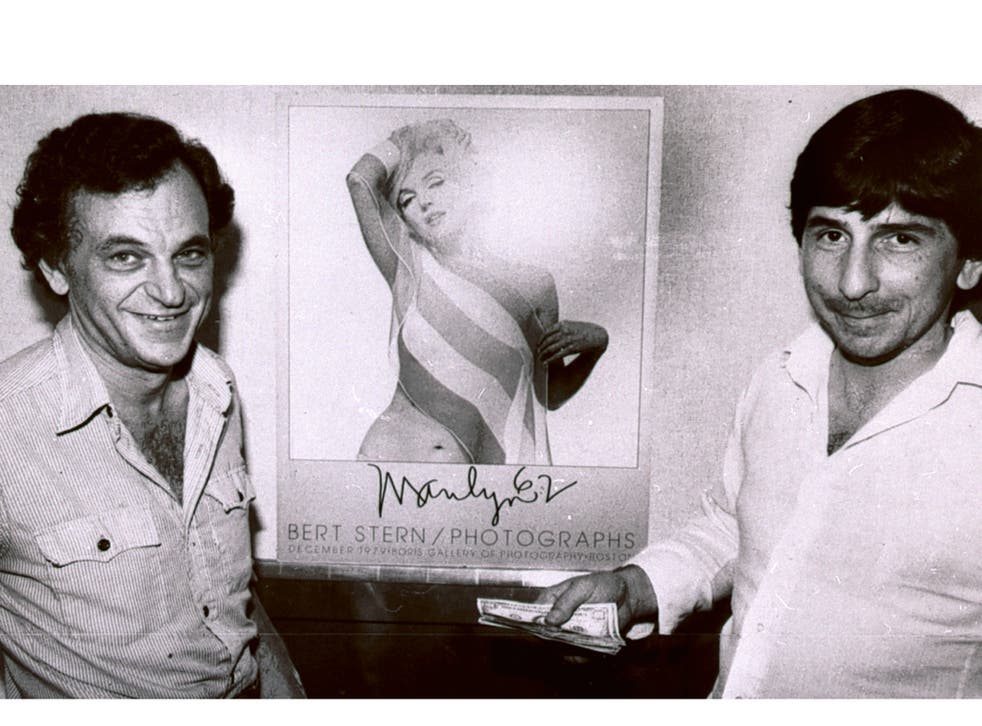 Arguably the most influential advertising photographer of the 1950s, the time when, as portrayed in the television show Mad Men, Madison Avenue was at its self-confident peak, Bert Stern also excelled as a photographer of glamour. It was this talent which got him assigned to the shoot for which he will be best remembered, the so-called "Last Sitting" with Marilyn Monroe.
In June 1962, Vogue assigned Stern to photograph the actress, and during a 12-hour session in the Bel-Air hotel in Los Angeles she posed nude, wrapped in sheets or draped in pearls, diaphanous scarves, and paper flowers. Legend has it Stern's first words to Monroe were, "You're beautiful," and she replied, "What a nice thing to say." Stern was a notorious womaniser, but his fashion shoots were also marked by their informality, and the pair clicked.
"I didn't say: 'Pose nude,'" Stern explained. "It was more one thing leading to another: You take clothes off and off and off and off and off." Vogue was so pleased with the colour shots they sent Stern back for another two days, shooting mainly black and white. But by the time the pages were laid out for the magazine in early August, Marilyn Monroe was dead. Although they were not the last photographs of her, the Last Sitting had become iconic, and in 2000 The Complete Last Sitting published all 2,571 photos, including those whose negatives Monroe had rejected by scratching Xs into them.
Stern had revolutionised advertising with his 1955 shoot for Smirnoff vodka, whose selling point was the dryness of their martinis. Stern's martini glass standing in the Egyptian desert, with a pyramid shimmering in the heat behind it, was both a clever message and a perfect image, with the triangles of glass and pyramid in contrast. He would follow with equally striking campaigns for products as mundane as Spam or Wish-Bone salad dressings, freeing advertising from the straightforward drawings that had dominated its art for decades.
Stern's innovative qualities may have been the result of being largely self-taught. He was born in 1929 in Brooklyn, where his father was a portrait photographer. He dropped out of high school and landed a job in the mailroom at Look magazine, where he became friends with a young staff photographer named Stanley Kubrick. In 1962, Stern would design and shoot the poster for Kubrick's film Lolita, which showed the 13-year-old Sue Lyon wearing heart-shaped sunglasses and licking a deep red lollipop. At Look, Stern became a protege of the art director, Hershal Bramson, and became art director at Mayfair magazine, where he began taking his own photos.
Drafted into the Army during the Korean War, Stern was assigned as a photographer at a base in Japan, and he returned to New York to work freelance in advertising, and soon was one of the leading figures in a world that included Irving Penn and Richard Avedon. In 1959, the year he married the ballerina Allegra Kent, he also co-directed, with Aram Avakian, a documentary film, Jazz On A Summer's Day, about the 1958 Newport Jazz Festival. Stern's touch can be seen in the many candid shots of the crowd, as well as felt in the impressionistic mixture of music and pictures.
Stern came to the Marilyn shoot having already produced a famous series of shots of Elizabeth Taylor and Richard Burton on the set of Cleopatra; you can see some of the indolence, but little of the playfulness, of the Marilyn pictures in Taylor's posing, though the shots of the couple together are remarkably relaxed. But Stern's career became more and more hectic throughout the Swinging Sixties, when his influence on a new generation was remarkable: Stern photographed David Bailey, for example, shooting the model Veroushka in a very Stern-like position. But the pace took its toll; Stern became addicted to amphetamines. He took a cure in Spain, and produced the pictures for the Pill Book (1971, text by Lawrence Chilnick) which sold 18 million copies.
He resumed fashion and celebrity photography, and as late as 2002 did a cover shoot of Sophie Dahl for British Vogue. Its echoes of the Monroe shoot fell flat, but in 2008 he attempted to remake the Last Sitting at the Bel Air with Lindsay Lohan. The predictable result illustrated the self-conscious distance from the relative innocence of celebrity half a century earlier.
"I fell in love with everything I photographed," Stern once said, and combined with the strains of addiction, he and Kent divorced in 1975. In 1983 he first photographed the 13-year old Shannah Laumeister. Four years later, after another photo session, she became his girlfriend and, he said, muse. They married secretly in 2009, and she directed a documentary released earlier this year, whose title caught the echo of his time: Bert Stern: Original Madman.
Bertram Stern, photographer: born New York 3 October 1929; married firstly Allegra Kent (marriage dissolved; two daughters, one son); 2009 Shannah Laumeister; died New York 26 June 2013.
Join our new commenting forum
Join thought-provoking conversations, follow other Independent readers and see their replies