BKS Iyengar: Teacher who spread yoga around the world and numbered Menuhin, Huxley and Tendulkar among his followers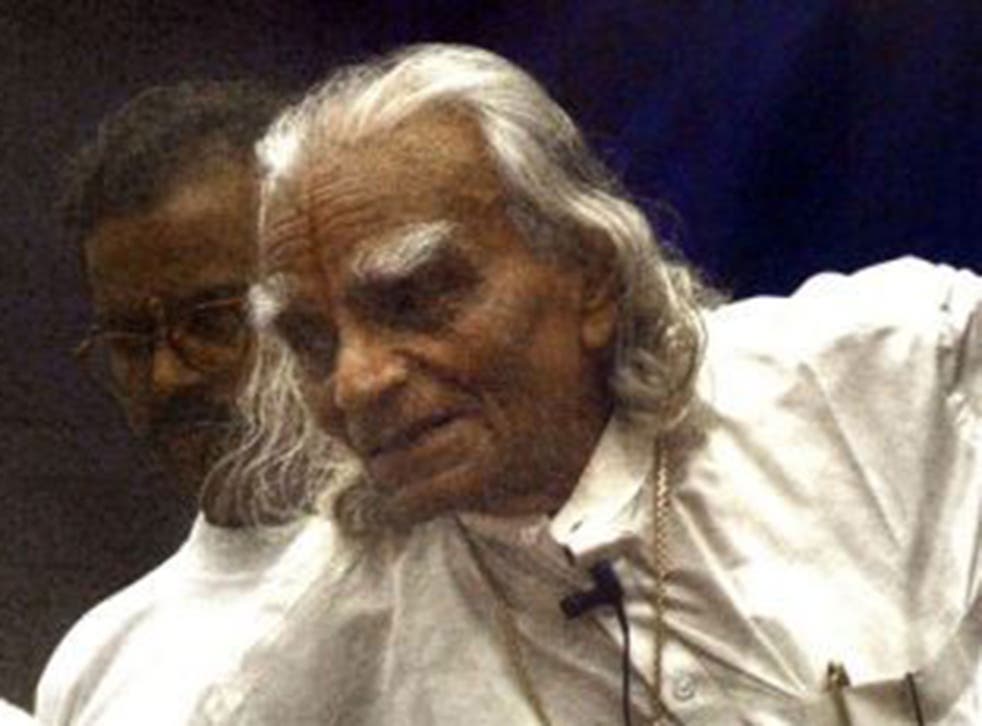 Until almost the very end, BKS Iyengar stuck to a schedule that was disciplined, bordering even on the strict. The yoga guru who became famous for utilising more than 50 aids, including mats and ropes to stretch and align the bodies of his students in a style of yoga that became his own, continued to practice himself almost every day. Until last year, he could manage to perform the sirsasana, or head stand, for up to half an hour.
"My time has come," the man credited with popularising Indian yoga around the world told his family this week as his health again waned. "My soul is deeply satisfied with the work that has been done. Now my body is in your hands."
Bellur Krishnamachar Sundararaja Iyengar was born in 1918 in the village of Bellur in the southern Indian state of Karnataka, the 11th of 13 children. His father, a schoolteacher with a modest salary, died when Iyengar was nine. As a child he was often ill.
At the age of 14 he was invited to visit an yoga ashram run by his brother-in-law, T Krishnamacharya, a Sanskrit scholar who had established a yoga school in Mysore under the patronage of the local Maharajah. "I pushed myself to the limits in my practice in order to do my duty to my teacher and guardian and to satisfy his demanding expectations," Iyengar would later write in his 1966 memoir, Light on Life. Today, many still consider that book to be a seminal yoga text.
After four years in Mysore Iyengar was encouraged to move to the city of Pune and establish his own school. It was believed that because he spoke a little English, he could flourish. As he continued to teach and practice and study, he developed a style of yoga that came to be recognisable as his own.
A scooter accident that left him with a twisted spine encouraged him to experiment with the use of ropes and straps in order to help hold and improve posture and positions. "When I stretch, I stretch in such a way that my awareness moves, and a gate of awareness finally opens," Iyengar told India's Mint newspaper last year. "I don't stretch my body as if it is an object. I do yoga from the self towards the body, not the other way around."
The students who practised under Iyengar themselves became teachers. They have helped spread his brand of yoga around the world. It is now taught in 70 countries and his books translated into 19 languages.
But it is generally reckoned that it was a 1951 meeting with the violin maestro Yehudi Menuhin that was responsible for spreading Iyengar's celebrity on a global scale. Menuhin already knew a little yoga but when he met Iyengar he explained that he suffered from constant pain as a result of his repeated playing. He rarely slept comfortably, he said.
The musician soon become one of Iyengar's many students and he claimed the master had eased his problems. As a result of tackling those pains and allowing him to keep performing, Menuhin described Iyengar as his "best violin teacher". Menuhin would introduce Iyengar to other Western celebrities, including figures such as the novelist Aldous Huxley. (Sachin Tendulkar, and some of his colleagues in the Indian cricket team, would be a later fan of the guru.)
In 1975 he established an institute in Pune, named after his wife Ramamani, who had died two years earlier. The institute charged students the equivalent of just £10 a year. After he helped spread Indian yoga to the West – a move that in 2001 saw Christy Turlington gracing the cover of Time magazine in an ILS asana – other practitioners followed.
Many of them were criticised for turning yoga into little more than a sweaty form of keep fit and taking it too far from its original spiritual roots. But Iyengar was loathe to join in the criticism or condemnation. "It all depends on what state of mind the practitioner is in when he is doing yoga," he said. "For the aberration, don't blame yoga or the whole community of yogis."
Iyengar suffered two heart attacks, in 1996 and again in 1998. Despite this, he never stopped practising yoga or believing that there was more for him to learn. His was honoured many times by the Indian state and had been due to receive the Padma Vibhushan, India's second highest civilian award.
His family said that in recent weeks he had been suffering from kidney problems. He was admitted to a hospital in Pune last week. Following his death, many thousands of his students and followers headed to Pune to attend his cremation.
His website posted a smiling image of Iyengar with a message he liked to repeat. "I always tell people, 'Live happily and die majestically'."
ANDREW BUNCOMBE
Bellur Krishnamachar Sundararaja Iyengar, yoga teacher: born Bellur, India 14 December 1918; married 1943 Ramamani (died 1973; five daughters, one son); died Pune, India 20 August 2014.
Join our new commenting forum
Join thought-provoking conversations, follow other Independent readers and see their replies