Brigadier-General Zdenek Skarvada: Spitfire pilot who later underwent forced labour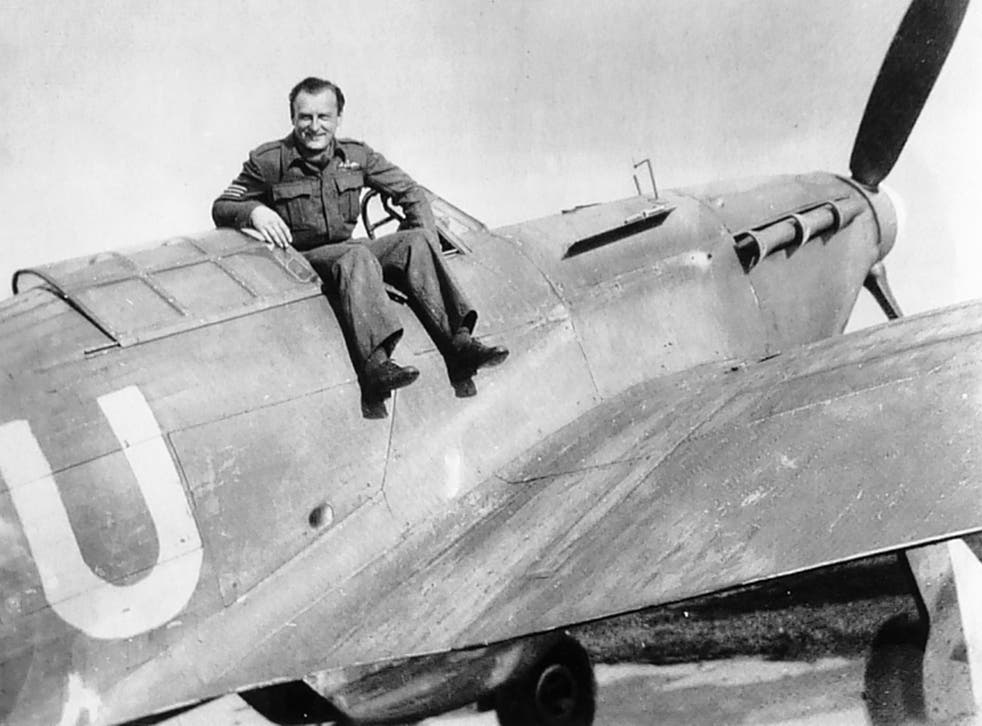 Zdenek Skarvada, who has died aged 95, was one of the last surviving Czech or Slovak pilots who flew fighters or bombers in the RAF during the Second World War. They took heavy casualties: 32 Czech fighter pilots were killed in his 310 Squadron alone and 480 overall in RAF fighters or bombers. After the engine of his Spitfire failed while on patrol on 4 February 1942, he baled out into the sea near the Isles of Scilly, and was picked up, unconscious but afloat in his life jacket, by a German torpedo boat.
He was the first Czech RAF pilot captured and he spent the rest of the war as a POW, including a period at the Stalag Luft 111 camp in Poland, best-known for the "Great Escape". Having survived one of the notorious "long marches" from the POW camps in early 1945, he was liberated by the advancing allies and debriefed in Britain. He returned to Czechoslovakia, was promoted to Captain and commanded the training squadron at the Military Aviation Academy where he had first trained as a pilot a decade earlier.
His joy at being home and alive were short-lived. In 1948 the communists staged a coup and immediately persecuted former RAF airmen they considered dangerous to their régime. Stripped of their rank, many were imprisoned. Skarvada was sent to a forced labour camp as a miner, where he would spend 20 years until the communists partially rehabilitated him in the late 1960s, eventually turning a blind eye to regular meetings of ex-RAF pilots in bars in Prague or Brno.
Like his wartime Czech and Slovak comrades he went unrecognised as a war hero for a further 20 years until Czechoslovakia's Velvet Revolution of 1989. Having started in the RAF with the rank of sergeant, he was promoted to Brigadier-General by the Czech president Vaclav Havel in 1999 in recognition of his wartime service.
Zdenek Skarvada was born in 1917 in Olesnice, south Moravia, at the time still part of the Austro-Hungarian empire (Czechoslovakia declared its independence the following year after the end of the Great War). Not yet 18, he enrolled in the Military Aviation College in Prostejov and qualified as a military pilot in March 1937.
After the Nazis occupied Czechoslovakia in 1938, he and several other pilots fled to Poland and, after interrogation and a spell in the Male Bronowice camp for Czechoslovakian volunteers in Krakow, a dozen were accepted into the Polish airforce on 26 July 1939, flying outdated Potez 25 and Breguet 19 biplanes out of Deblin.
On 2 September 1939, a day after the Nazis had invaded Poland, the Deblin airfield was bombed and strafed by the Luftwaffe and Skarvada scrambled in his Potez. He and his comrades battled German fighters and bombers for several days. On one sortie, after his RWD-8 high-winged plane ran out of fuel and he landed in a potato field, a fellow Czech pilot, Josef Frantisek, landed his own RWD-8 to save his comrade from advancing German tanks. With room only for his legs in Frantisek's cockpit, Skardava clung to the spars until they got to safety (Frantisek, flying with RAF 303 (Polish) Squadron, became the top allied flying ace of the Battle of Britain, with 17 kills).
As German forces swept through Poland, Skardava fled via Romania to the Soviet Union at the start of a year-long odyssey to England. After a spell in a Soviet internment camp he sailed from Odessa to Istanbul, on through the Mediterranean under bombing and strafing by Italian planes, through Suez, to Bombay. He eventually disembarked from SS Narkunda in Liverpool on 27 October 1940. He enlisted in RAF 310 (Czechoslovak) Squadron as a sergeant, just too late for the Battle of Britain, in which many of his compatriots flew Hurricanes for the RAF. "I first tasted the skies of England in a legendary de Havilland Tiger Moth biplane, just to get the feel of the country," he later recalled
After the Battle of Britain, when 310 Squadron (motto: "We fight to rebuild") had been based in Duxford, Cambridgeshire, the squadron was moved in 1941 to defensive duties at RAF Dyce, Aberdeen, where Skarvada joined them. In late 1941 he was flying a Miles Magister training aircraft from Scotland to an English airfield when he was forced to crash-land on Gibbet Hill above the Lune Gorge in Cumbria. He and his navigator survived, hiked to a nearby farm and were put up in what used to be the landmark Junction Hotel in the village of Tebay before returning north to Dyce.
Switching from Hurricanes to Spitfires, he and 310 Squadron flew day and night in defence of north-eastern Scotland – Aberdeen was a major target of the Luftwaffe – and of allied naval vessels and convoys off the coast. Redeployed to Perranporth in Cornwall just before Christmas 1941, Skardava flew Spitfires on defensive patrols and bomber escorts over the Channel and in the Atlantic. It was on the early afternoon of 4 February 1942 that his Spitfire suffered engine failure off the coast. He baled out and was picked up, floating and unconscious, by a German torpedo boat. Thus began more than three years in POW camps – followed, after three years of freedom, by 20 years as a forced labourer for the communist régime in the mines.
After the fall of the Berlin Wall and the Velvet Revolution, Czech and Slovak airmen finally received recognition, although many were already, in their parlance, "flying with angels". Their stories were suddenly in demand; medals were dug out of lofts, invitations poured in for public speeches. A big budget 2001 film, Tmavomodry Svet (Dark Blue World for the international market), with Charles Dance and Tara Fitzgerald, movingly told the partly fictionalised story of their love lives in England and the tragedy awaiting them back home under the communists. Skarvada's story was told in a biography, Keep Floating, a motto he adopted after he survived baling out into the ocean from his Spitfire in 1942.
He was awarded the Czech Republic's Medal for Heroism in 1997 and made an honorary citizen of Ostrava, near the Polish border, where he spent his latter years and died. In recent years, it was he who formally welcomed the pilots of RAF Eurofighter Typhoon aircraft which flew in for the annual Nato Days in Ostrava.
Zdenek Skarvada, fighter pilot: born Olesnice, Austria-Hungary 8 November 1917; married twice (two sons); died Ostrava, Czech Republic 11 May 2013.
Join our new commenting forum
Join thought-provoking conversations, follow other Independent readers and see their replies