Chaleo Yoovidhya: Recluse who created the Red Bull energy drink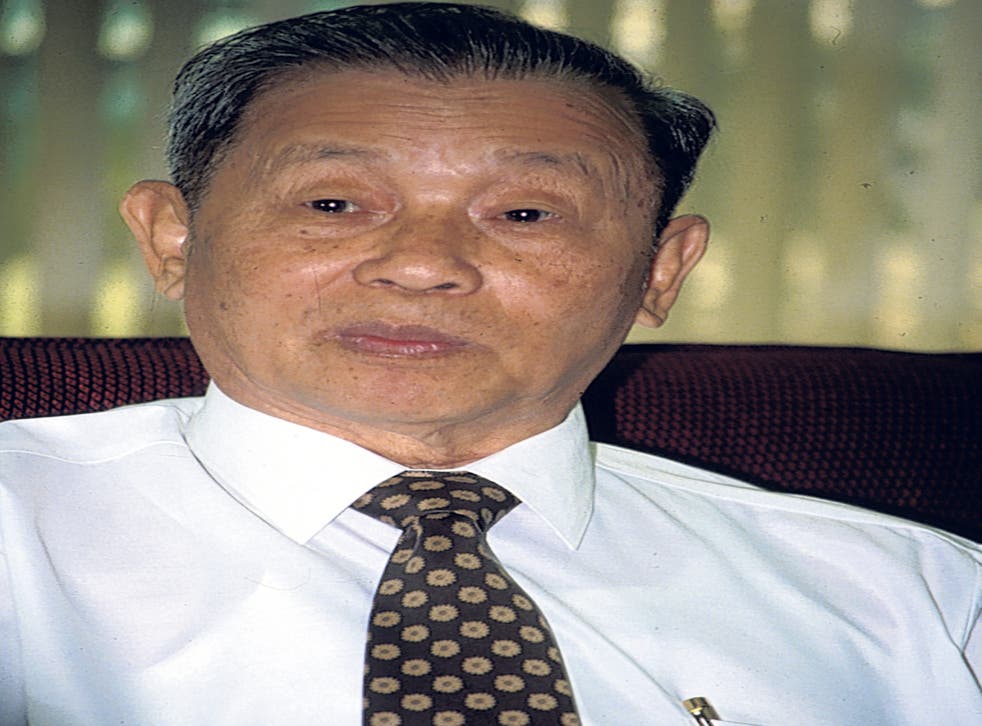 Chaleo Yoovidhya was the Thai billionaire who created a global brand with the Red Bull energy drink, which has given millions of party-goers, students and shift workers a caffeinated jolt. It spawned an industry of caffeine-laced pick-me-ups, which in 2011 was reportedly worth over $42 billion .
Chaleo, a recluse, was Thailand's third-richest man, ranked by Forbes magazine as the 205th wealthiest man in the world this year with a net worth of $5bn (£3.2bn). In 2011, Red Bull, based in Fuschl am See, Austria, sold more than 4.6 billion cans round the world with UK sales of over £230m per year.
The third of five children born into a poor Chinese-Thai family in the northern province of Phichit in 1923, Chaleo was poorly educated and worked with his parents duck farming and fruit trading before moving to Bangkok to help his brother run his chemist shop and becoming a salesman selling antibiotics. He learnt much about importing and distribution which would help him later. In the 1960s the scientifically minded Chaleo resigned to set up a company, TC Pharmaceuticals, in the old quarter of the city. He began tinkering with a formula for an uncarbonated energy-boosting drink loaded with caffeine, an amino acid called taurine and a carbohydrate, glucuronolactone. After years of work the result was Krathing Daeng, or "red bull".
Within a year of its introduction in 1976, Krathing Daeng's sales had overtaken all but one of its competitors to reach second spot behind the Japanese drink Lipovitan-D. The most important factor behind its rapid rise was Chaleo's unconventional marketing, which saw him ignore Bangkok, home to wealthier consumers. He positioned Red Bull to appeal to labourers and blue-collar workers: a low-cost product advertised heavily with popular giveaways to the likes of truck drivers, construction workers and shift workers.
He focused on conveying a sense of strength and power, and Red Bull, with its imitators, became the unofficial beverage of the expansion that turned Thailand into one of Asia's so-called "Tiger Cub" economies in the 1980s.
In 1982, the Austrian entrepreneur Dietrich Mateschitz became aware of tonic drinks" popular throughout the Far East, and on a visit to Thailand the then Blendax toothpaste salesman stumbled across Krathing Daeng as a cure for jet lag during his frequent business trips. In 1984 he approached Chaleo with a proposal to carbonate the drink and introduce it globally.
Red Bull GmbH was founded. Both invested $500,000 with each owning 49 per cent and the remainder going to Chaleo's son, Chalerm. Mateschitz fine-tuned the recipe for the Western market and started selling Red Bull in Austria in 1987. With more than double the caffeine in Coca-Cola, "Red Bull gives you wings", as Mateschitz's slogan put it – an apt description of the drink that would take revellers into the dance-crazed '90s. Cocktails such as Vod-Bombs, Jumping Jack Flash and Liquid Cocaine were concocted using it.
Mateschitz set about finding new marketing strategies. Some observers say that Red Bull's branding was revolutionary, calling it an "anti-brand" strategy. The firm avoided the usual methods of marketing; by throwing parties with unusual themes and free samples, they relied on "buzz marketing" or word of mouth to promote the drink. Another tactic was to convince students to drive about in Minis or VW Beetles with a large, blue-and-silver Red Bull can on top. The company also set about promoting the Red Bull brand directly to Generation Y, the so-called "millennials"; people born after 1981 who were believed to be cynical about traditional marketing strategies. This involved recruiting "student brand managers" who would promote Red Bull on campuses by throwing parties – what has become known as "viral" marketing
Gradually, a brand was created and cultivated which associated Red Bull with a designer image and glamorous lifestyles; it locked into youth culture and extreme and adventure-related sports, such as motor racing, mountain-biking, snowboarding and base-jumping, as well as dance music. Red Bull's target consumer segment began to adopt nicknames for the product such as "speed in a can", helping spread its "left-field" appeal.
Apart from its energy drink business, Red Bull also owns a Formula One outfit and two football teams, Red Bull Salzburg in Austria and New York Red Bulls in the US, and the company sponsors numerous events including stunt air racing and the Goodwood Festival of Speed.
Chaleo the man seemed to represent the antithesis of the adrenalised fun his drink inspired. He shunned the media and had not given an interview for 30 years. From time to time he would sit on health committees in Thailand and advise politicians, but he was careful to keep out of the public gaze. According to his son Saravudh, Chaleo was always positive. "I never heard words like 'difficult' or 'impossible' from my father," he said. Chaleo married twice and had 11 children, five from his first wife and six from his second.
Chaleo Yoovidhya, businessman: born Pichit Province, Thailand 17 August 1923; married firstly (five children), secondly (six children); died Bangkok 17 March 2012.
Join our new commenting forum
Join thought-provoking conversations, follow other Independent readers and see their replies