Deanna Durbin: Actress and singer who became one of the biggest stars in Hollywood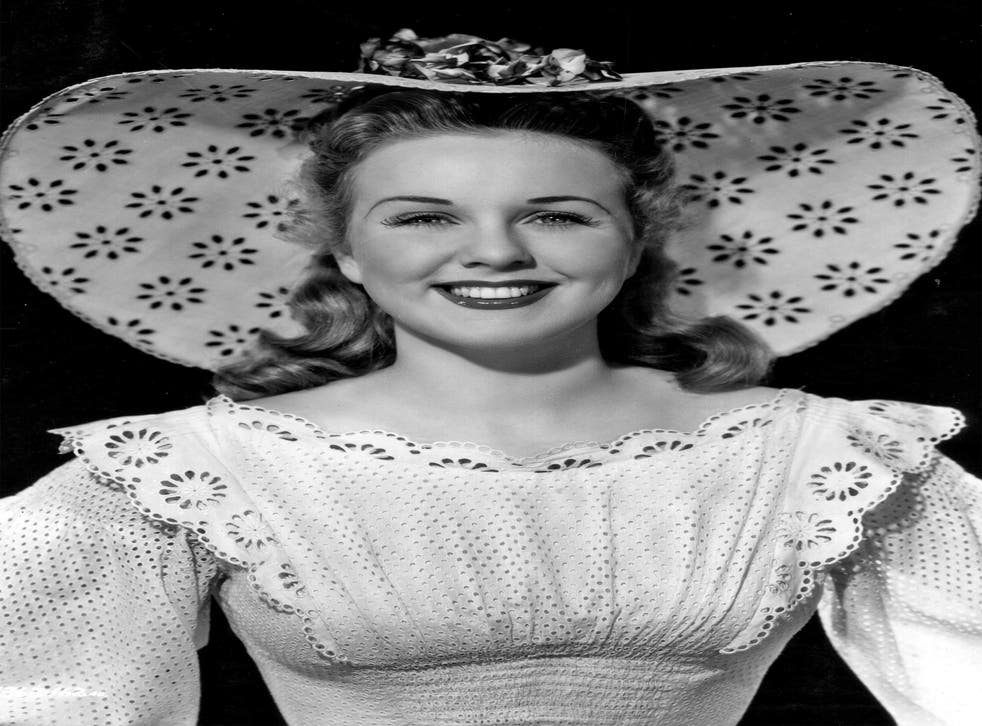 Deanna Durbin, possessor of arguably the most beautiful and silken lyric soprano to grace the screen, was one of Hollywood's most popular stars for a over a decade. Though such sopranos as Jeanette MacDonald, Jane Powell and Kathryn Grayson achieved considerable fame, only Julie Andrews can be said to have commanded such affection, but her film career is sporadic and slight in comparison.
When Durbin's Three Smart Girls, the first of her 21 starring vehicles, was released in 1936 it was an immediate sensation, and her films for Universal are said to have saved the studio from bankruptcy.
Her early films were produced by the shrewd Hungarian-born producer Joe Pasternak, and though they followed a formula – Durbin was usually the mischievous daughter who saved her parents' marriage or suffered the pangs of puppy love for an older man – they were lively, witty, cannily cast and smoothly mounted. Audiences of the 1930s flocked to them the way they did to the films of Shirley Temple; young girls in particular identified with Durbin and tried to emulate her. (Anne Frank had several pictures of Durbin on her attic wall.)
She was born Edna Mae Durbin in 1921 in Winnipeg, her parents having moved from Lancashire in 1912. Her father's health dictated a move to California, where Durbin found work on the radio and was brought to the attention of MGM, which cast her in a short, Every Sunday (1936), with Judy Garland. Legends have sprung up regarding the studio's dropping Durbin and retaining Garland. One story has it that studio head Louis B Mayer told his staff to "drop the fat one" and they fired Durbin by mistake. Whatever the facts, Durbin returned to radio.
Joe Pasternak later wrote: "The Universal management wanted a Shirley Temple type for the lead in Three Smart Girls ... She came to my office in a white cotton dress and white socks and held her mother's hand. I knew she'd be perfect." Three Smart Girls, with Durbin as one of three sisters who conspire to reunite their parents and save their father from a gold-digger, was a big success, largely due to her winsome personality sparked by girlish vitality and unpretentious sincerity. Her caressing coloratura was heard in two operatic numbers as well as the hits "Someone to Care for Me" and "My Heart is Singing"; throughout her career her recordings were steady sellers.
One Hundred Men and a Girl (1937), was a huge hit, with Durbin acclaimed for her energetic portrayal of a young girl set on persuading conductor Leopold Stokowski (playing himself) to form a concert orchestra which would give employment to a hundred unemployed musicians, including her father. Durbin's songs included the drinking song from La Traviata and a popular hit, "It's Raining Sunbeams". Universal doubled her salary to $3,000 a week, with a $10,000 bonus for each subsequent film.
In Mad About Music (1938) she was a pupil at a Swiss boarding school. Her songs included another hit, "I Love to Whistle", plus Gounod's "Ave Maria" In That Certain Age (1938) she had success with the ballad "My Own". In 1938 she was awarded a special miniature Oscar for her "significant contribution in bringing to the screen the spirit and personification of youth."
The 1939 film First Love, a reworking of the Cinderella fable, acknowledged that Durbin was growing up, with a Gone With The Wind-type search for the boy who would give Durbin her first screen kiss. Robert Stack won the role in one of the star's most delightful romantic comedies, which included her song hit, "Amapola". It was followed by a sequel to her first feature. Three Smart Girls Grow Up (1939) depicted Durbin's efforts to fix up her two elder sisters with husbands. Songs included the perennial "Because", which became the largest selling of all her Decca records.
In It's a Date (1940), she was the daughter of an actress (Kay Francis) who herself has dramatic ambitions and unwittingly vies for the same stage role as her mother. Her songs included Schubert's "Ave Maria", "Musetta's Waltz Song" from La Bohème, and a hit song, "Love is All". The Viennese operetta Spring Parade (1940) was one of the most popular of Durbin's hits, with critics noting how pleasingly she was developing, her acting growing more accomplished and her voice richer. In Nice Girl? (1940), in which she played a small-town girl infatuated with an older man, Durbin had one of her most fondly remembered ballads, "Beneath the Lights of Home", which became popular in the at-war UK. "I Give My Thanks to America", was replaced for the UK by the specially shot flag-waver, "There'll Always Be an England."
It Started with Eve (1941), is considered by many to be her best film, a superior romantic comedy in which she plays a hat-check girl hired by a millionaire's son to pose as his fiancée as it is the death-bed wish of his father (Charles Laughton) to meet his prospective daughter-in-law. It was her 10th and last film with Pasternak.
In 1941 Durbin married Vaughn Paul, a handsome second assistant director, but they divorced in 1943. After His Butler's Sister (1943), an agreeable light comedy, Durbin was given her most prestigious vehicle, Can't Help Singing (1944), which had a score by Jerome Kern and Leo Robin, and which was her only film in Technicolor. (Universal used to claim her salary was too large for the expense of colour.) She had never looked or sounded better.
Her next role was her most contentious and one that shocked many fans. She had been asking for meatier dramatic roles, and Robert Siodmak's Christmas Holiday (1944) is now regarded as a worthy film noir, but at the time it was hard for audiences to accept the wholesome Durbin as a "hostess" in a sleazy road-house.Her teaming with Charles Laughton in Because of Him (1946), in which she was a stage-struck waitress and he a famous actor, was a shadow of their earlier pairing in It Started with Eve, and critics were suggesting that Pasternak's absence was being felt.
In 1946 it was revealed that Durbin's salary made her the second-highest-paid woman in the US, behind Bette Davis. After the lacklustre I'll Be Yours and the lively romance Something in the Wind (both 1947), Universal bought the rights to the musical Up in Central Park, but when they changed their plan to film it in colour and cut many of the songs, it was an indication of their waning enthusiasm for their star.
For the Love of Mary (1948) was her last film, and she said farewell to Hollywood. Her marriage to producer Felix Jackson in 1945 ended in divorce in 1949 and the following year she married Charles David (who directed her in Lady on a Train). They settled in Normandy, where she confessed to be happy in the role of wife and mother. "I hated living life in a goldfish bowl," she said of her time in Hollywood.
Tom Vallance
Deanna Durbin, actress and singer: born Winnipeg 4 December 1921; married 1941 Vaughn Paul (divorced 1943), 1945 Felix Jackson (divorced 1949; one daughter), 1950 Charles David (died 1999; one son); died April 2013.
Join our new commenting forum
Join thought-provoking conversations, follow other Independent readers and see their replies