Don Rendell: Saxophonist who played with Dankworth and Holiday and helped to nurture emerging British jazz talent
He was a gifted teacher, and among his many students was the actor Warren Mitchell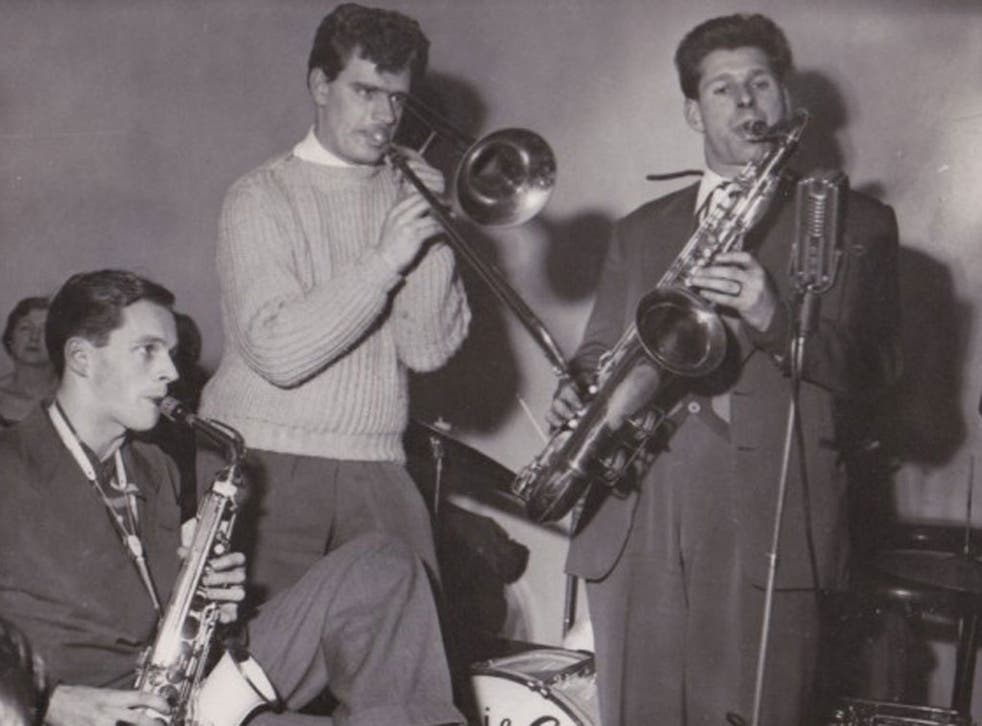 The saxophonist Don Rendell, who has died after a short illness, was a leading light of Britain's modern jazz scene. Particularly in the 1950s and 60s, he was making individual statements that not only stand up to scrutiny today, but have recently enthused listeners too young to have known him by reputation. What the Americans would call a heavy-hitter, he was nevertheless modest and realistic, despite having performed with some of the great names in jazz.
Rendell's renown rests firmly on his solo skills on tenor saxophone, to which he added the soprano saxophone and the flute in the 1960s. All were played with an unconventional clouded tone, and the discreet addition of vocabulary influenced by John Coltrane made Rendell's sound instantly recognisable.
His own groups always fostered young talents, such as Ronnie Ross in the mid-1950s, and in 1961 he secured the services of Graham Bond, then specialising in the alto saxophone, to play on Roarin', one of the first British jazz albums to be released by an American imprint (Jazzland). When trumpeter Ian Carr replaced Bond, becoming the group's co-leader in 1963 and recording Shades of Blue and then Dusk Fire, the Rendell-Carr quintet became a hot item on the jazz circuit.
Growing up in north London, Rendell took piano lessons from the age of five and adopted the saxophone at 15. He gained early inspiration at the Southgate Rhythm Club and, giving up his job as a bank clerk, worked at several dance halls and on US military bases.
He spent the early postwar years with the better-known dance bands, including at the Astoria on Charing Cross Road, and then joined the jazz-oriented Johnny Dankworth Seven in 1950. After staying for three years and declining to continue with a diminished role in Dankworth's new big band, he formed the first of his own small groups, which, in 1954, briefly accompanied the legendary Billie Holiday, who complimented Rendell on his playing.
His affinity for the style of Lester Young made him a natural choice for this role, as he was for the mixed Anglo-American big band that toured England in 1959 with Woody Herman. He was also one of a couple of British musicians who, at short notice, replaced defecting Americans in the 1956 European tour by Stan Kenton.
Other high-level big band work included eight months with Ted Heath (1955-56), the BBC Showband (1958-59) and an early 1970s edition of the Dankworth organisation. He also performed with associated small groups led by writers who had contributed material to his own albums, such as Michael Garrick and Neil Ardley.
When Carr left after seven years to form the jazz-rock fusion band Nucleus, a direction that never enticed Rendell, he continued leading groups that again encouraged younger players, for instance the saxophonists Stan Robinson and Barbara Thompson. In a parallel role, he proved a gifted teacher, working at various summer schools, at the Royal Academy, at Goldsmiths, and at the Guildhall School. He was equally busy until very recently with private tuition and, among his innumerable students, were many who became professional musicians, alongside others who studied avocationally, such as the actor Warren Mitchell.
Though Rendell hadn't played publicly in the last few years, a reunion of the quintet with Carr was recorded in 2002 and their earlier work was espoused by the disc-jockey Gilles Peterson.
The eminent bassist Dave Green, who joined Rendell-Carr at the outset of his career, describes Rendell as "a wonderfully inventive and commanding player. He was an inspiration – very warm-hearted personally with a great sense of humour. I shall always think of Don with great fondness and treasure the times I had with him, both on and off the bandstand."
It's not always the case that musicians talk in such complimentary terms about their former bosses, but, speaking also on behalf of his bandmate, drummer Trevor Tomkins, Green recalls "How encouraging Don was to both of us and to all young players on the scene at that time."
I, too, recall him reassuring a junior musician worried about being able to measure up to an imagined ideal, with the words, "You are what you are."
Rendell was also a quietly religious man, becoming a Jehovah's Witness in 1952. Though he usually kept the different aspects of his life separate, he was nevertheless in the habit of giving copies of The Watchtower to selected musician colleagues, urging them to study the contents. In a rare overlap of his interests, he was gratified to have met the veteran African-American bandleader Andy Kirk, who was also a devotee. But it's safe to say that Rendell will be remembered most widely for his contributions to the music that captured his interest as a teenager, and for his commitment to teaching others.
Donald Percy Rendell, musician and bandleader: born Plymouth, Devon 4 March 1926; married 1948 Joan Yoxall (one daughter); died London 20 October 2015.
Join our new commenting forum
Join thought-provoking conversations, follow other Independent readers and see their replies