Dorothea Tanning: Painter, sculptor and poet whose work crossed artistic boundaries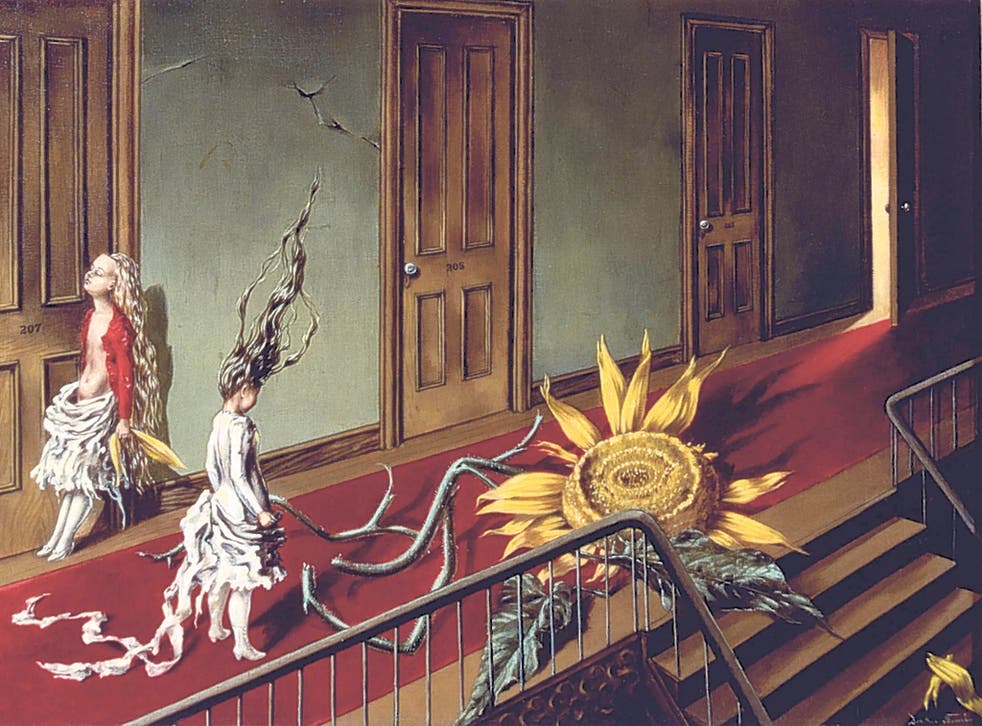 Dorothea Tanning was the last of a group of women – including Leonora Carrington, Leonor Fini and Frida Kahlo – who were active in surrealism during the mid-20th century. Tanning herself eschewed the labels of "woman artist" and "surrealist" labels and her work has defied the boundaries of gender and artistic movements.
She was born in 1910 in Galesburg, Illinois. Her father, Andreas Thaning, was a Swedish immigrant who had changed the family name to make it more easily pronounceable in English. The writer and editor Carl Sandburg, a family friend, urged against formal art training "Oh, no. Don't do that. Not art school. They will stifle her talent and originality." Despite this advice, she enrolled at the Chicago Academy of Art to study painting but remained for just three weeks. Most of that time was spent at the city's Art Institute, admiring and learning from its collection.
In December 1936 she visited the show Fantastic, Dada, and Surrealism at New York's Museum of Modern Art. The works fascinated her and set her own painting off in a new direction. Talking about the time that she called a "real explosion", she enthused in a later interview: "I was impressed by its daring in addressing the tangles of the subconscious – trawling the psyche to find its secrets, to glorify its deviance."
In 1941 she met the New York gallerist Julian Levy and joined him as one of the few women artists he represented. Her first major solo show would follow at Levy's gallery three years later.
During late 1942 the surrealist artist Max Ernst was asked to find work for a forthcoming show titled Thirty One Women, curated by his wife Peggy Guggenheim at her Art of this Century gallery. Ernst called on Tanning at her studio and saw on the easel an almost finished self-portrait of her standing by a door, with shirt open and a winged mammal by her feet. "What do you call it?" said Ernst. "I really haven't a title," came her reply. "Then you can call it Birthday he suggested. The name stuck, Tanning was part of the exhibition and Ernst in turn became a part of her life. Guggenheim later observed ruefully, "I realised that I should have had only 30 women in the show."
Tanning's 1943 painting Eine Kleine Nachtmusik, now in the Tate collection, is probably the best known of her works. A young girl leans by a door, half-dressed and exhausted. Another, next to her, faces a huge bedraggled sunflower at the top of the stairs. Questions abound:, what has happened or is about to happen here?
After marrying in Beverly Hills inOctober 1946 in a double ceremony with Man Ray and Juliet Browner thecouple moved to Sedona, Arizona and built a wooden house, living for a time there without running water or electricity. In 1949 they moved to France – first Paris, then six years later to Huismes in the Loire.
Tanning's paintings of the 1960s adopt softer lines and colours, but retain the same disturbing qualities of the earlier works. She also experimented with fabric sculptures, one of which, Pincushion to Serve as Fetish (1965), is currently on show at the Tate Modern. She said of this work: "A fetish is something not exactly or always desirable in sculpture, being a superstitious if not actually shamanistic object; and yet, to my mind it's not so far from a pincushion – after all, pins are routinely stuck in both."
In 1964 the couple moved again, to Seillans, Provence. The village's Maison Waldberg now houses a collection of work by Tanning and Ernst. Following Ernst's death in 1976, Tanning recalled, the paint tubes, canvases and brushes told her to "Go home". She made the journey back to New York and set up studio there.
The first decade of the 21st century saw Tanning turn to writing. Shehad already produced two volumes of autobiography, Birthday (1986) andBetween Lives (2001). There she wrote of her life as being "...as a garden,planted in 1910 and, like any garden, always changing."
The memoirs were followed by a novel and two volumes of poetry, the last of which, Coming to That, was published in her 101st year. The poet and critic Richard Howard said of her poetry: "Doubtless a consequence of the way she works, tacitly dependent on charms she winds up, this poet is like the tiger – if she misses her spring, she stalks back into the jungle and gathers her strength for the next pounce."
Wendi Norris and Raman Frey, of the Frey Norris gallery, which exhibited her work in 2010, said: "In her 101 years, Dorothea lived two centuries' worth of life. And she left to all of us an enormously rich and varied legacy of art; paintings, sculptures, poetry and one of the most entertaining artist biographies around."
Dorothea Tanning, artist and writer: born Galesburg, Illinois 25 August 2010; married 1946 Max Ernst (died 1976); died Manhattan 31 January 2012.
Register for free to continue reading
Registration is a free and easy way to support our truly independent journalism
By registering, you will also enjoy limited access to Premium articles, exclusive newsletters, commenting, and virtual events with our leading journalists
Already have an account? sign in
Register for free to continue reading
Registration is a free and easy way to support our truly independent journalism
By registering, you will also enjoy limited access to Premium articles, exclusive newsletters, commenting, and virtual events with our leading journalists
Already have an account? sign in
Join our new commenting forum
Join thought-provoking conversations, follow other Independent readers and see their replies