Dorothy Masuka: Grand dame of South African jazz forced into exile under apartheid
Her singles denouncing the country's racist politicians and politics were banned as she risked all to speak out
James Williams
Sunday 10 March 2019 13:05 Comments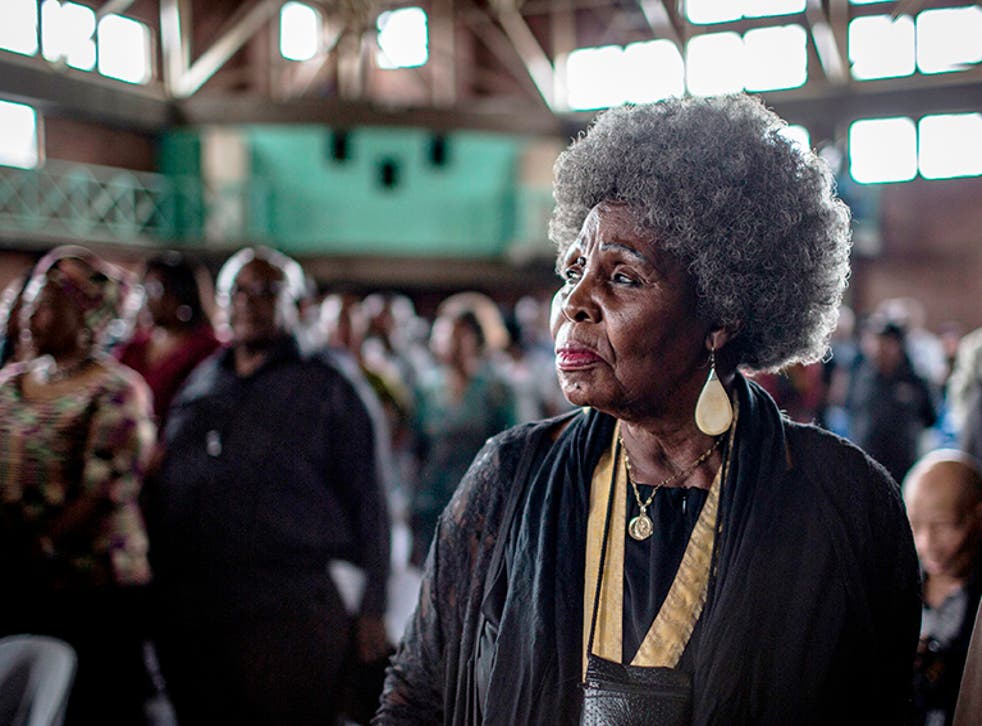 Dorothy Masuka was many things: pan-Africanist, vociferous opponent of apartheid, political exile, teen beauty queen, and irrepressible grand dame of southern African jazz. Her various nicknames – among them Aunt Dot, Mam Dorothy, and Sis D – speak to the deep love and kinship with which she was regarded throughout the region.
Masuka, who has died aged 83 from complications following a stroke, was born Dorothy Masuku in Bulawayo – now in Zimbabwe, but then the second city of colonial Southern Rhodesia. As the daughter of a Northern Rhodesian father and a Zulu mother from the South African province of Natal, Masuka grew up with a very real affinity for the indigenous peoples of Africa that crossed national and political borders, later describing herself as "a child of every part of this continent".
Her earliest experiences of performance would come in her mother's shop, singing tsaba-tsaba melodies for small change – dance music that mixed traditional African melody and rhythm with jazz and Latin-American rhythm. At the age of 12, Masuka moved to South Africa to live with her aunt, where her involvement in her convent school choir quickly laid her extraordinary talents bare. Throughout her adolescence, she would bunk off school to perform with such acts as the African Inkspots, until finally she was snapped up by a visiting talent scout from Troubadour Records. On a train journey to Johannesburg, she composed "Hamba Nontsokolo" – the song that would launch her career and is now a widely loved classic.
By 1954, Masuka had won the Miss Mzilikazi beauty pageant and was already performing alongside singers that she'd idolised as a girl, including Miriam Makeba and Hugh Masekela. Makeba would later have a huge hit with "Pata Pata", her adaption of a Masuka composition.
However, Masuka was not content to be cast as a mere jazz-pop starlet, and her self-composed singles, often sung in the local languages of southern and eastern Africa, became ever more politicised. The release of "Dr Malan" – a frank examination of the South African prime minister and architect of apartheid, DF Malan – led to a visit from South African special branch officials in 1958. The song was banned, and all known copies were confiscated by the authorities. Under threat of further state reprisals, Masuka relocated to Rhodesia.
Not easily intimidated, she persisted in singing her mind. In 1961, her song "Lumumba" – about the recently assassinated Patrice Lumumba, a prominent African nationalist and the first prime minister of the independent Democratic Republic of the Congo – brought about another visit to Troubadour Records from the special branch.
This time, the master tapes were destroyed, and to this day the recording is unavailable. Masuka was formally exiled from South Africa for the next 31 years – but now also found herself unsafe and unwelcome in Rhodesia.
While Masuka has been cagey about her movements in the years that follow, she is understood to have offered support to the independence movements in Nyasaland and Tanganyika (now Malawi and Tanzania respectively) before relocating to London with the support of the then-revolutionary African National Congress. Despite a few prominent live appearances, the British people's interest in African music at that time was insufficient to sustain her for long. Moving on once again, this time to the land of her father's birth – now the newly independent Republic of Zambia – she spent the next decade and a half away from professional music, working at times as a flight attendant and raising her five children.
In 1980, Masuka returned to a post-independence Zimbabwe, where her first full-length album Ingalo followed in 1987. Following the liberation of Nelson Mandela in 1990, she was welcomed back to South Africa with open arms.
Having been an outspoken enemy of the apartheid state, in her later years Masuka found herself feted by the post-apartheid establishment and the world at large. The Order of Ikhamanga in silver, a South African honour, was awarded to her by President Thabo Mbeki in 2006, followed shortly by her induction into the Afropop Hall of Fame in New York. She taught at Boston University, and continued to write and record music to the very end; her final album, Nginje, was released just last year.
Among the mourners at Masuka's funeral were Mbeki and minister for arts and culture Nathi Mthethwa, the latter paying tribute to Masuka's music and sociopolitical insight, which "reflected the resilience of an oppressed people". Figures from the music world were also present in their droves, among them the singer and saxophonist Sipho "Hotstix" Mabuse and singer-songwriter Thandiswa Mazwai.
Dorothy Masuka, singer, born 3 September 1935, died 23 February 2019
Register for free to continue reading
Registration is a free and easy way to support our truly independent journalism
By registering, you will also enjoy limited access to Premium articles, exclusive newsletters, commenting, and virtual events with our leading journalists
Already have an account? sign in
Join our new commenting forum
Join thought-provoking conversations, follow other Independent readers and see their replies