Elaine Feinstein: Poet and novelist who championed Russian women's writing
A compassionate an accomplished writer, she was also an acclaimed biographer of Ted Hughes, Marina Tsvetaeva and Pushkin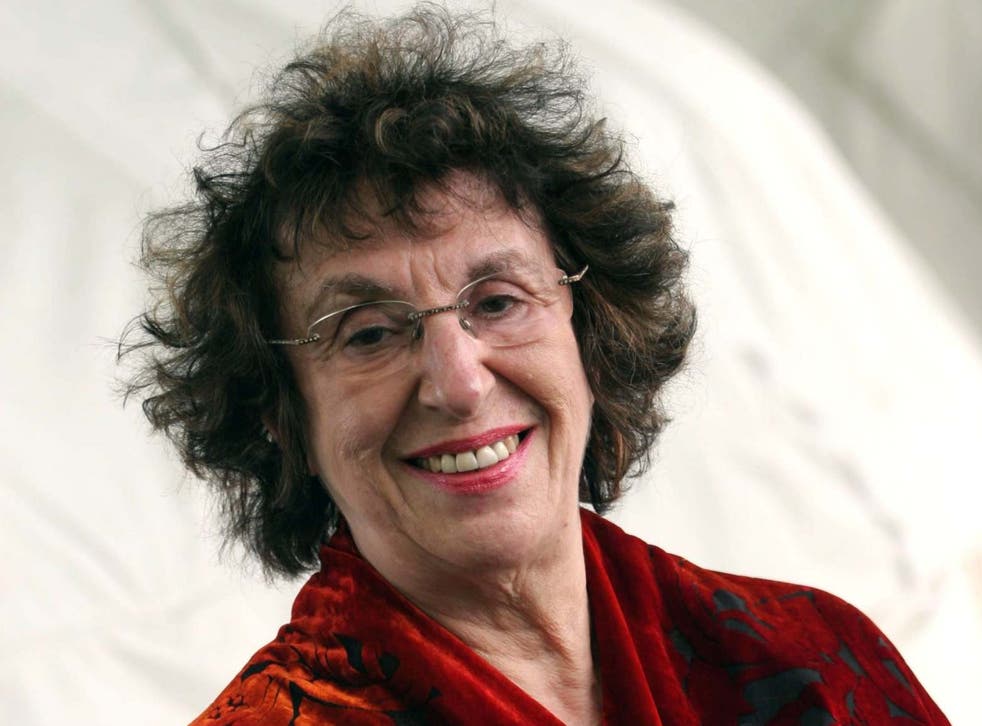 "People do seem to need poetry: it makes our ordinary life feel richer," wrote the poet and writer Elaine Feinstein, who has died aged 88. Feinstein's own life was certainly enriched by the poetic. She was a friend of Ted Hughes and corresponded with Allen Ginsberg and Charles Olson. As a translator, she brought the work of a number of great Russian women poets to a wider audience. In her own right, she wrote with a sympathy and compassion that made her own experience and that of the people she championed universal.
Feinstein was born Elaine Cooklin in Bootle, Merseyside, the only child of Isadore Cooklin, a cabinet maker, and Fay (nee Compton). All four of her grandparents were Russian Jews who had left Odessa to find a brighter future in England as wood and glass traders.
Feinstein grew up in Leicester, where her father was president of the synagogue. She discovered poetry at the age of eight and soon after was published for the first time in her school magazine. In 2005 she told The Irish Times about her first poem: "I think that, like all poets, I started to love poetry very early, and I wrote it very early ... I made it up in the garden, bouncing a ball. You know, it was very, very rhythmic, a highly rhythmic poem. I remember writing it, being very excited by it."
Feinstein attended Wyggeston Grammar School for Girls before winning an exhibition to study English at Newnham College, Cambridge. She matriculated in 1949, just a year after women were admitted to full membership of the university for the first time. After graduation, she studied for the bar but decided against making it her career.
In 1956 Feinstein returned to Cambridge, newly married by this time to Arnold Feinstein, a molecular biologist. They had three sons. Over the next 15 years, Feinstein worked at the Cambridge University Press, at the Hockerill teacher training college and in the comparative literature department at the University of Essex.
Feinstein rediscovered her poetic voice as an adult. Having felt stymied by the expectations of her Cambridge contemporaries for someone of her gender and background – she claimed she was the only woman of her cohort who continued to work after marriage – Feinstein turned west, to Ginsberg and to Olson and his Black Mountain poets. However, her writing really took off when she discovered the work of Russian poet Marina Tsvetaeva.
Feinstein was captivated by Tsvetaeva's poetry, which she translated for both the Oxford University Press and Penguin. Her translations won three awards from the Arts Council. Feinstein told The Irish Times that Tsvetaeva "released me from the kind of poetry that was being written in the 1960s, all around me. She made it possible for me to expose my most undignified side."
Feinstein's own first volume of poetry, In a Green Eye, was published in 1966. She would later say of her writing: "People have always been at the centre of my concerns." She wrote extensively about her children and her husband, with whom she had a tempestuous relationship. Her work was wry and often funny. In "Mother Love", she described a child's faeces. In a 1997 interview with the poet Michael Schmidt, she said of the poem: "It used to embarrass audiences. At first I minded the discomfort because the poem wasn't written to shock. It was an important poem for me, a way of yoking two very disparate parts of myself together ... What drew me to Tsvetaeva was seeing in her the tension between poet as wife and mother and poet as an independent being. That still goes to the heart of my own life, even if the feminist battle sometimes looks as though it's been won."
Feinstein published her first novel, The Circle, a study of a marriage, in 1970. Forty years later, The Circle was one of the books nominated for the 2010 Lost Man Booker Prize. Many of Feinstein's novels explored her Jewish heritage, which had come into sharp focus for her at the end of the Second World War when, aged 15, she learned about the Nazi extermination camps. Her 1982 novel, The Survivors, follows several generations of the same family before and after the Holocaust. She told The Irish Times: "I still seem to trail a kind of awareness of that terrible abyss I might have been caught up in ... I can't seem to shake that completely away."
Over the course of her career, Feinstein published a dozen poetry collections, 14 novels and five biographies. Her biography of her friend, Ted Hughes: The Life of a Poet, was shortlisted for the Marsh Biography award. She captured her biggest literary influence in A Captive Lion: the Life of Marina Tsvetaeva. She also wrote biographies of Pushkin and Anna Akhmatova.
In 1981 Feinstein was made a fellow of the Royal Society of Literature. She was a writer in residence for the British Council in Singapore and Tromso. In 1990, she was given an honorary D Litt by the University of Leicester and won a Cholmondeley award for poetry. In addition to poetry and novels, she wrote for radio and television.
In 2007 she joined the Council of the Royal Society of Literature and three years later, aged 80, she took part in the 22nd Aldeburgh Poetry Festival. She published her last work, a collection of poems entitled The Clinic, Memory in 2017.
In her 2013 memoir, It Goes With The Territory, Feinstein touched upon the recent rise in antisemitism. She wrote: "I have lived most of my life in a rare island of time when such behaviour was not acceptable, and I did not appreciate my good fortune." She leaves behind a world perhaps more in need of poetry than ever.
Feinstein is survived by three children.
Elaine Feinstein, poet, translator and writer, born 24 October 1930, died 23 September 2019
Register for free to continue reading
Registration is a free and easy way to support our truly independent journalism
By registering, you will also enjoy limited access to Premium articles, exclusive newsletters, commenting, and virtual events with our leading journalists
Already have an account? sign in
Register for free to continue reading
Registration is a free and easy way to support our truly independent journalism
By registering, you will also enjoy limited access to Premium articles, exclusive newsletters, commenting, and virtual events with our leading journalists
Already have an account? sign in
Join our new commenting forum
Join thought-provoking conversations, follow other Independent readers and see their replies