First Officer Freydis Sharland: Veteran of wartime Air Transport Auxiliary who braved hazardous conditions to deliver Spitfires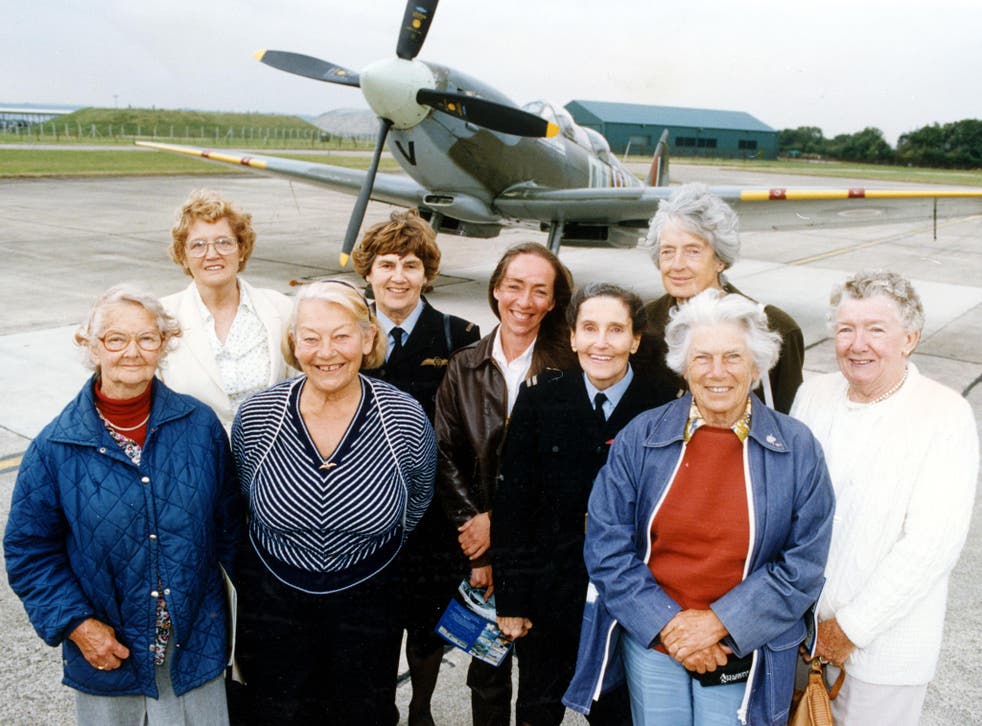 First Officer Freydis Sharland delivered 110 new Spitfires, and many other aircraft, from factory to airfield in the last two years of the Second World War. She joined the elite women pilots of the Air Transport Auxiliary, who flew every machine that men did, and was one of those lucky enough to receive equal pay with men for their daring after a campaign in Parliament at last in 1943 rectified earlier injustice.
The ferry pilots faced a death rate of one in 10, one of the conditions imposed being to fly without using instrument-landing techniques or radio. They also flew unarmed, with the constant hazard of being mistaken for enemy aircraft by their own side, or attacked by Luftwaffe intruders. They were supposed not to set off unless the cloud base was at least 800 feet, and horizontal visibility 2,000 yards.
These limitations were probably as much about saving money and training time as to prevent the enemy detecting their movements. That question is discussed by Giles Whittell in his book Spitfire Women of World War II (2007). Yet the ATA fliers all took chances with Britain's unpredictable weather, and the service would have ground to a halt had they not. Sharland had only 26 hours and 10 minutes' flying experience when she joined the service at the end of 1942, aged 22. She soon began to make a point of asking to use an airfield's simulator and have an hour's instruction whenever she was stranded far from base, and may by that means have preserved her life .
The daughter of a noted archaeologist from Cambridge was to lose her elder brother and seven cousins between 1939 and 1945, even as she accumulated 607 hours and 25 minutes doing all kinds of varied tasks the length and breadth of Britain. She flew 38 different aircraft, from a Lysander to a Wellington. On her first assignment, to fly a Tiger Moth from her first base, RAF Cosford near Birmingham, up to Shropshire, she remembered going in the wrong direction but eventually arriving without incident.
"Our greatest enemy was the weather," she said. "Lots of my friends lost their lives by crashing into hills in poor conditions. The next morning their name would be scrubbed off the board in the office, and the place would be horribly quiet. The truth is, I tried for years not to remember what we went through. When I think back I still get sleepless nights, and the heart starts racing."
Sharland had caught the flying bug as a teenager when her father, Charles Leaf, a man of private means who was an Olympic yachting gold medallist, allowed her to join her elder brother Derek as a pupil at Marshalls flying school in Cambridge. In November 1942 the girl who had also excelled at languages during her education at Wycombe Abbey School, Buckinghamshire, became one of only two female civilian trainees for the ATA at Barton-in-the-Clay, north of the Chilterns – the rest, all men, were by that stage in the war, seconded from the RAF.
By that stage the ATA had at last won the RAF's acceptance after stiff opposition when the civilian ferry pilot idea was first suggested by Gerard d'Erlanger, a banker and director of British Airways, and Sir Francis Shelmerdine, Director-General of Civil Aviation. Sharland's predecessors included the pioneer flier Amy Johnson, who became the first woman in the ATA to die when she baled out in cloud over the Thames estuary in January 1941.
Sharland trained on biplanes such as the Hawker Hart and monoplanes such as the Fairchild Angus, and moved on to Tiger Moths and Fairey Swordfish before being posted to Cosford. She later worked from the all-women ferry pilots' pool at Hamble in Hampshire. The ATA had its headquarters at White Waltham in Berkshire and the women's branch was headed by the writer and Tory MP's daughter, Pauline Gower. Only 164 women – some accounts say 168 – served with the ATA , which was disbanded at the end of November 1945.
After the war Sharland became a freelance commercial pilot and in 1953 flew a Tempest aircraft from Britain to Karachi in Pakistan. On arrival, after enduring privation for two weeks on the many stops on the way, she was denied access to the pilot officers' mess because she was a woman. The following year she echoed her father's winning streak – his Olympic gold was won at the 1936 Games, in Kiel, Germany, on his yacht Lalage – when she became the first female British Air Racing Champion.
In 1955, on her way by sea to South Africa to visit her younger brother Robin, she met a former British army lieutenant, Tim Sharland. They married in Kloof, Natal, near Durban, on New Year's Eve, and followed Tim's chosen path of running a farm in what was then Northern Rhodesia, now Zambia.
For nothing less than devotion to her family could Sharland have contemplated giving up flying. In fact she renewed her licence and made several flights across Africa, confident that Tim did not mind her doing so. But when she discovered she was expecting their first child, they both felt she should not risk a crash that might leave him alone with children and animals to care for.
They had two daughters and a son, returning to Britain after a few years to run a farm in Buckinghamshire, and only when the eldest was 17 did she take again to the skies, working with female air cadets. Sharland had been appointed first chairman of the British Women Pilots' Association on its foundation in 1955, and she now led the Women's Junior Air Corps, which became the Girls' Venture Corps, and until 1982 was the only organisation in which girls could try flying. Sharland and her fellow former ATA pilot Diana Barnato-Walker (who died in 2008) would let the cadets get airborne, in a number of aircraft which the GVC owned.
She retired on reaching the age of 60, but soon bought herself a microlight craft and carried on flying into her seventies. In 2008, with the rest of the mere dozen of ATA women still living, Sharland was presented by the then Prime Minister, Gordon Brown, with a veterans' badge. Her husband, children, and brother Robin survive her.
ANNE KELENY
Freydis Leaf, pilot: born Cambridge 22 September 1920; married 1955 Timothy Sharland (two daughters, one son); died Benson, Oxfordshire 24 May 2014.
Register for free to continue reading
Registration is a free and easy way to support our truly independent journalism
By registering, you will also enjoy limited access to Premium articles, exclusive newsletters, commenting, and virtual events with our leading journalists
Already have an account? sign in
Register for free to continue reading
Registration is a free and easy way to support our truly independent journalism
By registering, you will also enjoy limited access to Premium articles, exclusive newsletters, commenting, and virtual events with our leading journalists
Already have an account? sign in
Join our new commenting forum
Join thought-provoking conversations, follow other Independent readers and see their replies